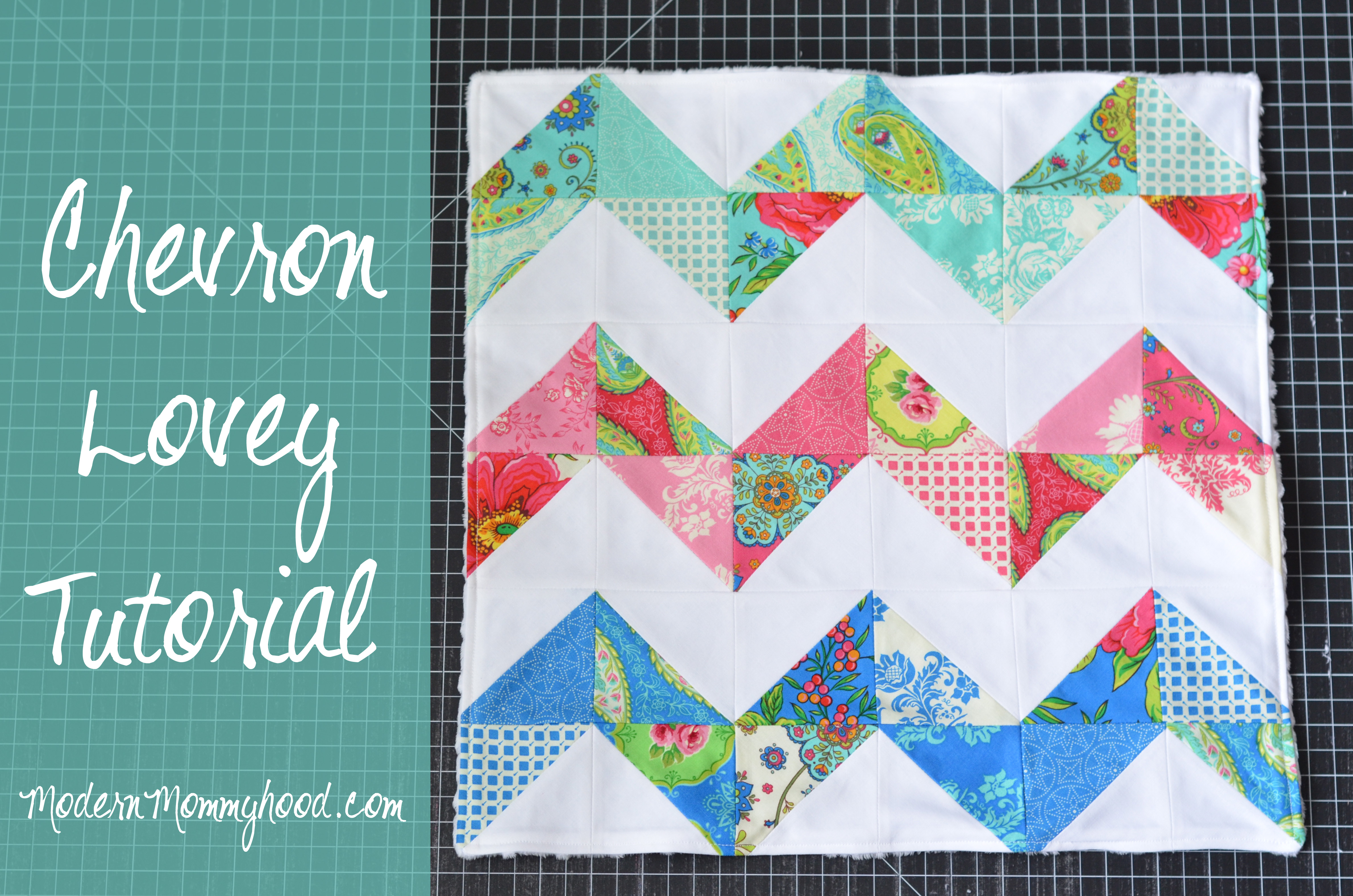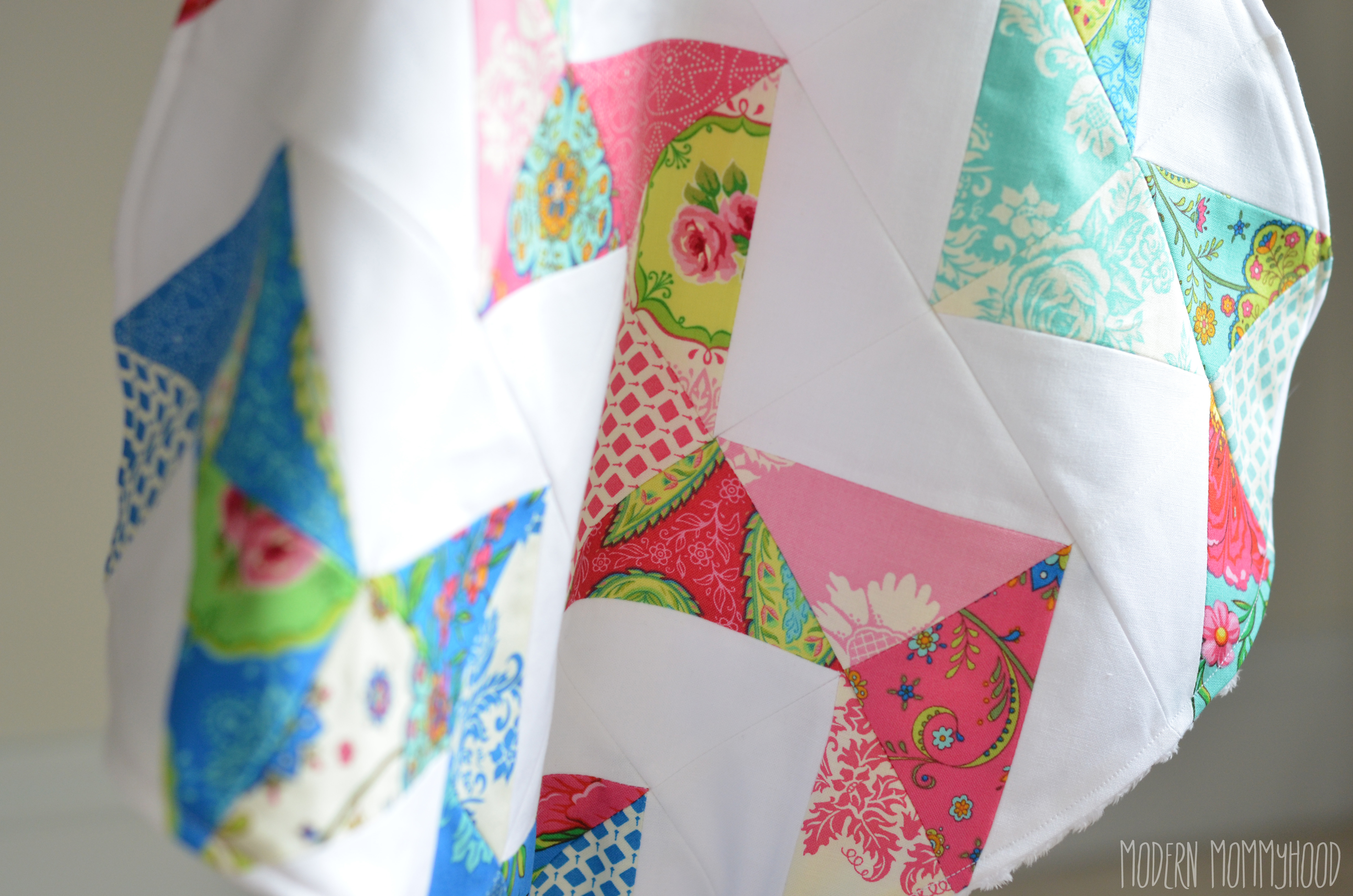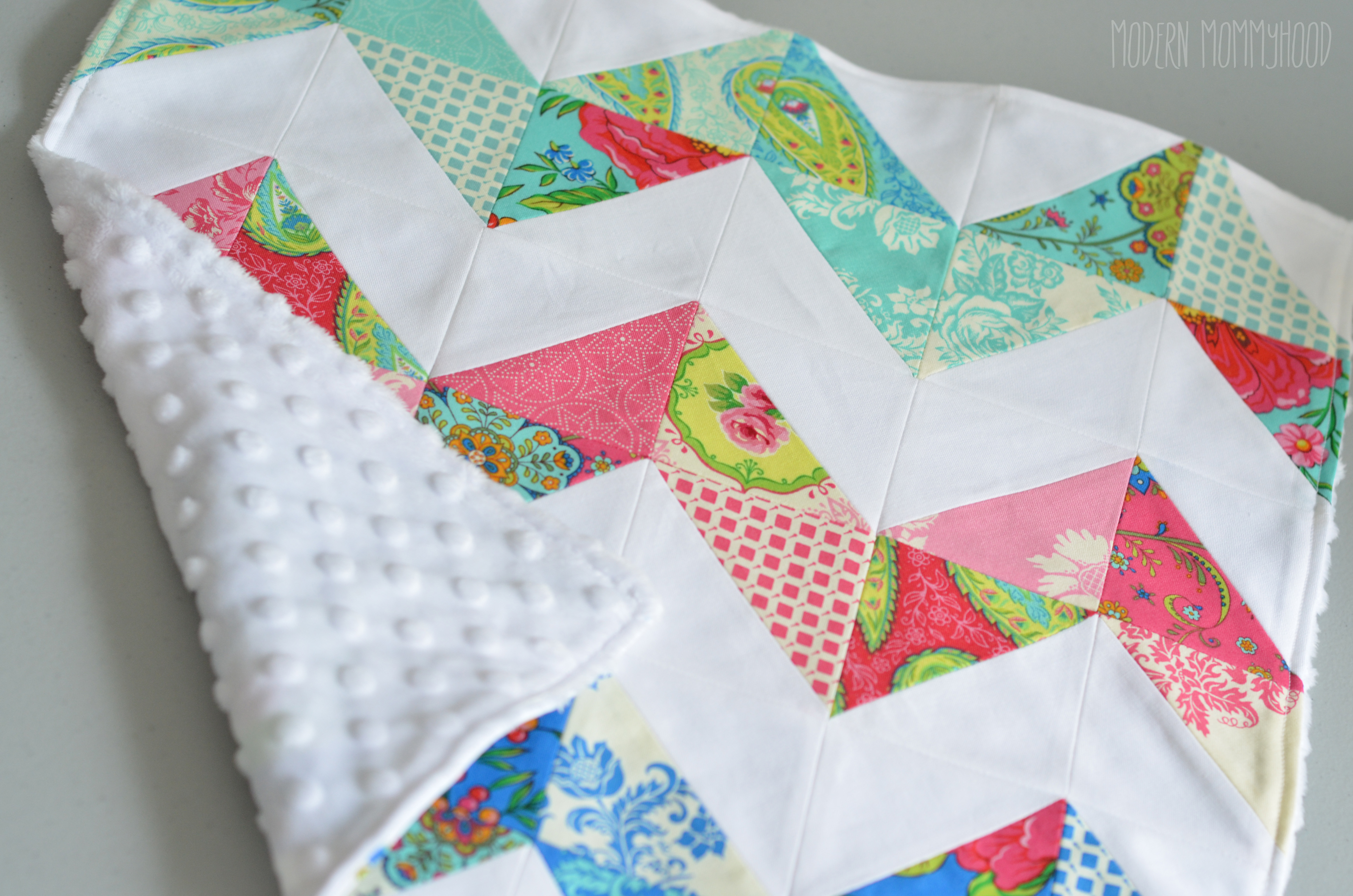 I love chevron and Mabel loves loveys so I figured I'd combine the two!  If you aren't familiar with what a lovey is, it's a tiny blanket, like a security blanket that is easy to stuff in a diaper bag or stash in the stroller!  The measurements of this lovey will be approximately 16.5 inches x 16.5 inches.
I've tried my best to write this tutorial for beginners, so please leave a comment or email me if you have questions that I can try to help with!
Charm Pack Chevron Lovey Tutorial
Supplies
2 charm packs – one should be prints and the other should be a solid color (if you choose not to use charm packs then you will need to cut 5×5 squares).  I buy my charm packs from Missouri Star Quilt Co.
1/2 yard of minky fabric (make sure whoever cuts it gives you exactly 18 inches!)
thread that matches the color minky you're using.
an iron
rotary cutter and mat (scissors will work but it will take you forever).  This is a a great starter kit if you don't already own a rotary cutter and mat.
walking foot for your machine – OPTIONAL (but highly suggested so that you don't want to throw your machine out the window when it comes to sewing the minky)
Tutorial
*seam allowance will be 1/4 unless otherwise noted!*
These were the charm packs that I picked out: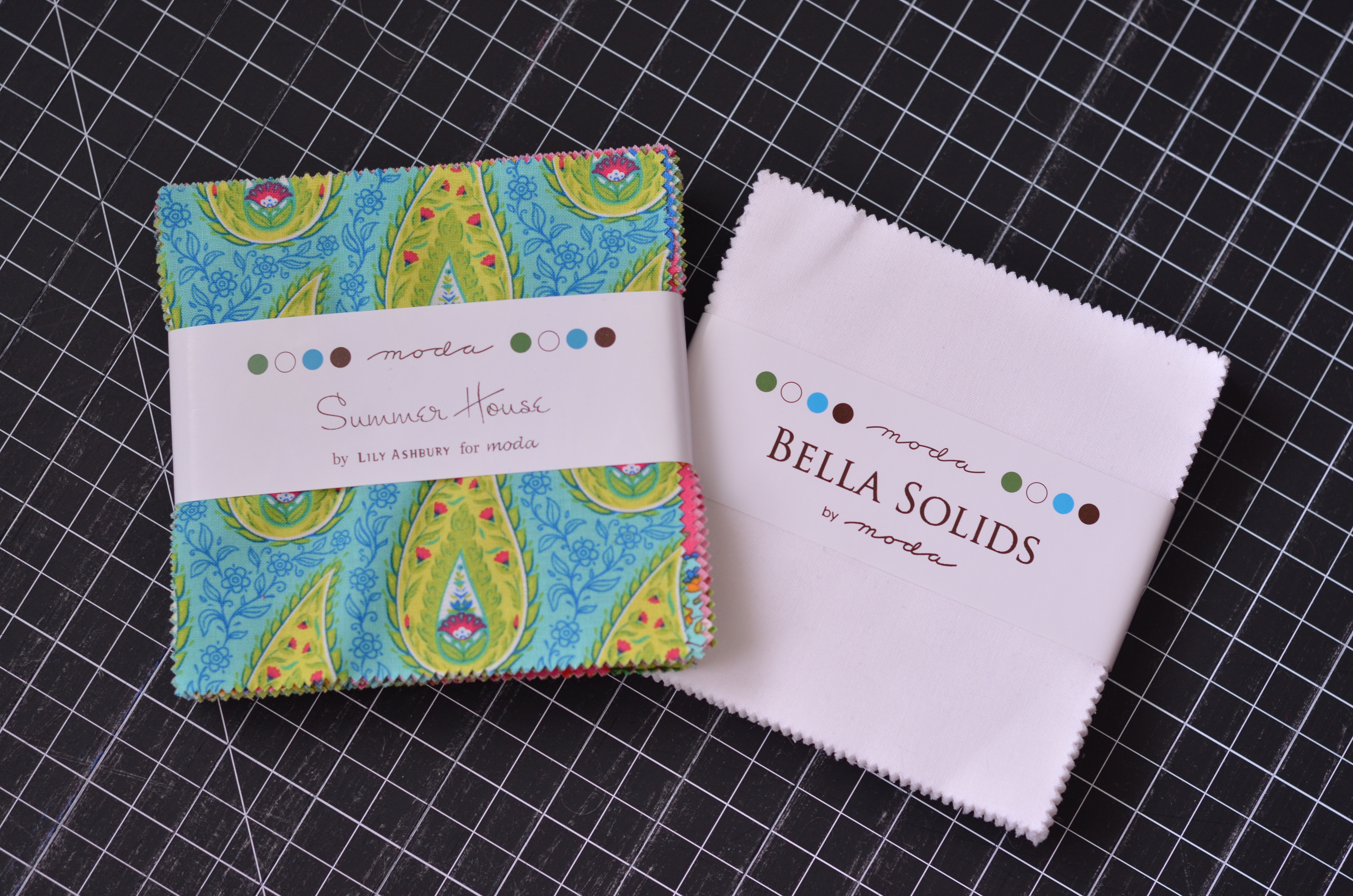 My charm pack had patterns in 4 colors: pinks, teals, blues, and greens…so I organized them by their dominant colors for the sake of having different color chevron stripes.  You don't have to make different colored chevrons…you could mix all the different colors if you'd like.
It's time to cut your charm pack squares into triangles.  I would recommend cutting no more than 4 at a time so that they don't shift when you cut them with your rotary cutter.  Use your ruler and cut on the diagonals.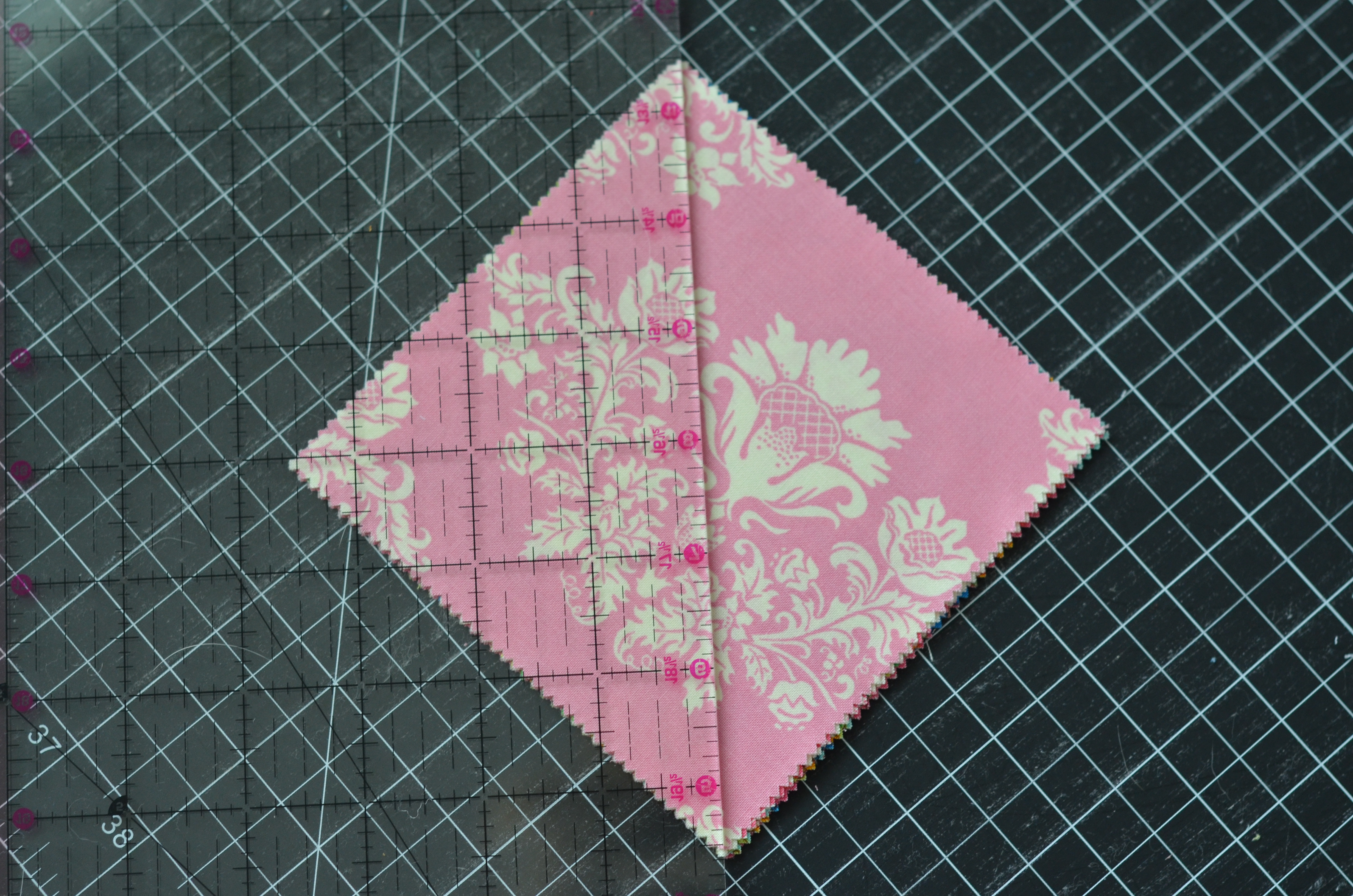 It should look like this when you're done: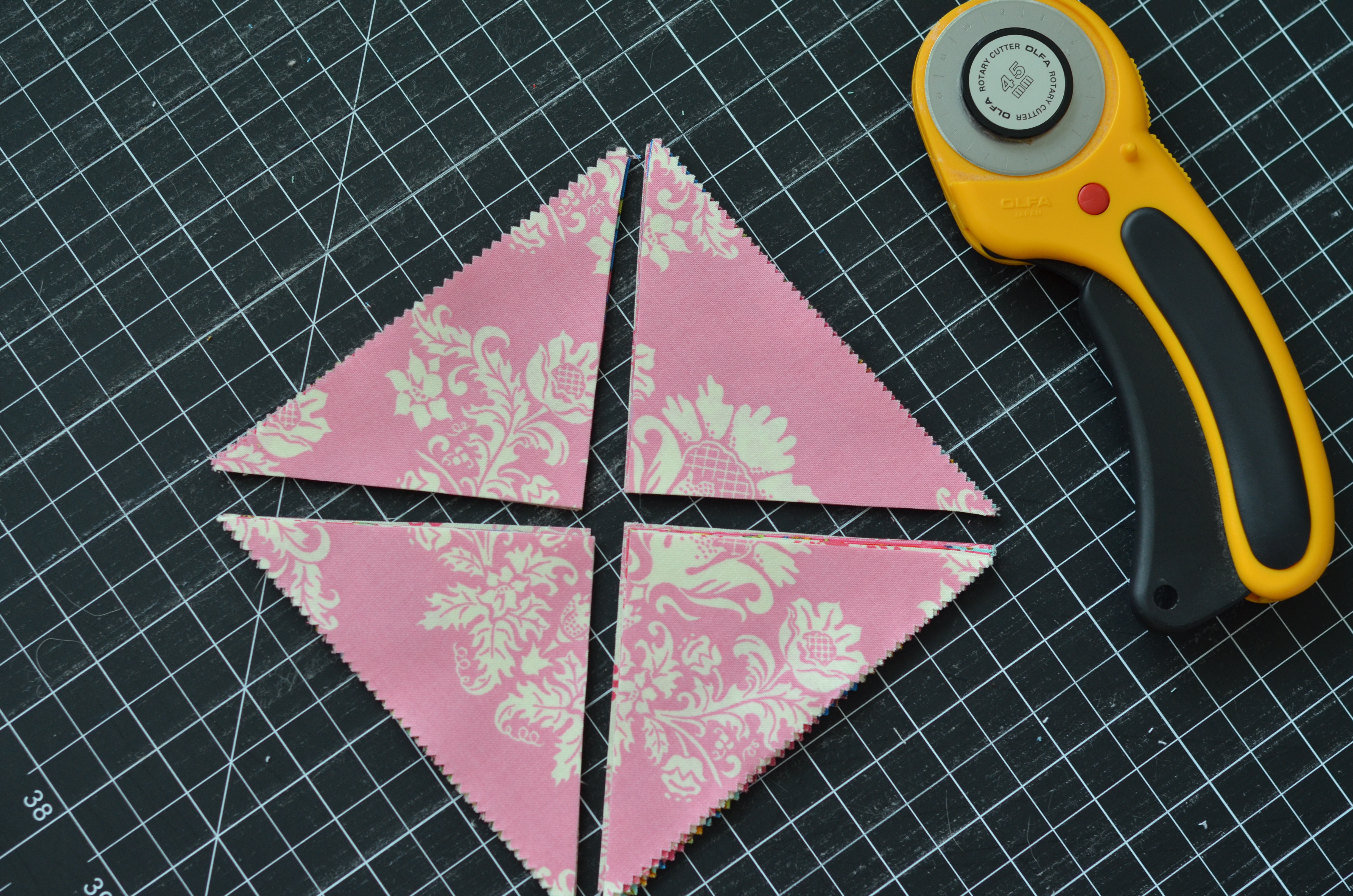 You'll need a total of 36 patterned triangles and 36 solid triangles for the entire lovey (12 patterned and 12 solids for each row if you are trying to plan out specific colors for your chevrons).  You will have a ton of left over triangles from your charm packs but the left overs are great to use to make loveys as baby shower gifts!
Now it's time to sew the triangles together.  I'm starting with the top row of my lovey (there will be 3 rows total) which will be a pink chevron strip.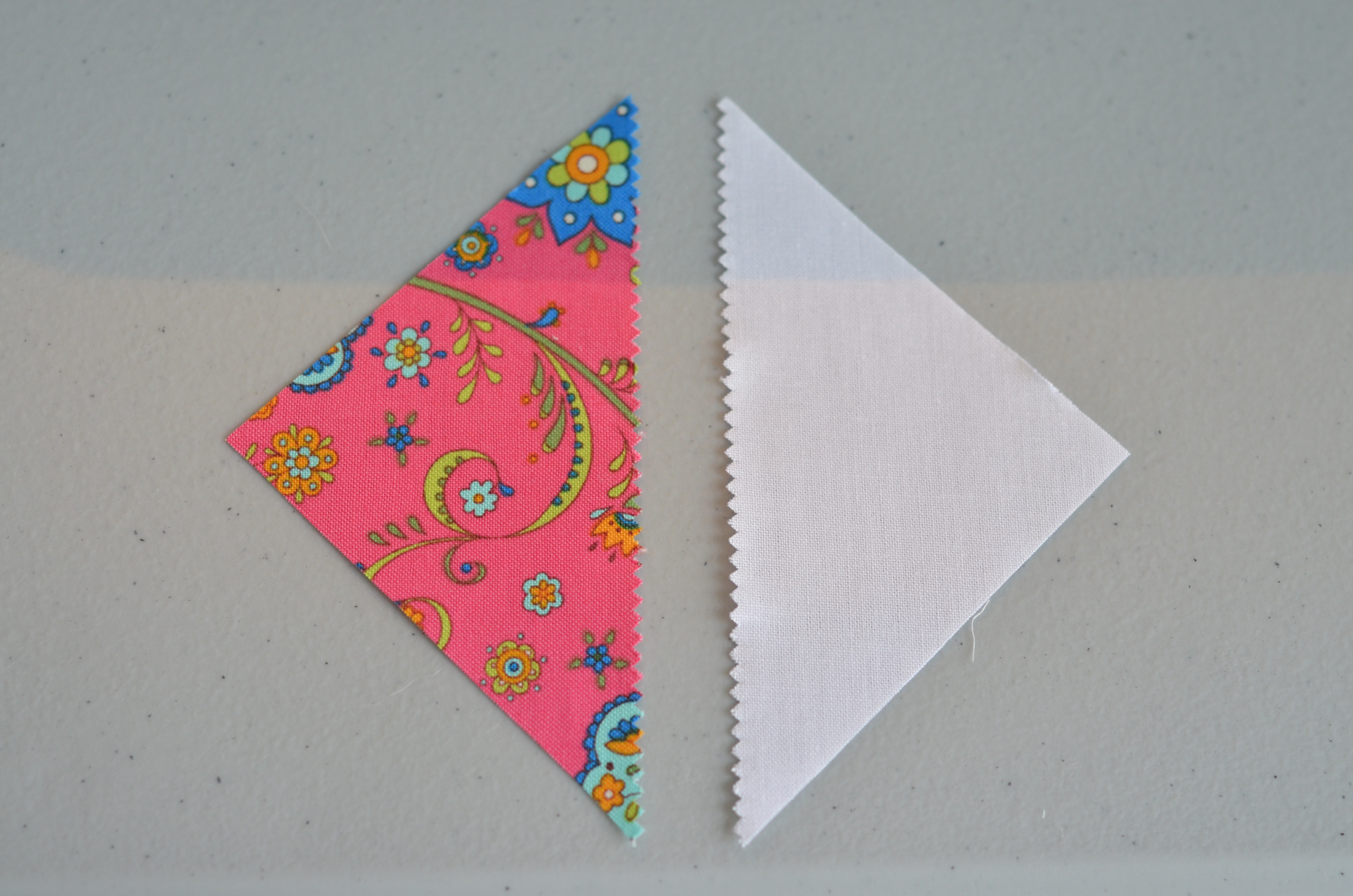 Put the right sides facing each other.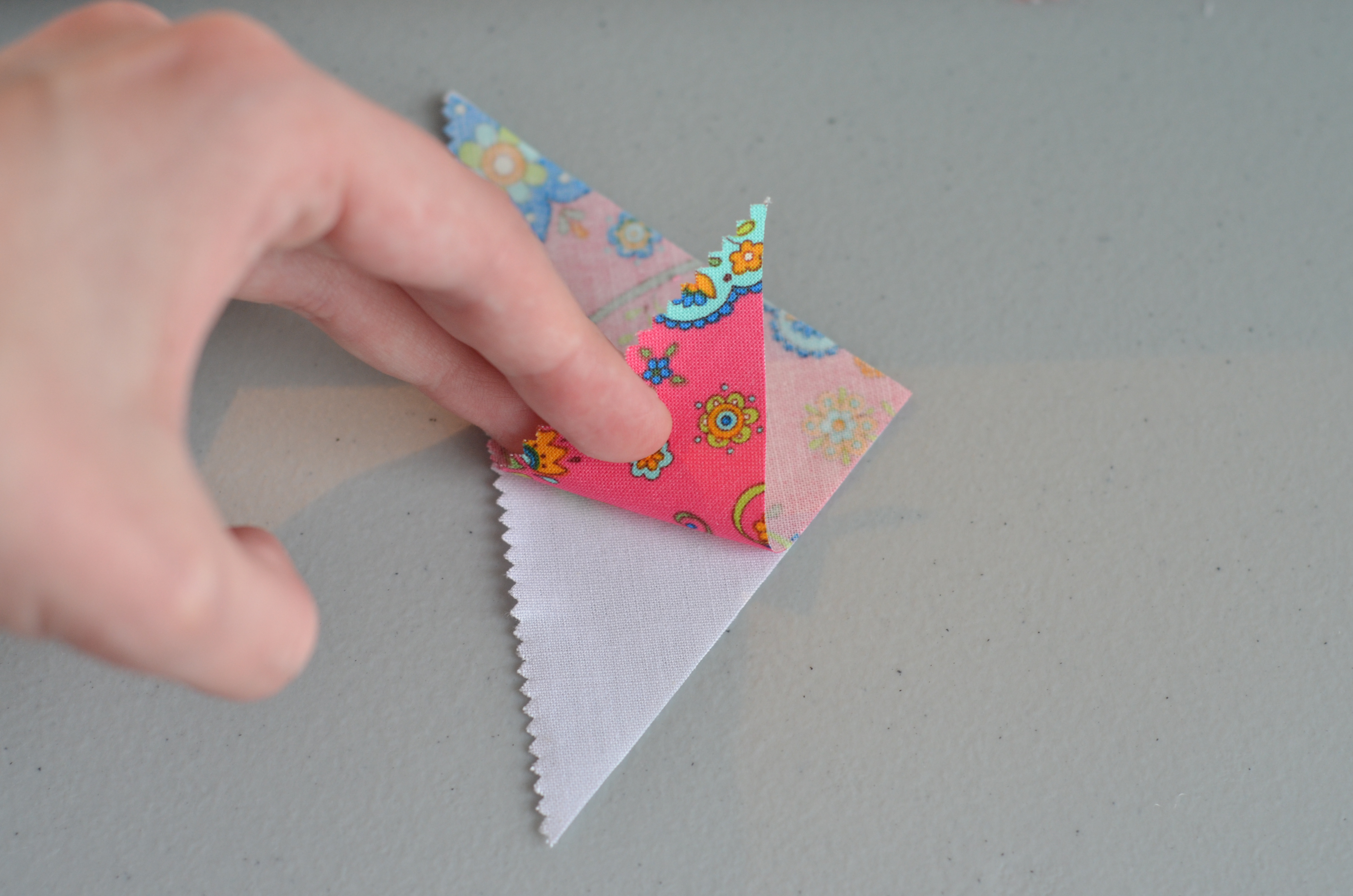 And sew with a 1/4 seam allowance.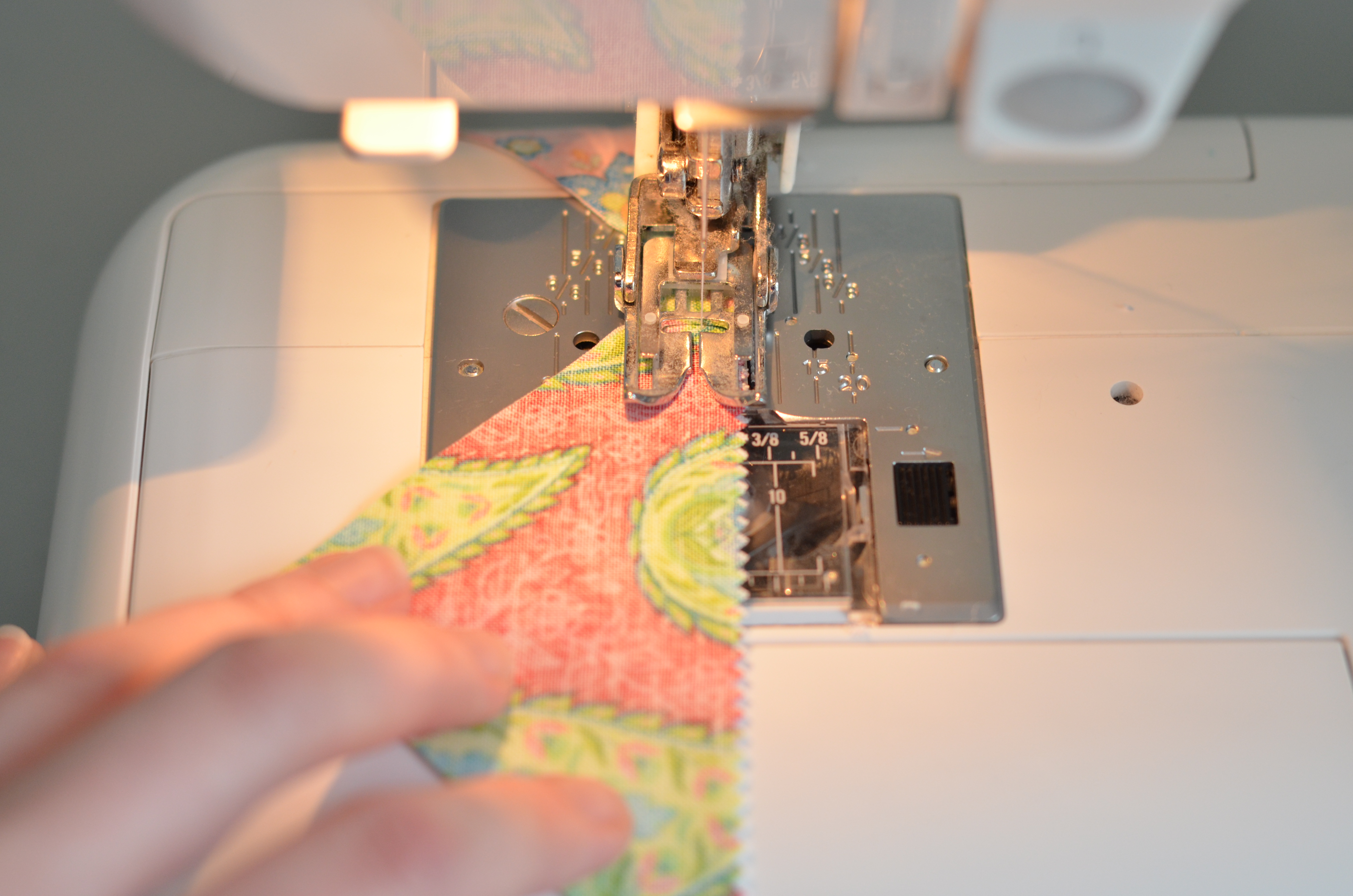 I like to chain stitch my pieces (feeding the pieces through the machine continuously instead of cutting each time)…it makes everything go faster.  All you have to do is cut the pieces apart once you're done.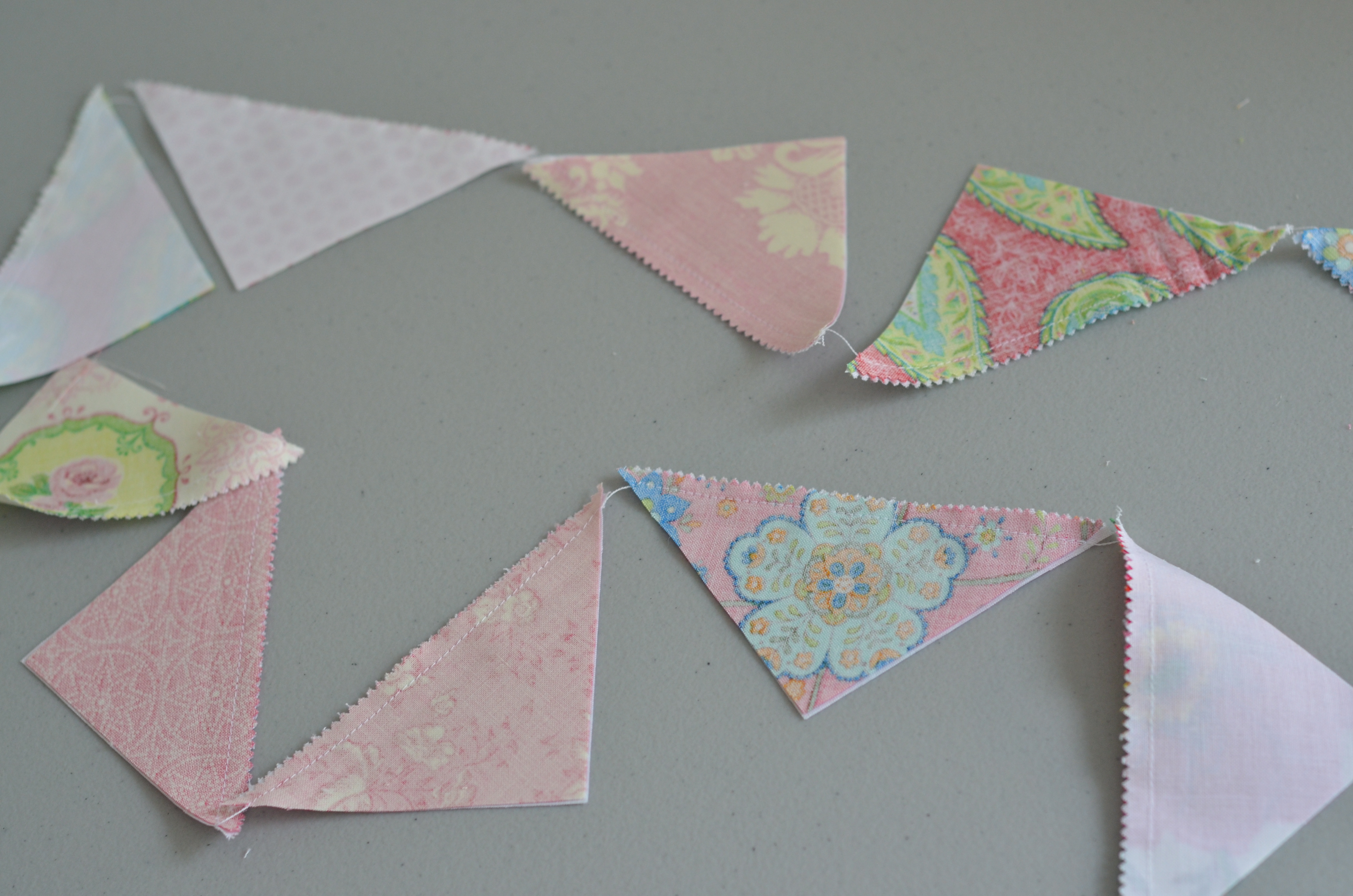 Next, I'm going to show you the whole ironing process that you'll do throughout the entire lovey.  If you're a seasoned quilter, than ignore the next part.  🙂
Set the seam by pressing the top of your triangle: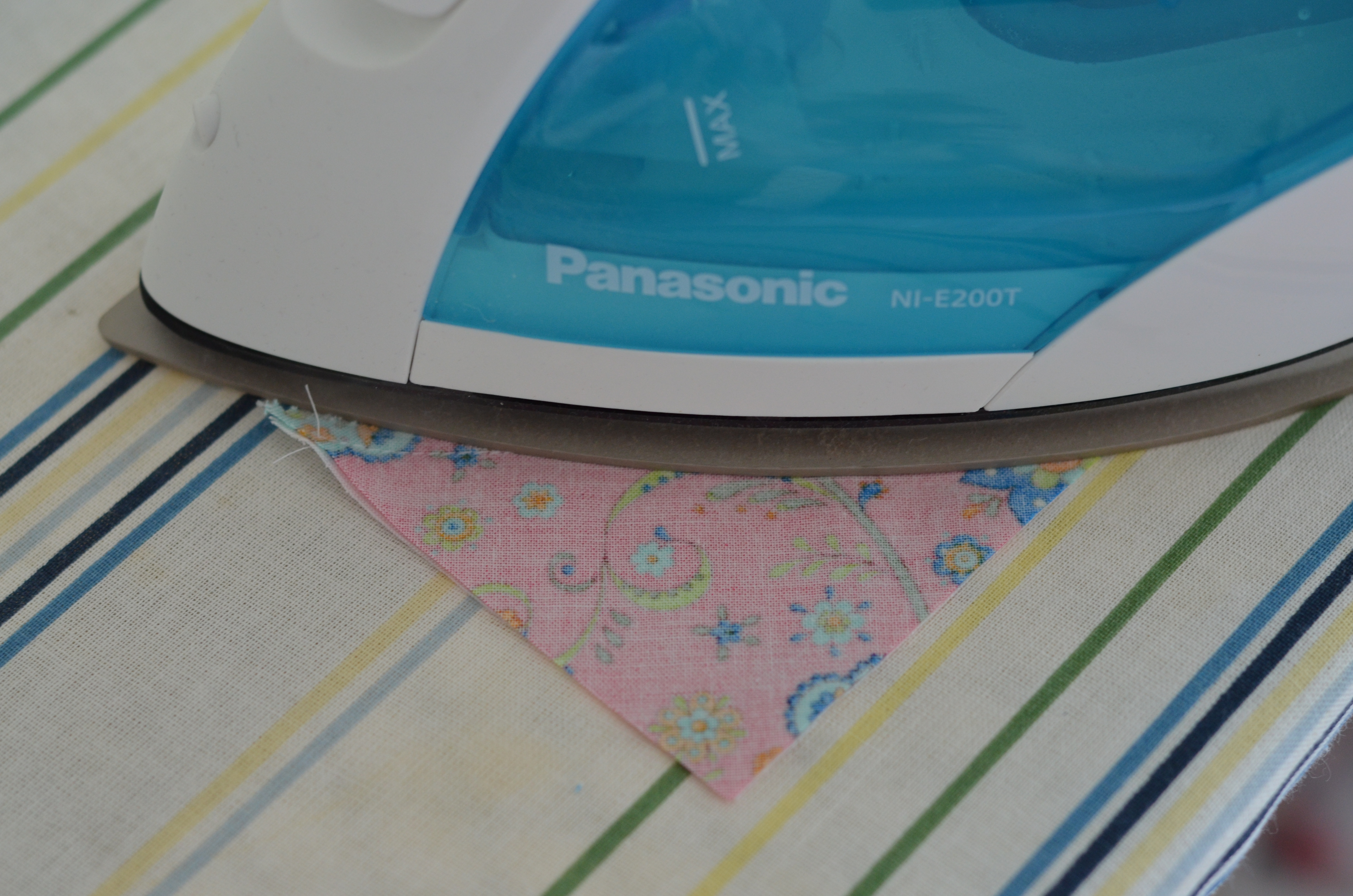 Now press the seam open: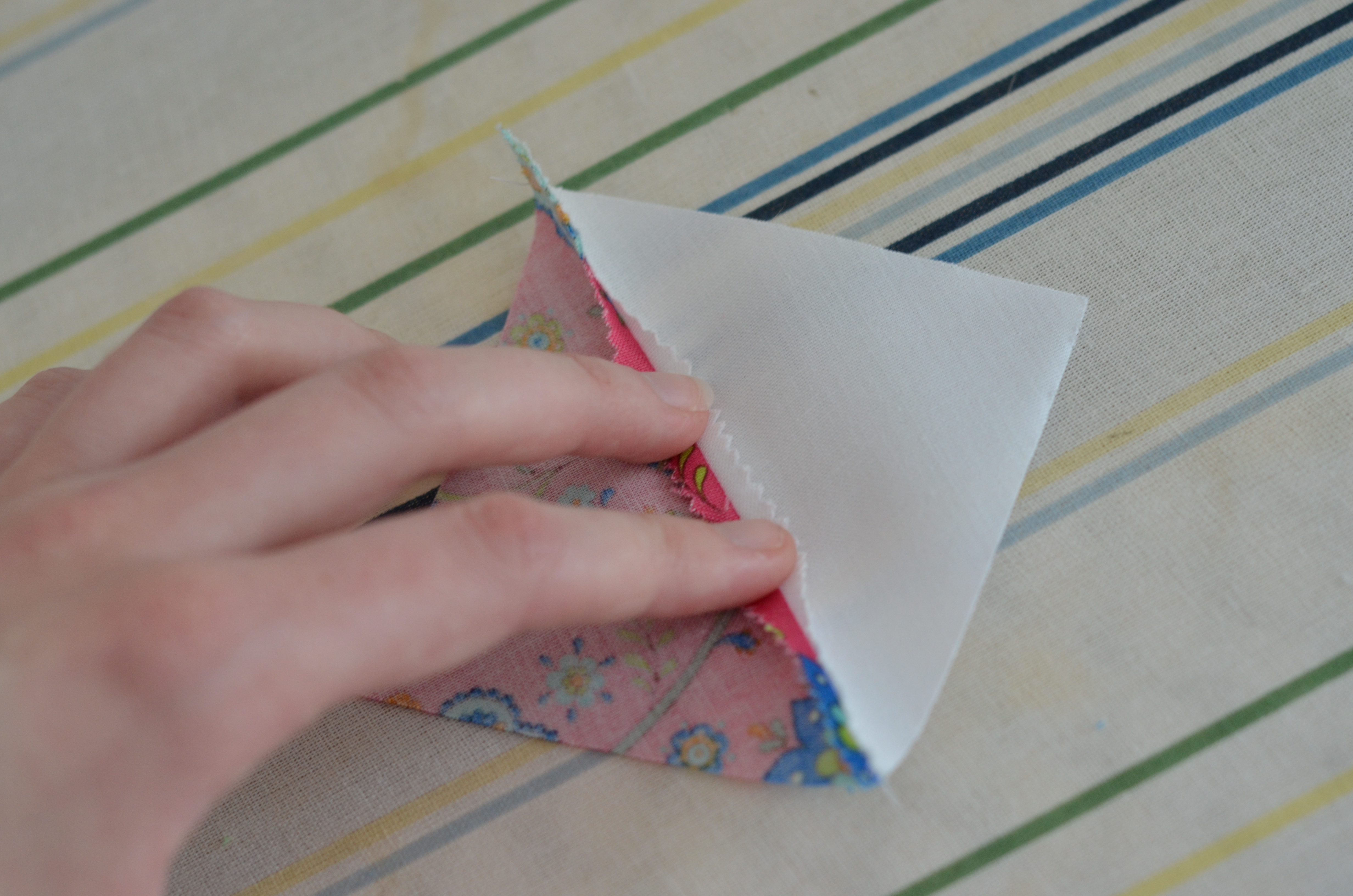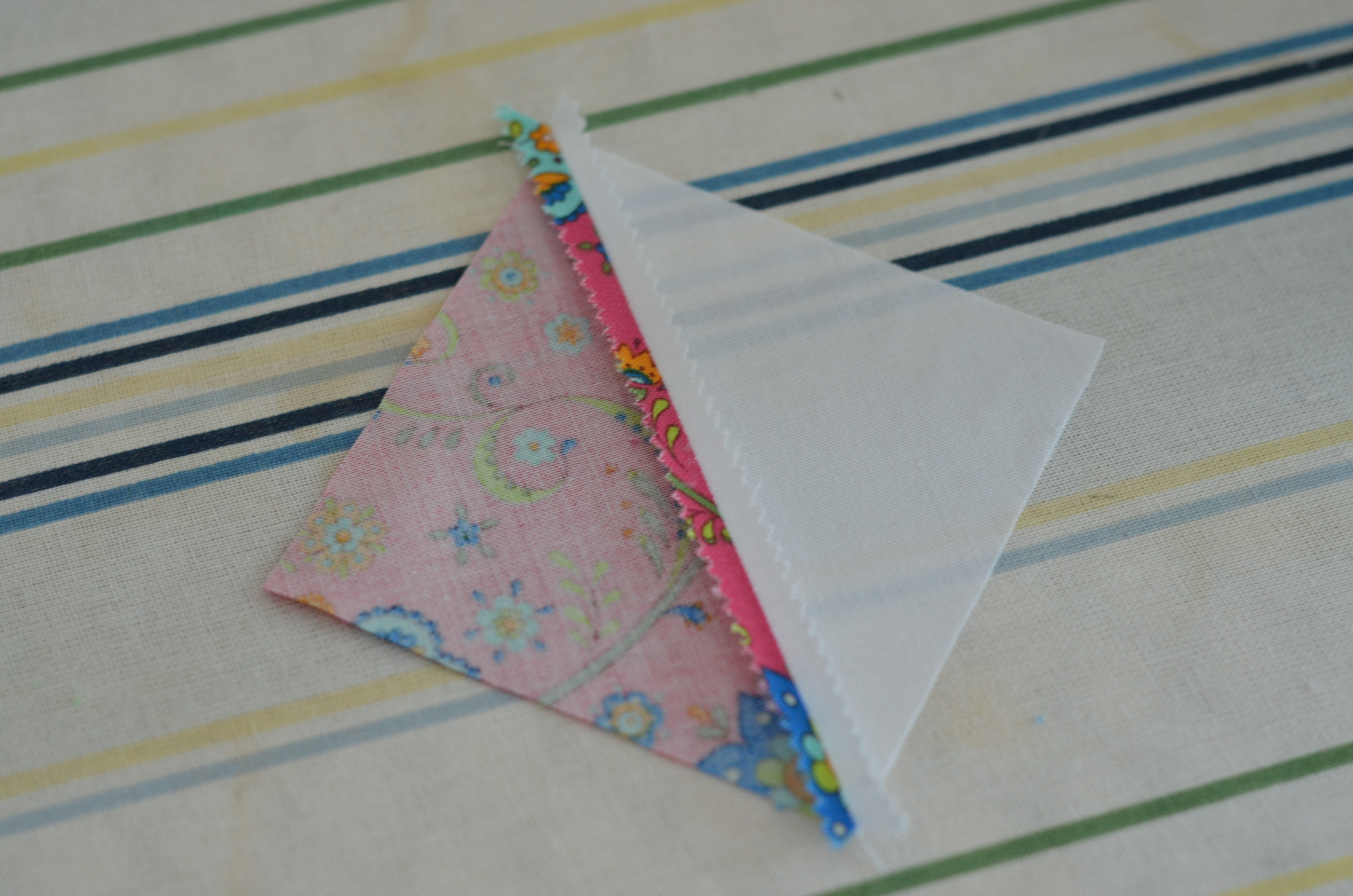 And finally press the top of the piece.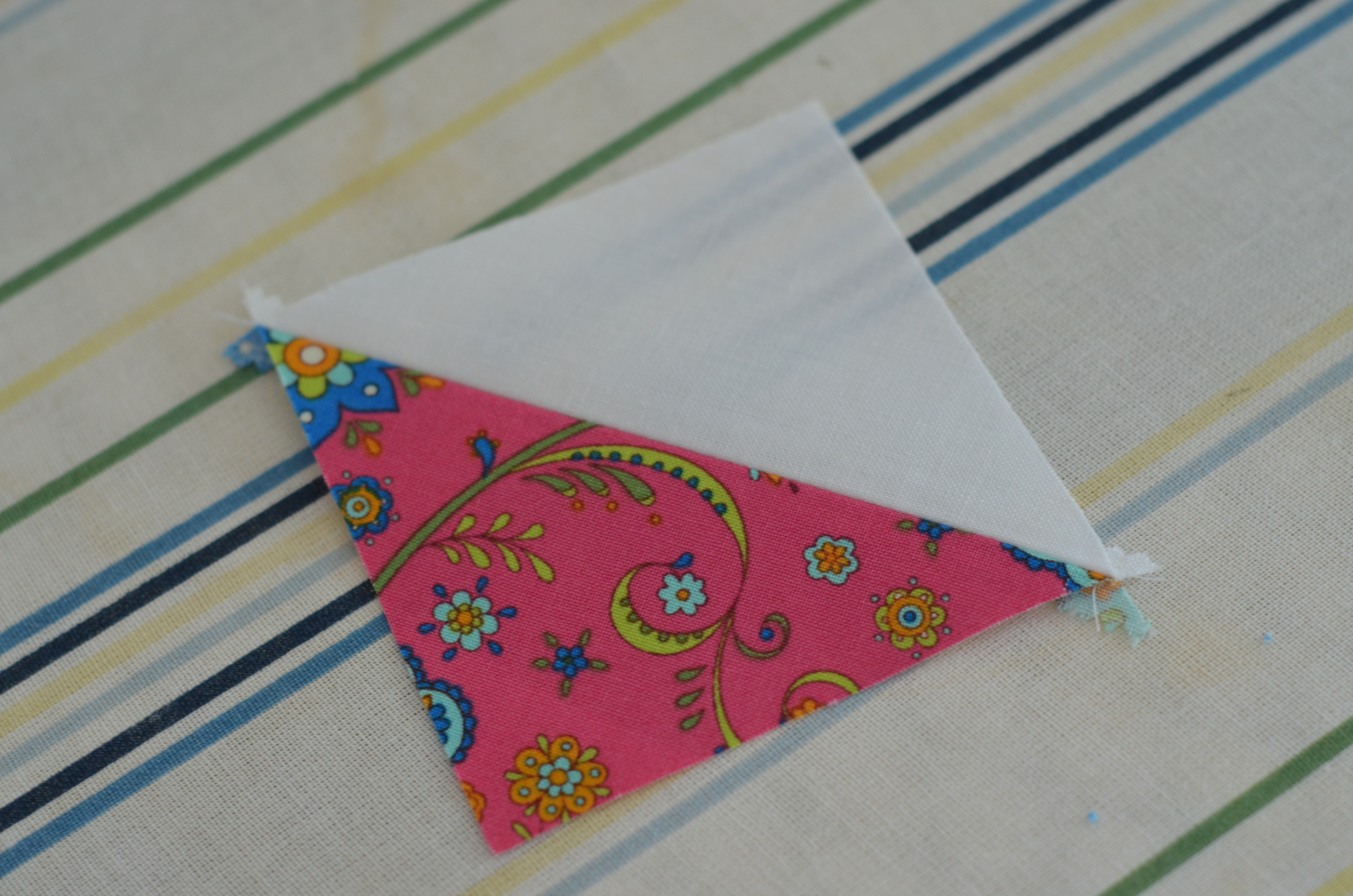 Once you have 12 of these squares for the top row, lay them out in the chevron pattern.  I make sure to not have the same two patterns touching.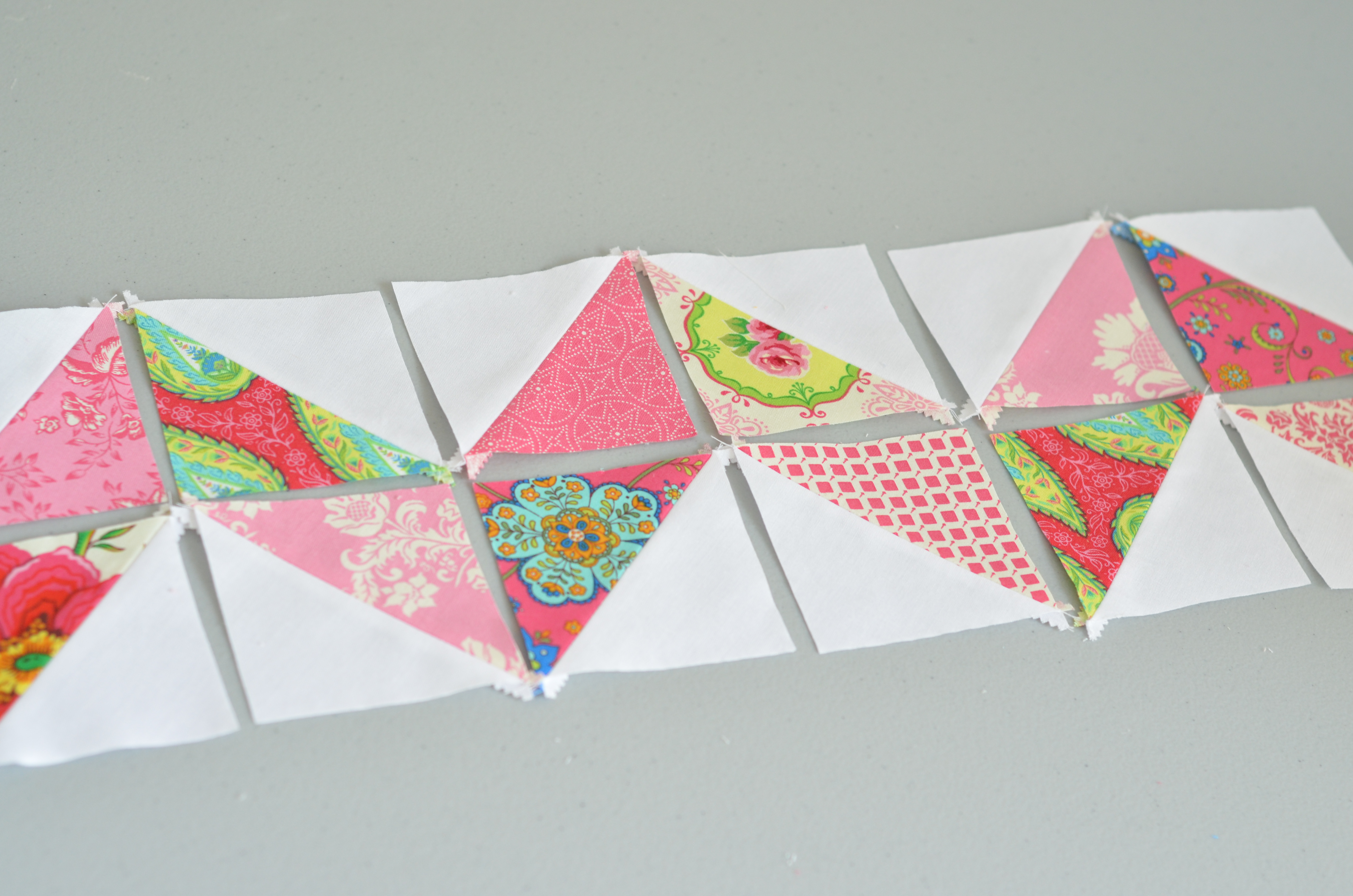 Now, I want you to think of the row as three squares like this: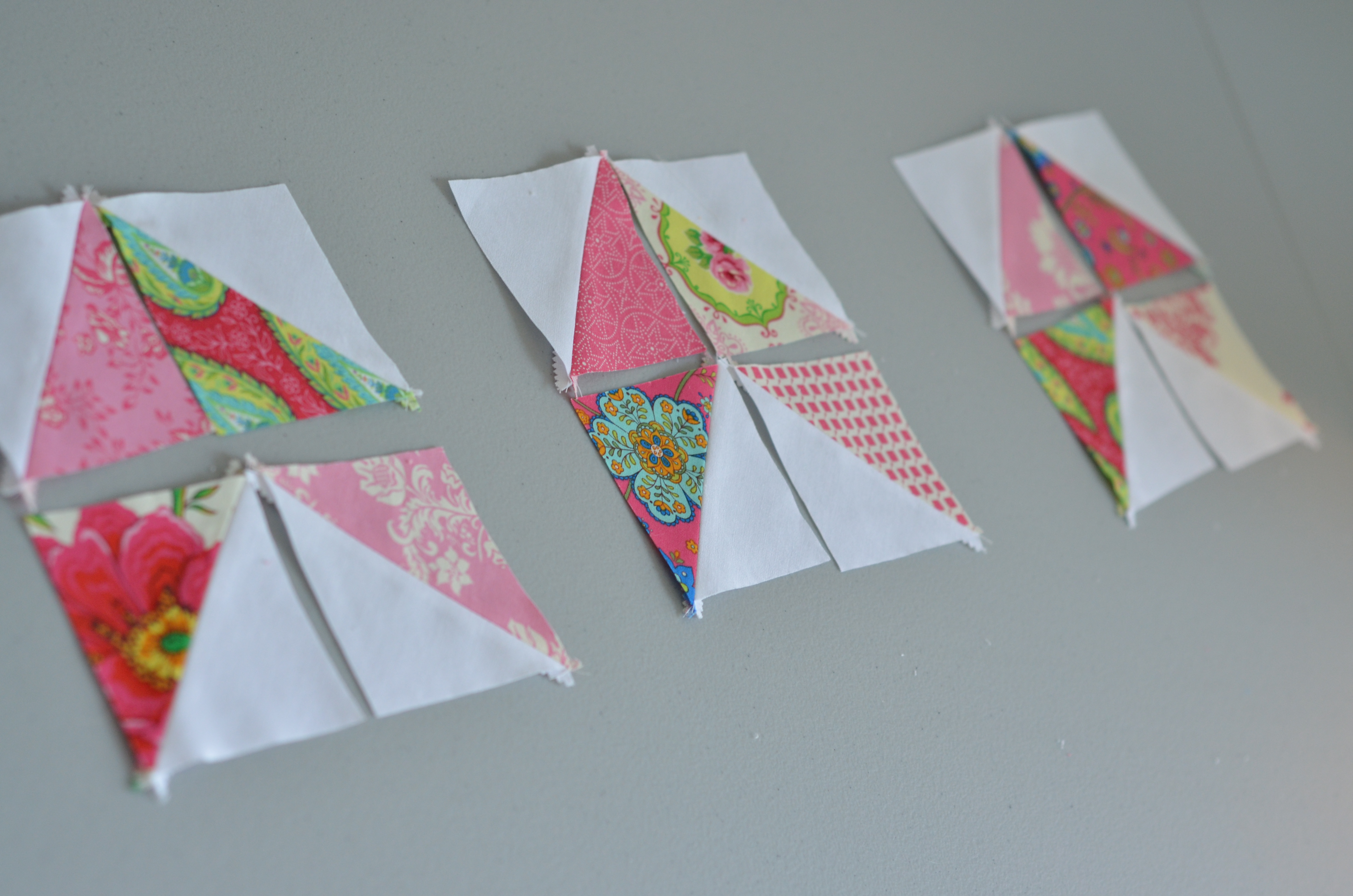 Start with one square at a time.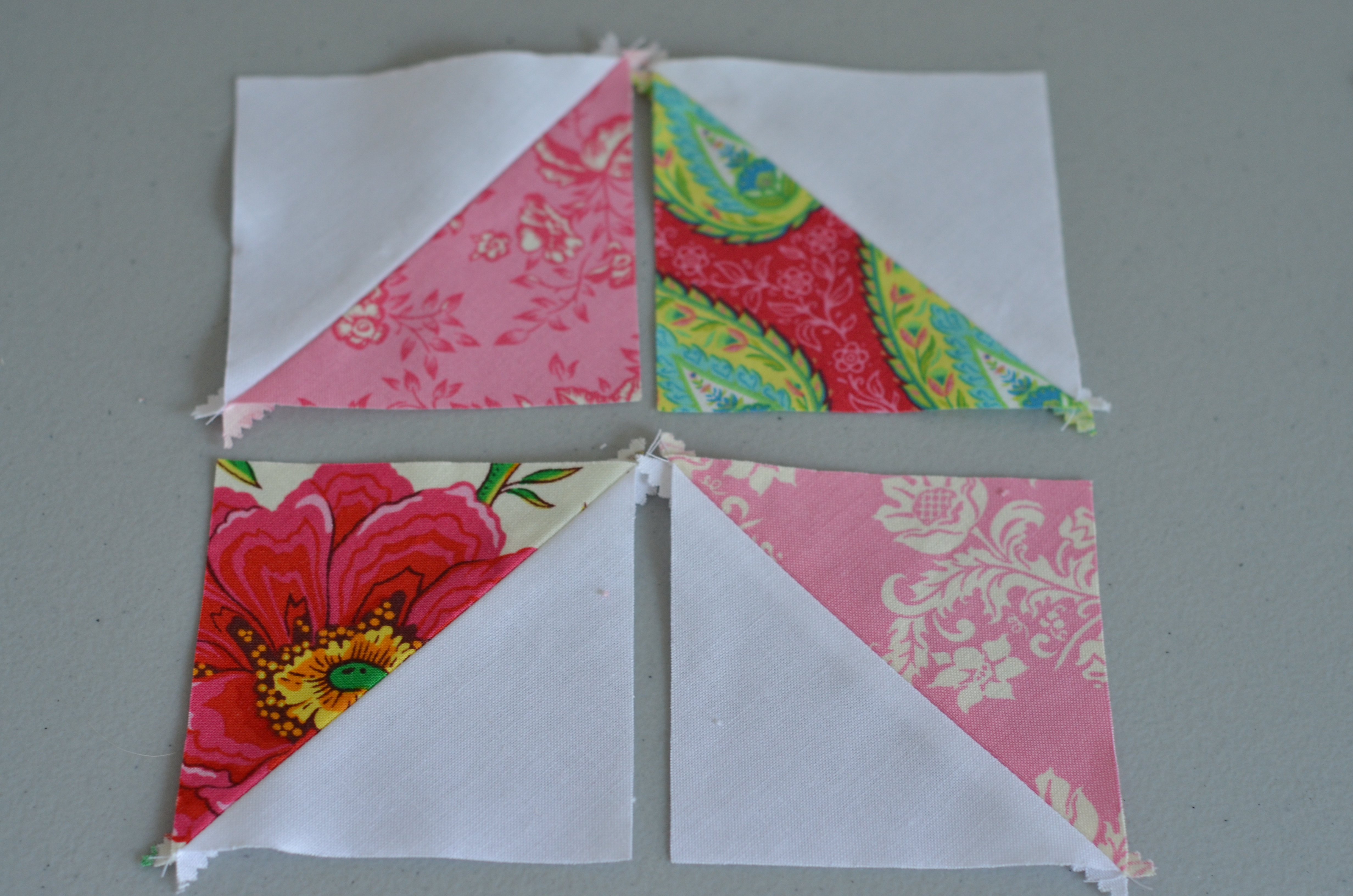 You'll piece the top two pieces together, right sides facing.  And then the bottoms.  Also, try to match up the diagonal seam like below…it'll help your pieces line up better.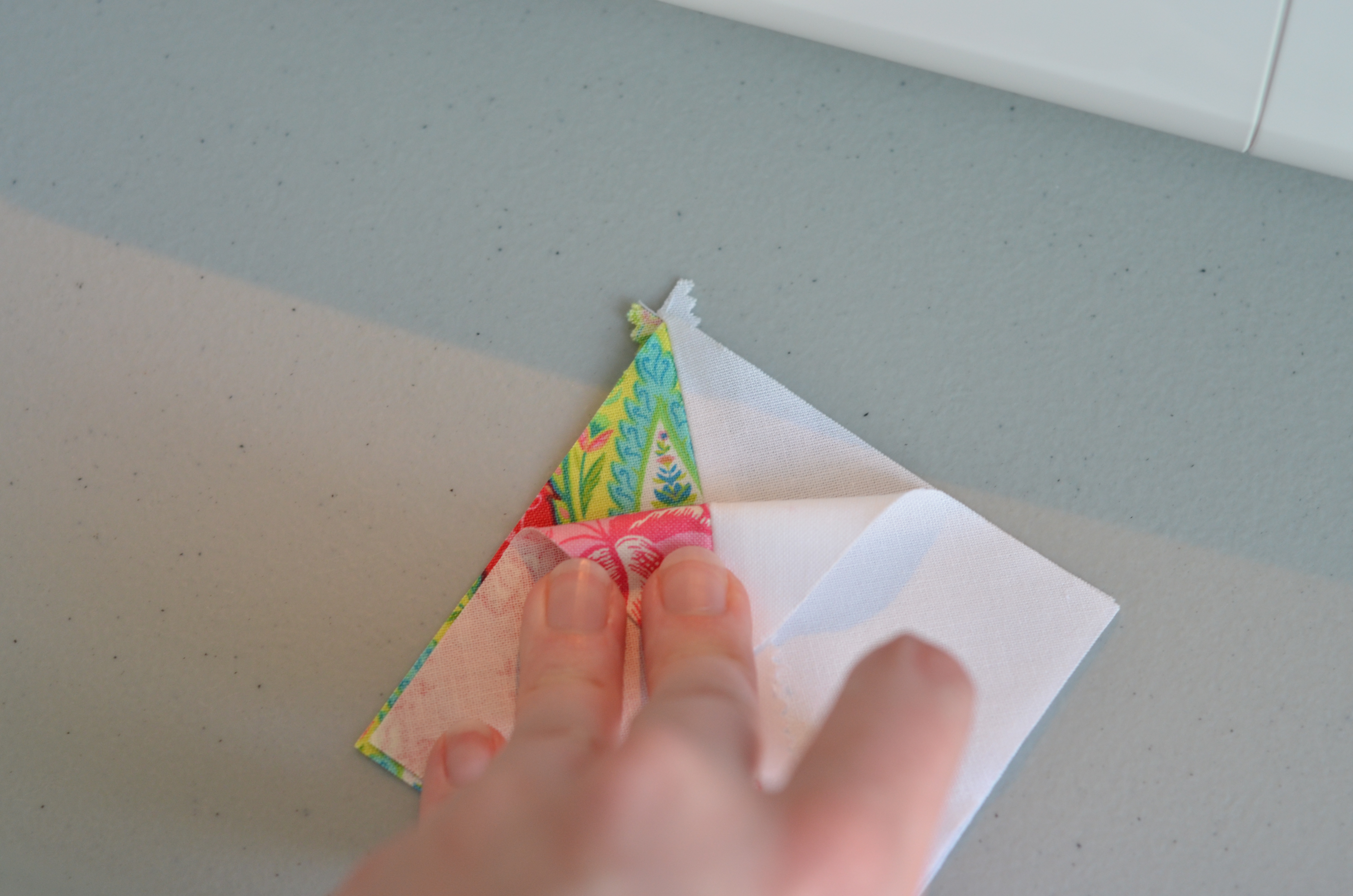 Tops and bottoms after being ironed.  🙂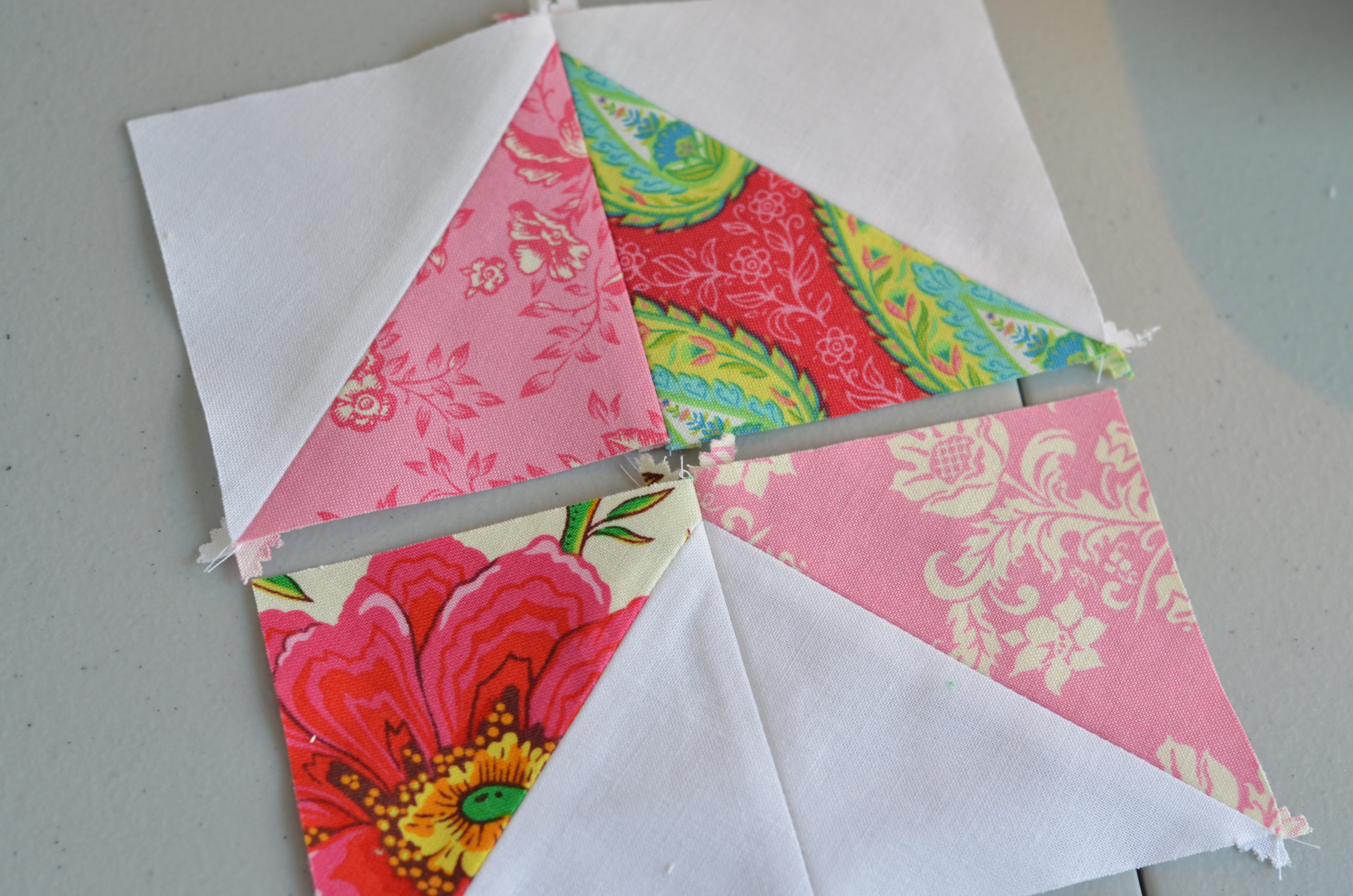 Now, you'll sew the middle of the square together.  As usual…right sides facing one another!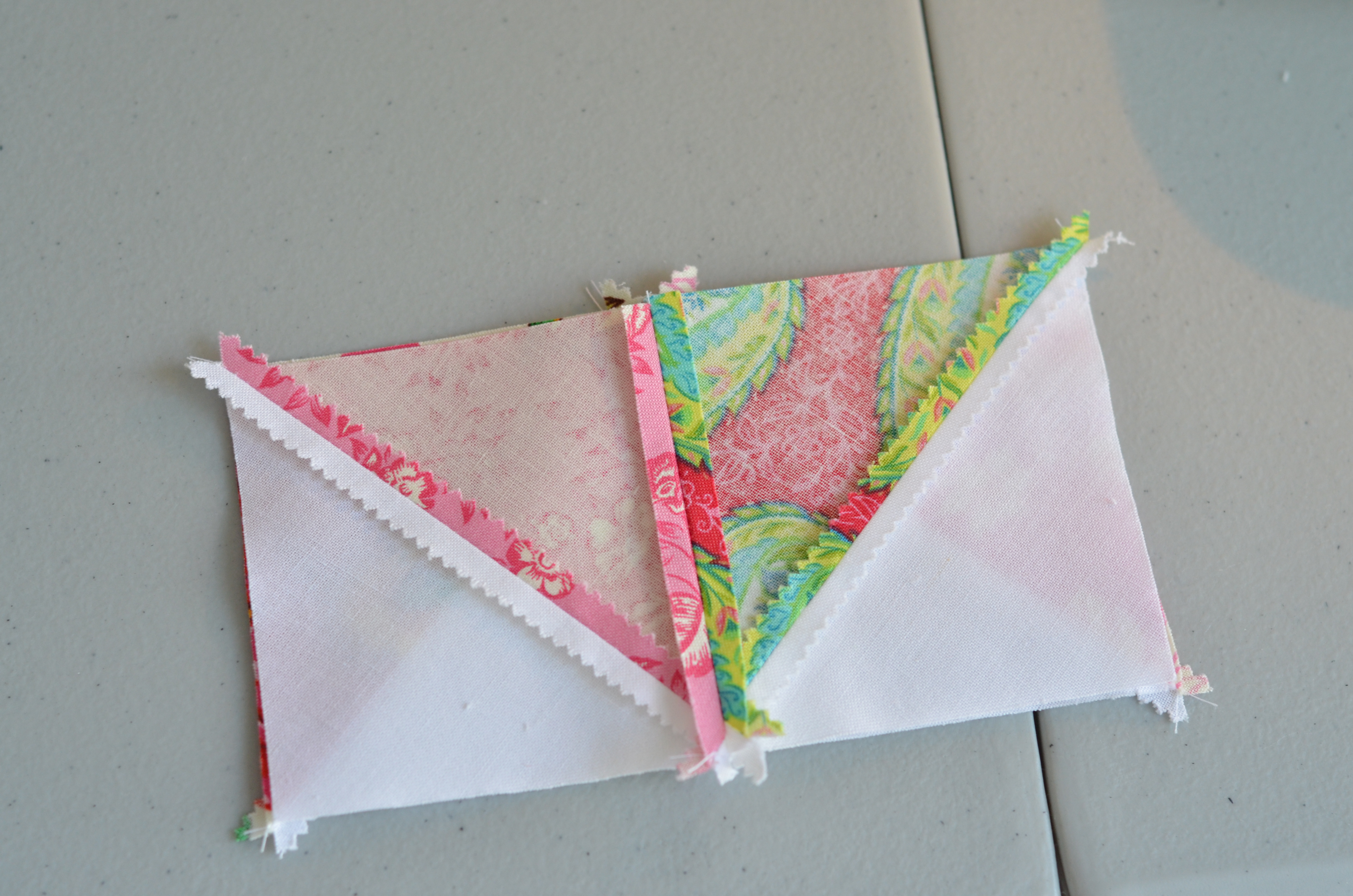 And this time, line up the middle seam before you sew.  I don't use pins for this but if you feel more comfortable doing so, then go ahead.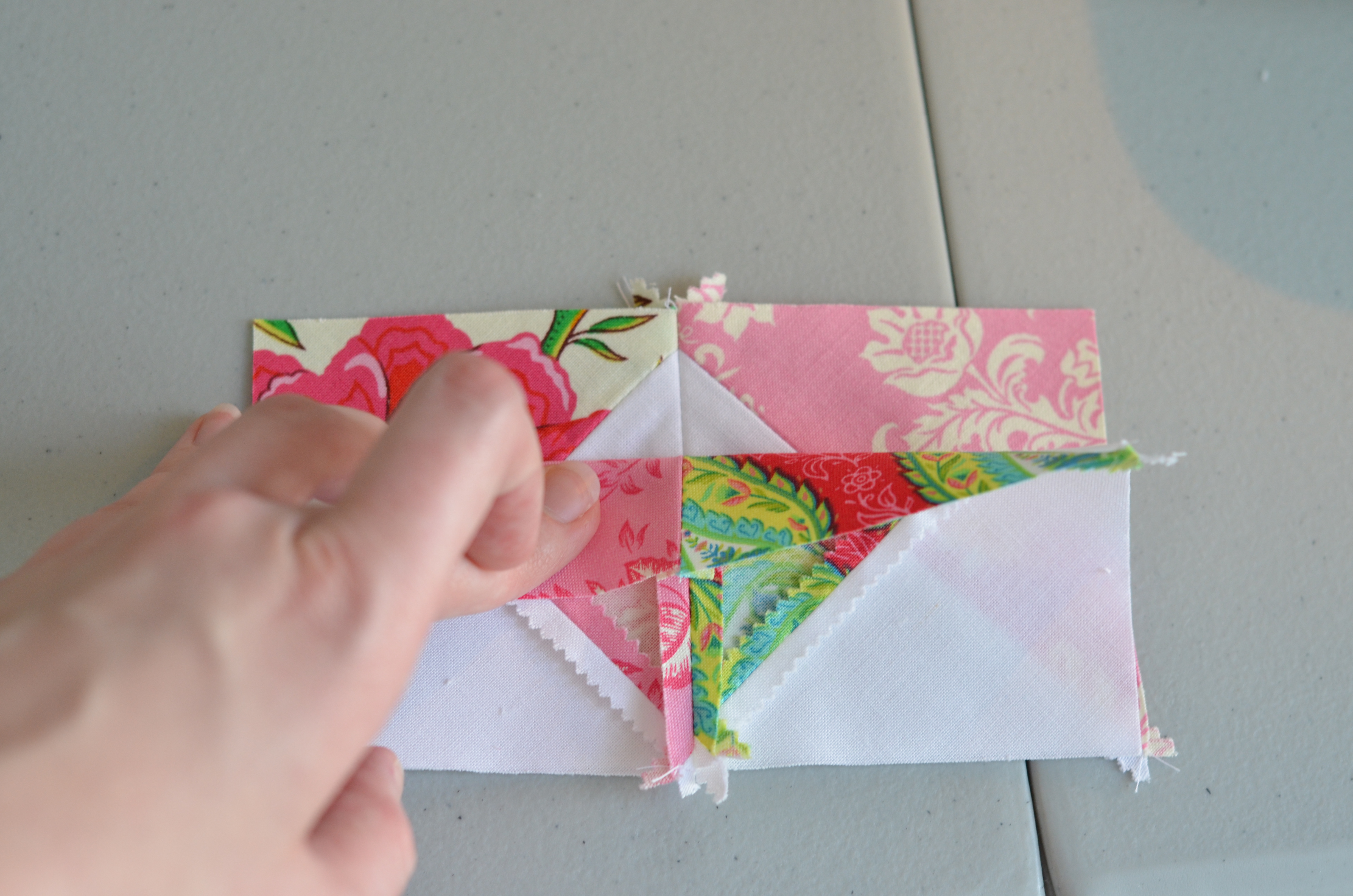 Ta-da!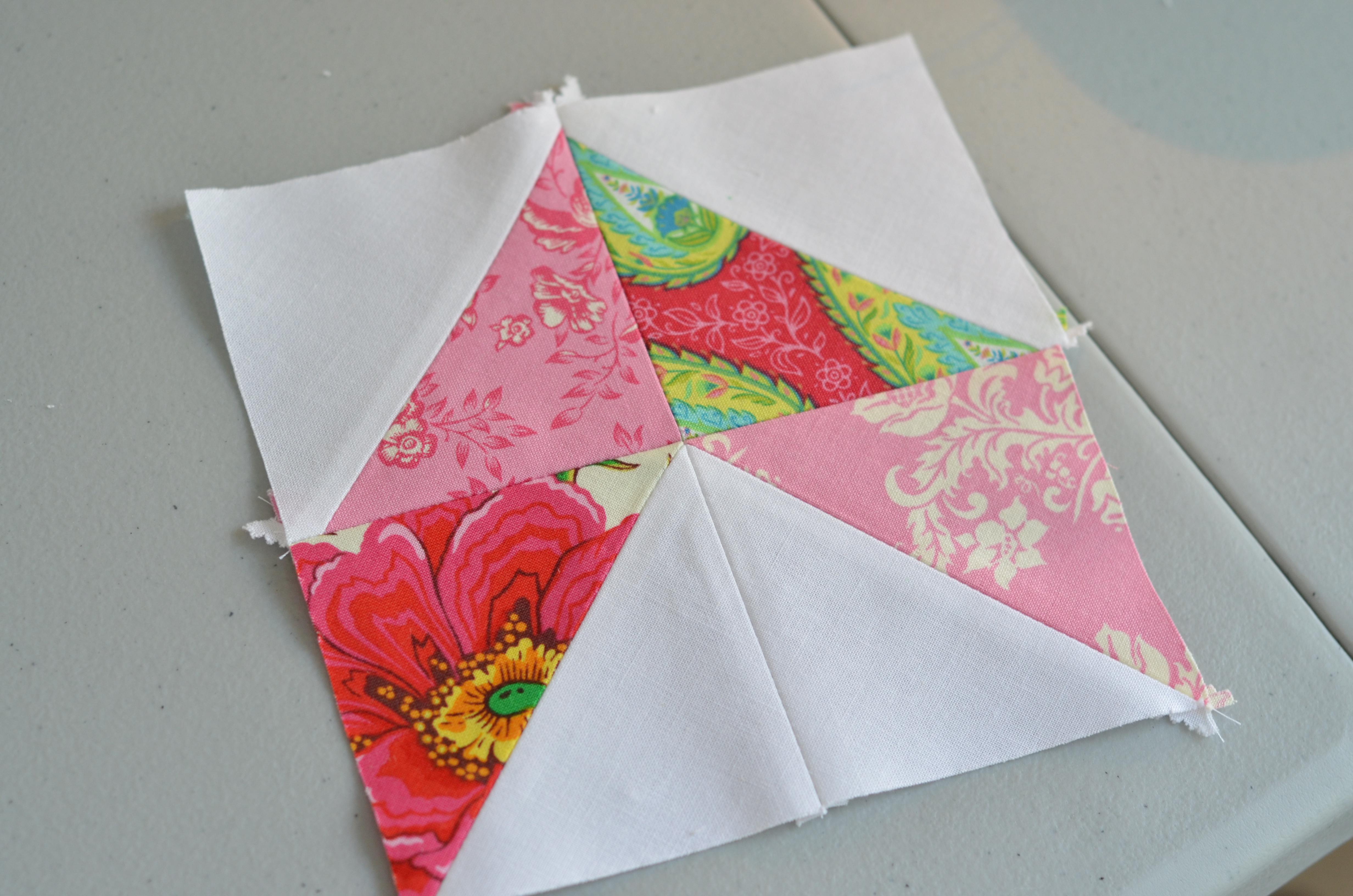 Continue these steps until you get three squares.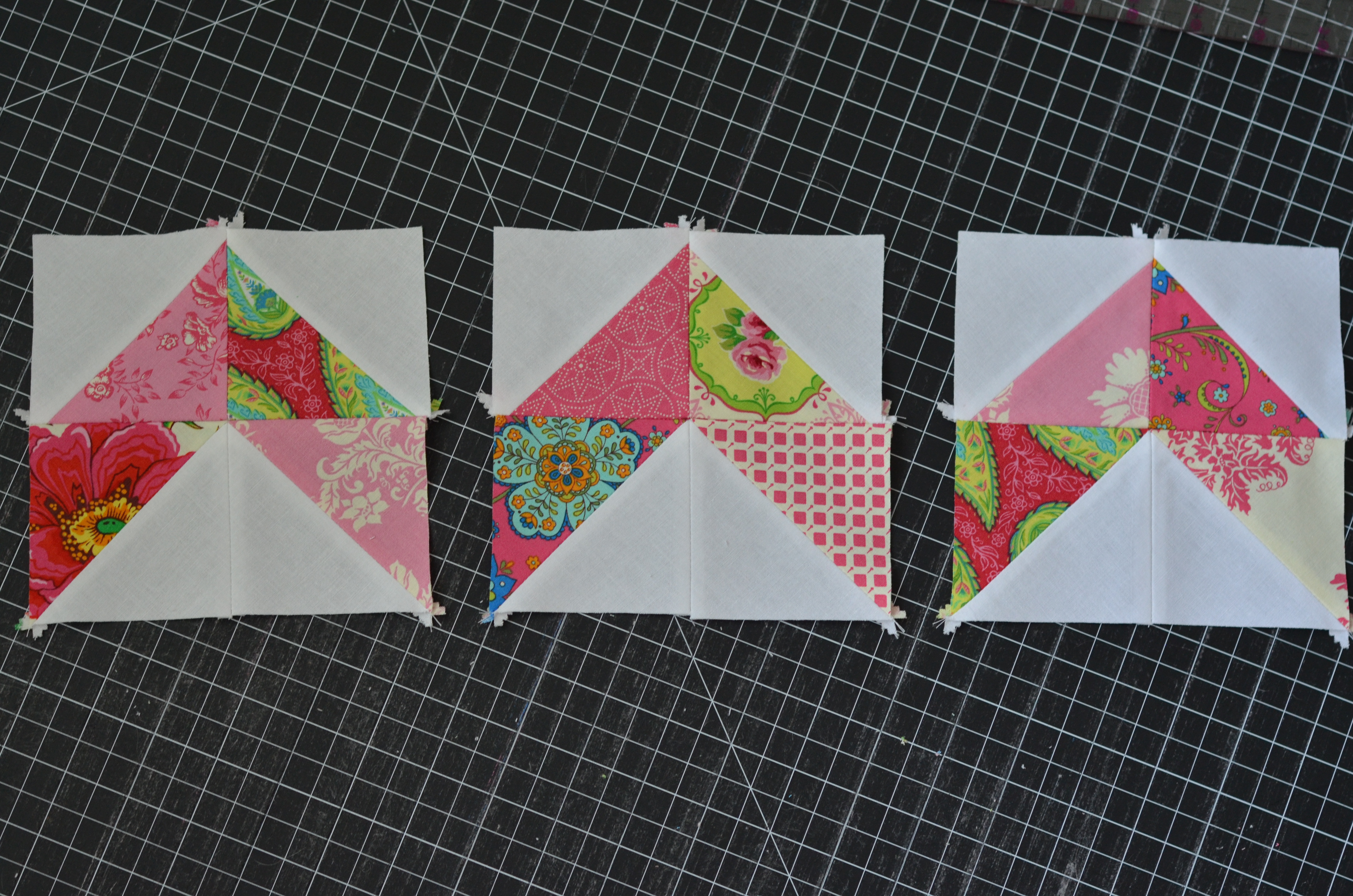 Sew these squares together to make a row.  Remember to line up the middle seam so that the row lines up perfectly (I'm a tad of a perfectionist!).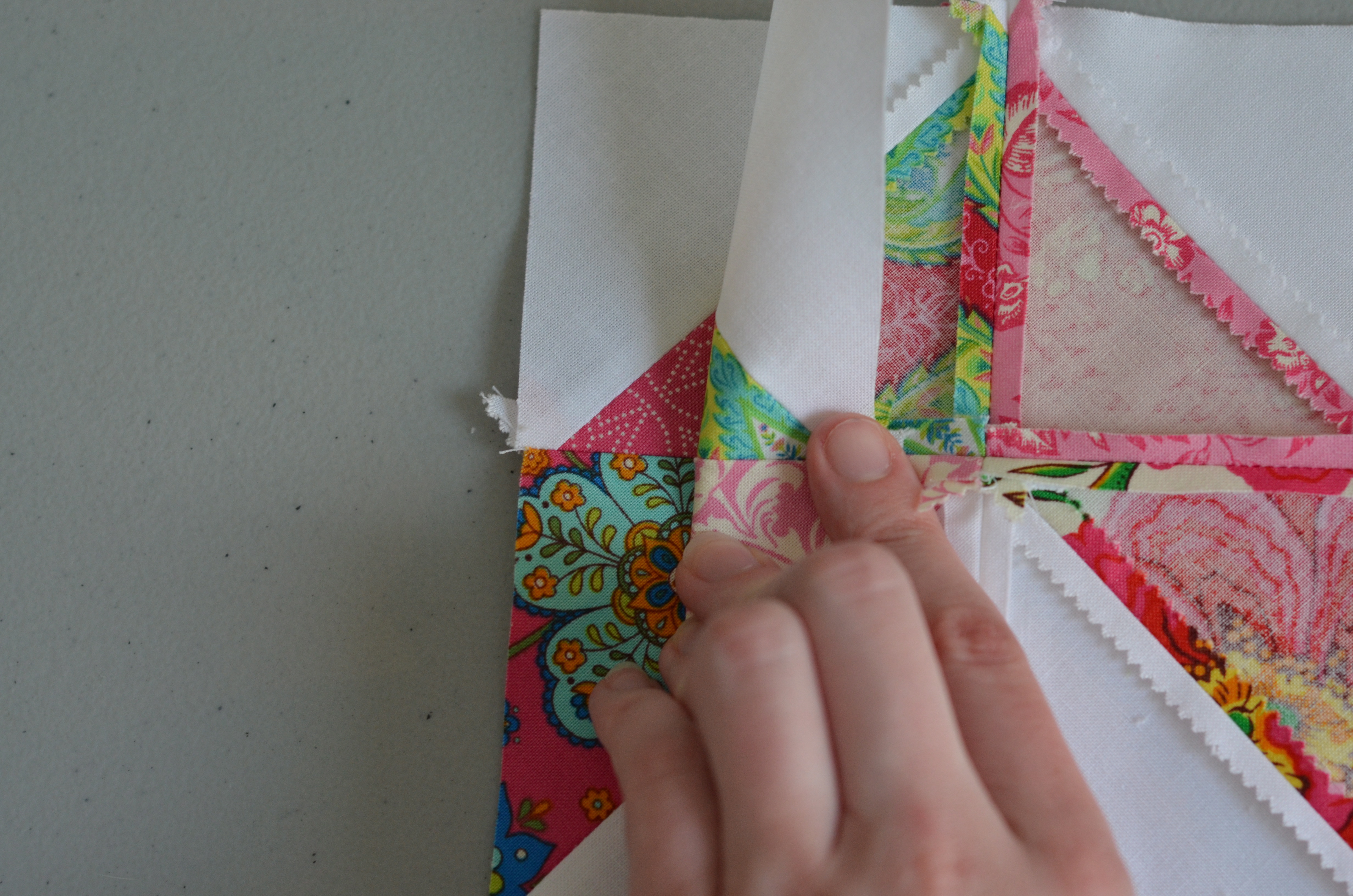 Repeat all steps until you have two more rows completed.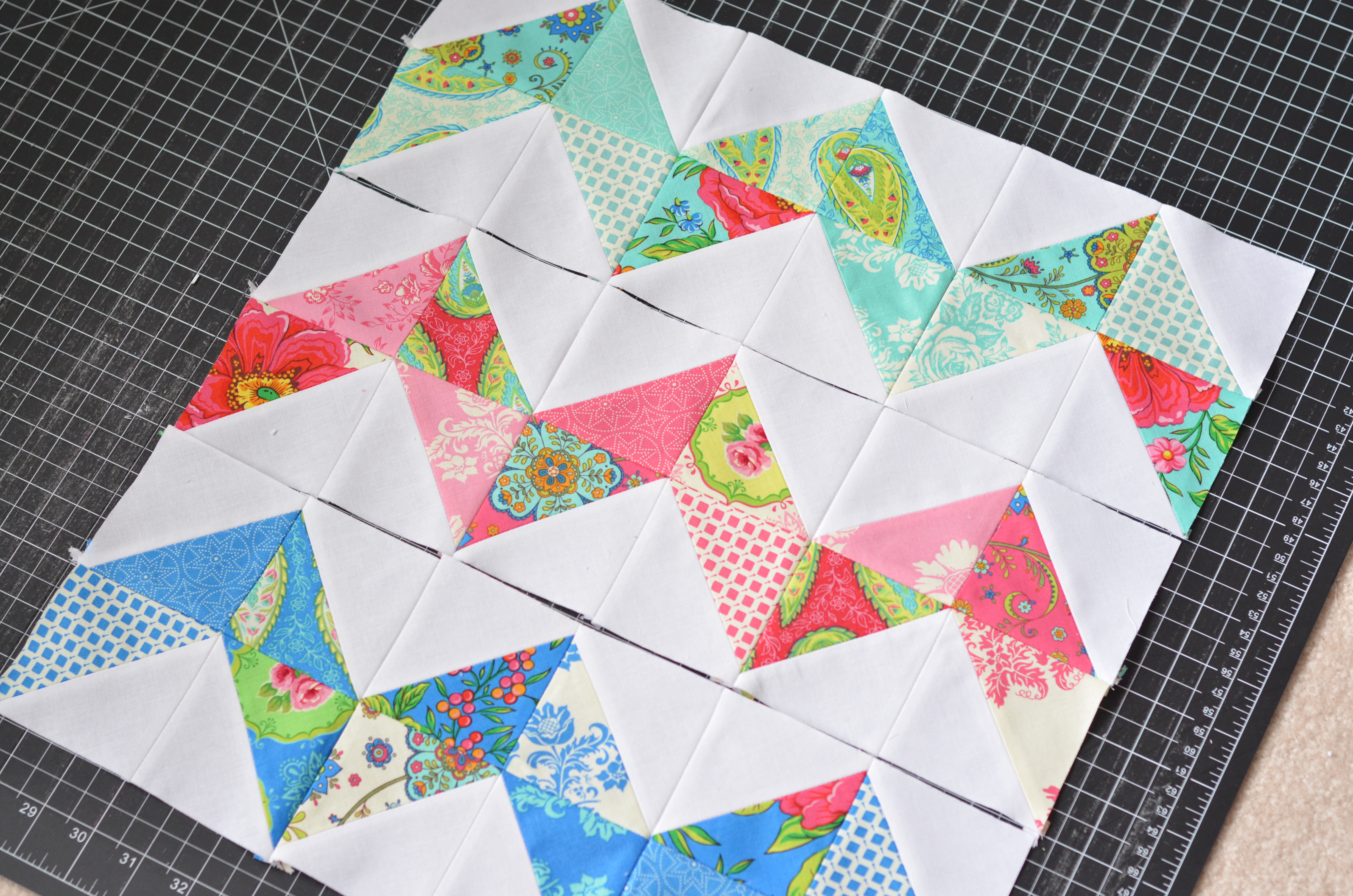 Sew those three strips together to complete the front of your lovey.  I did use pins for this step since the rows are a lot longer and tend to move when you sew the seam.  Remember to iron after each seam.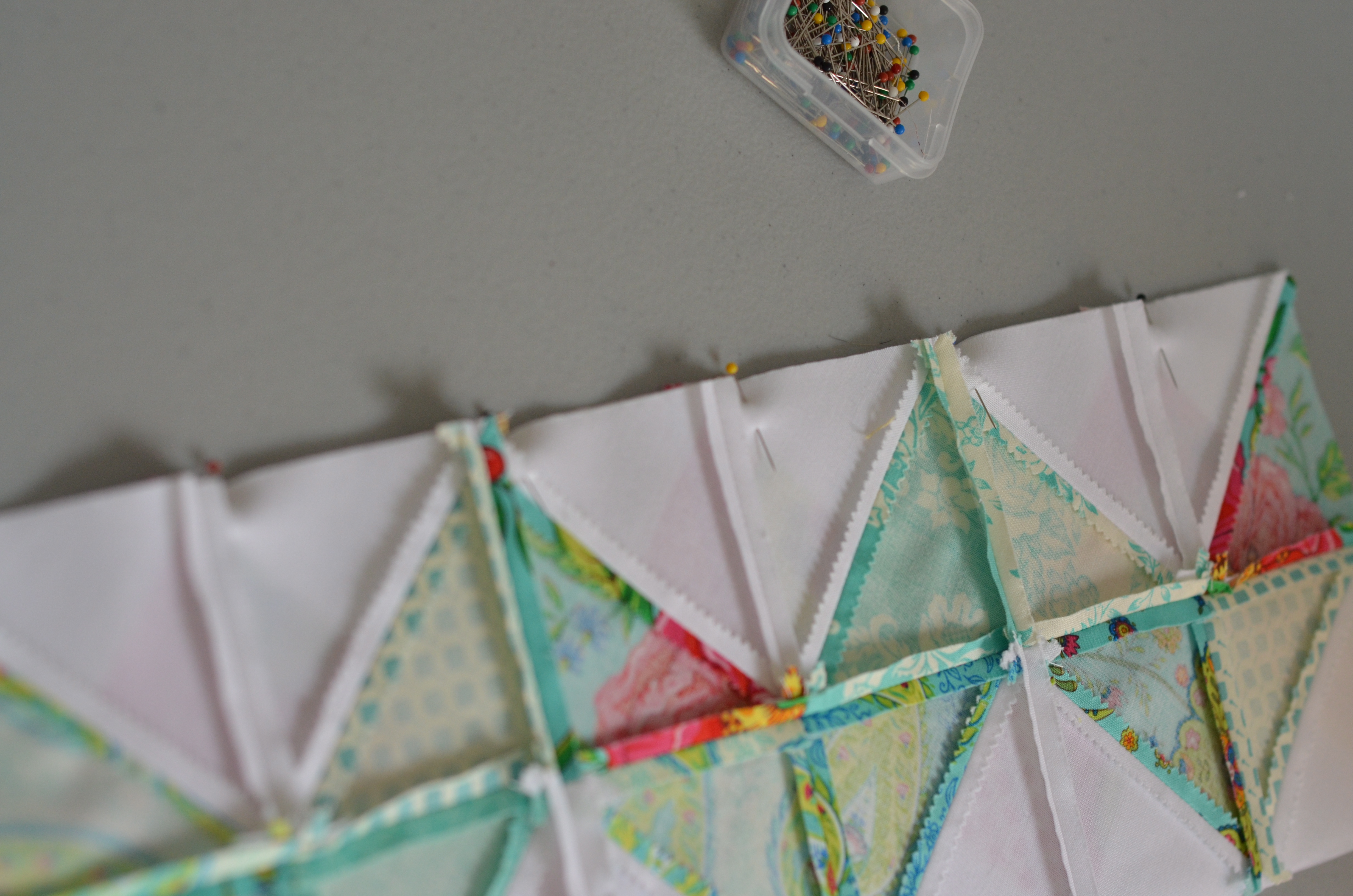 After the three rows are sewn together, this is what you'll have: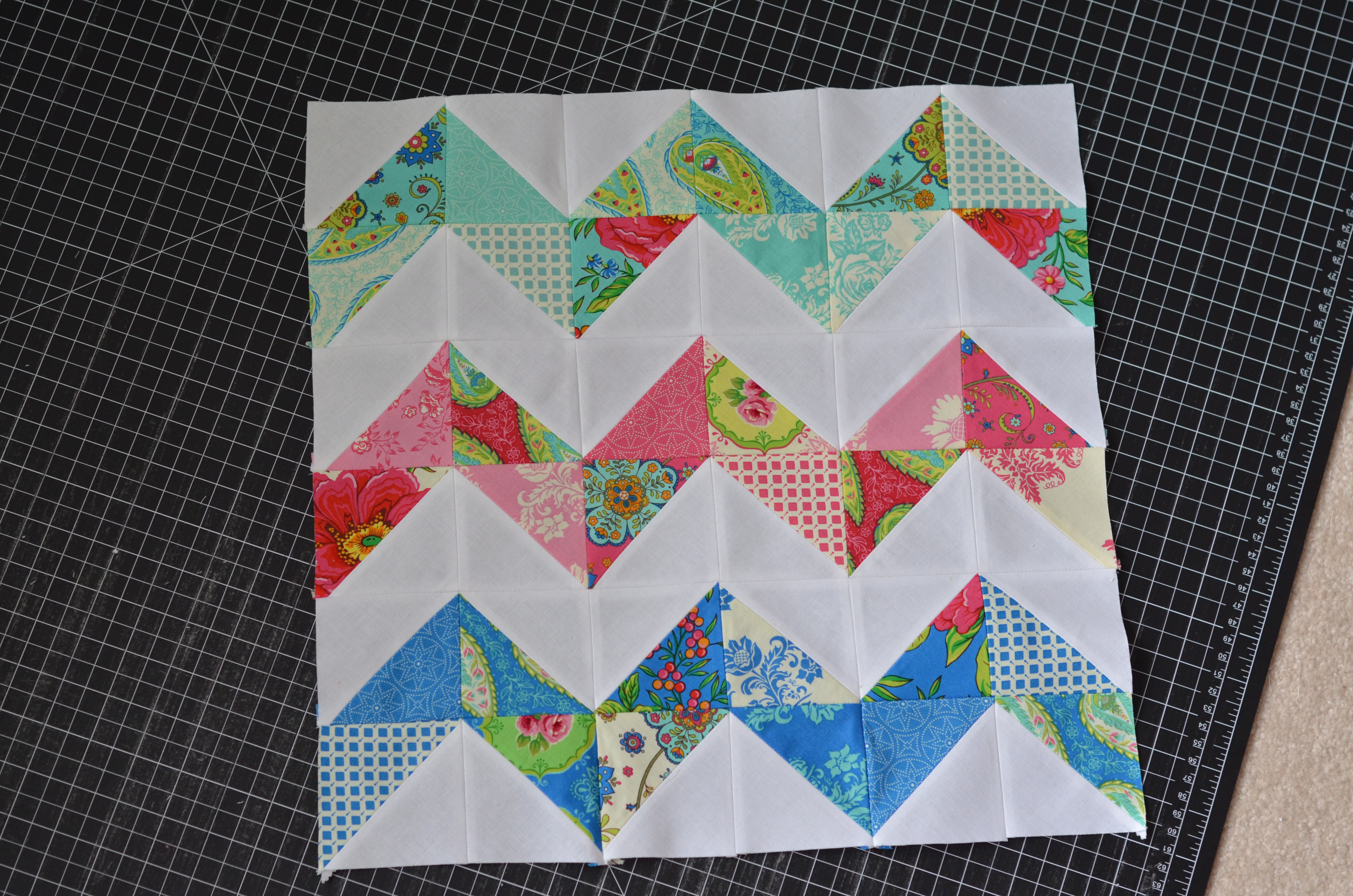 This is what the back will look like, and try to make sure that everything is ironed nice and flat.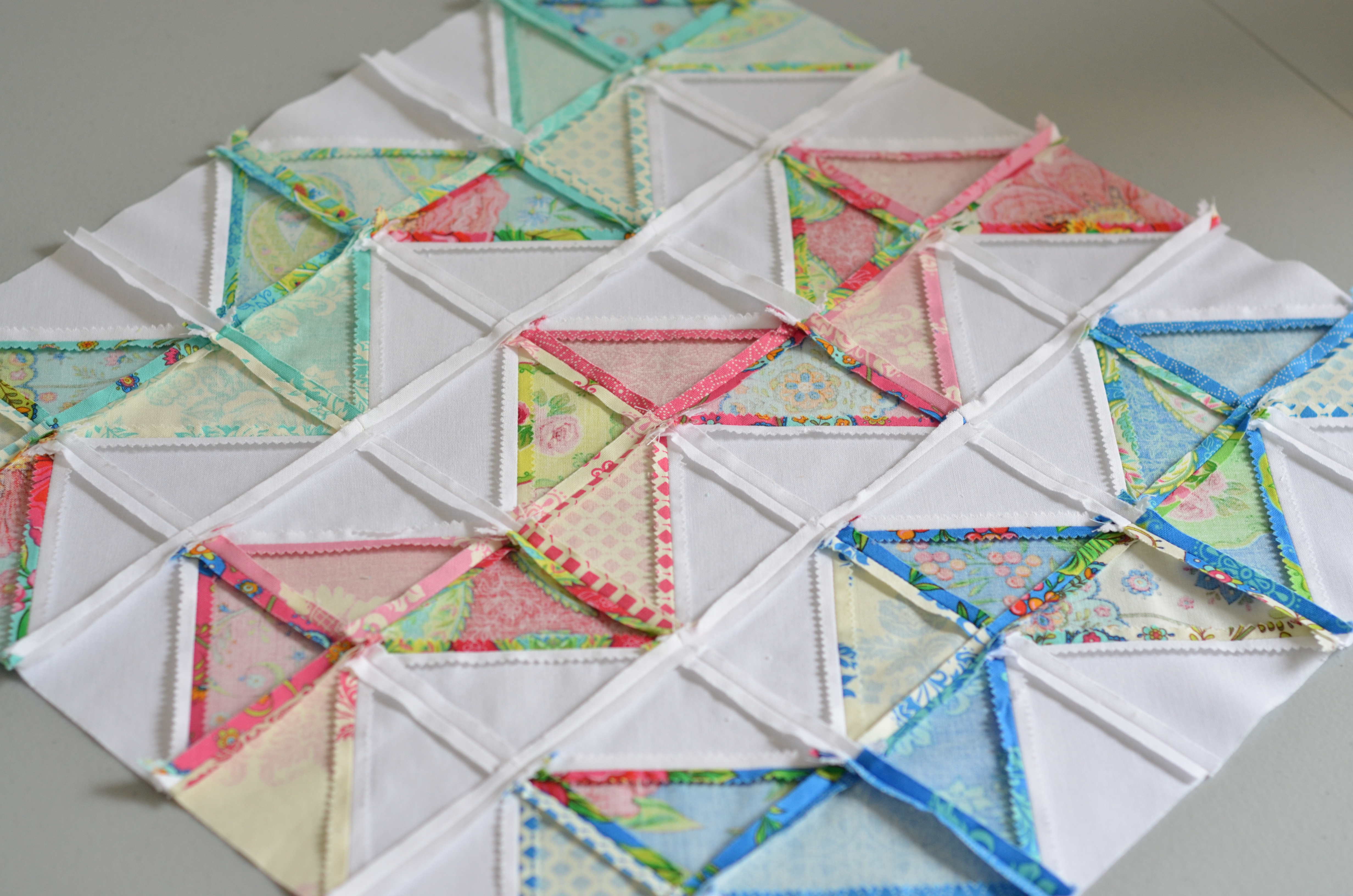 Your lovey quilt top front should be 18 by 18 inches.  Measure just to make sure so that you cut your minky the correct size.  If it's not 18 by 18 inches, don't worry!  Just cut the minky the same size that your lovey quilt top came out to be.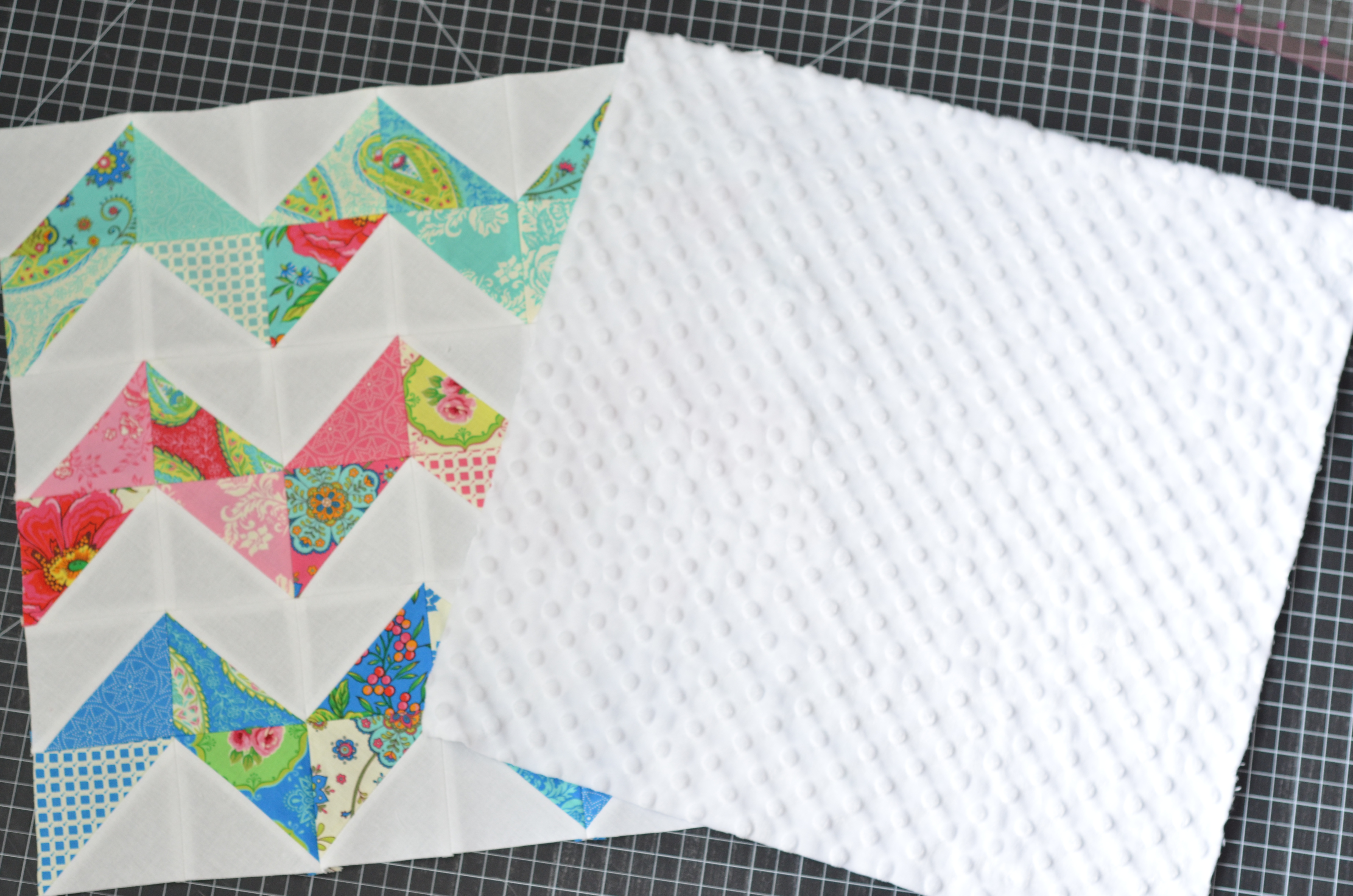 Take your minky and your lovey and place them right sides together.  You should now be looking at the wrong sides of the fabric.  Minky can be a pain to sew…so I use a lot, and I mean A LOT of pins.  It will prevent the minky from moving (since it tends to stretch and move all over the place).  I hope you can see how many pins I used below.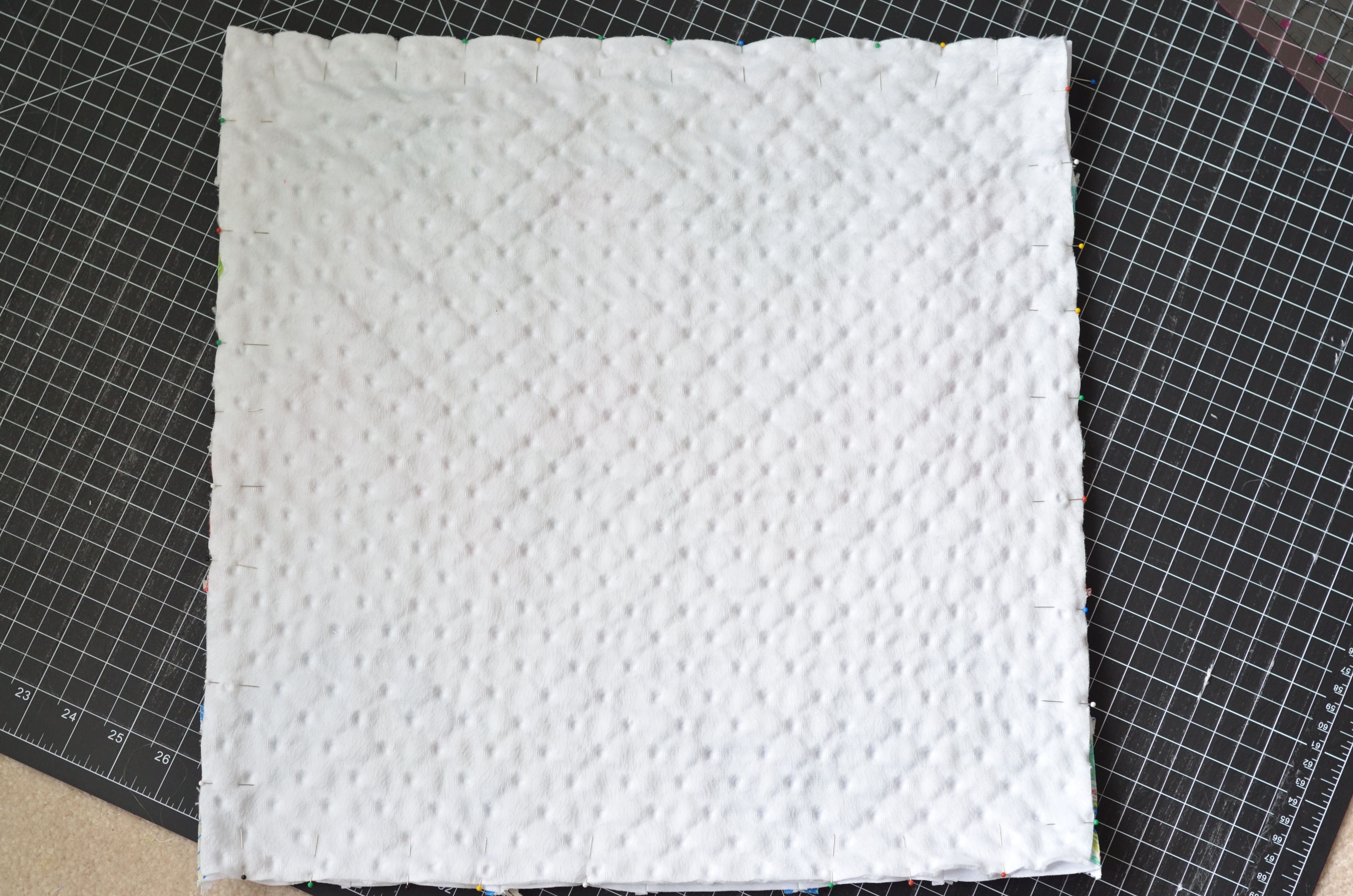 When you pin…leave about a 4 inch gap.  This will be the opening you use to flip your lovey right side out.  I tried to show the size opening I left below by placing my phone by it so it's easier to see.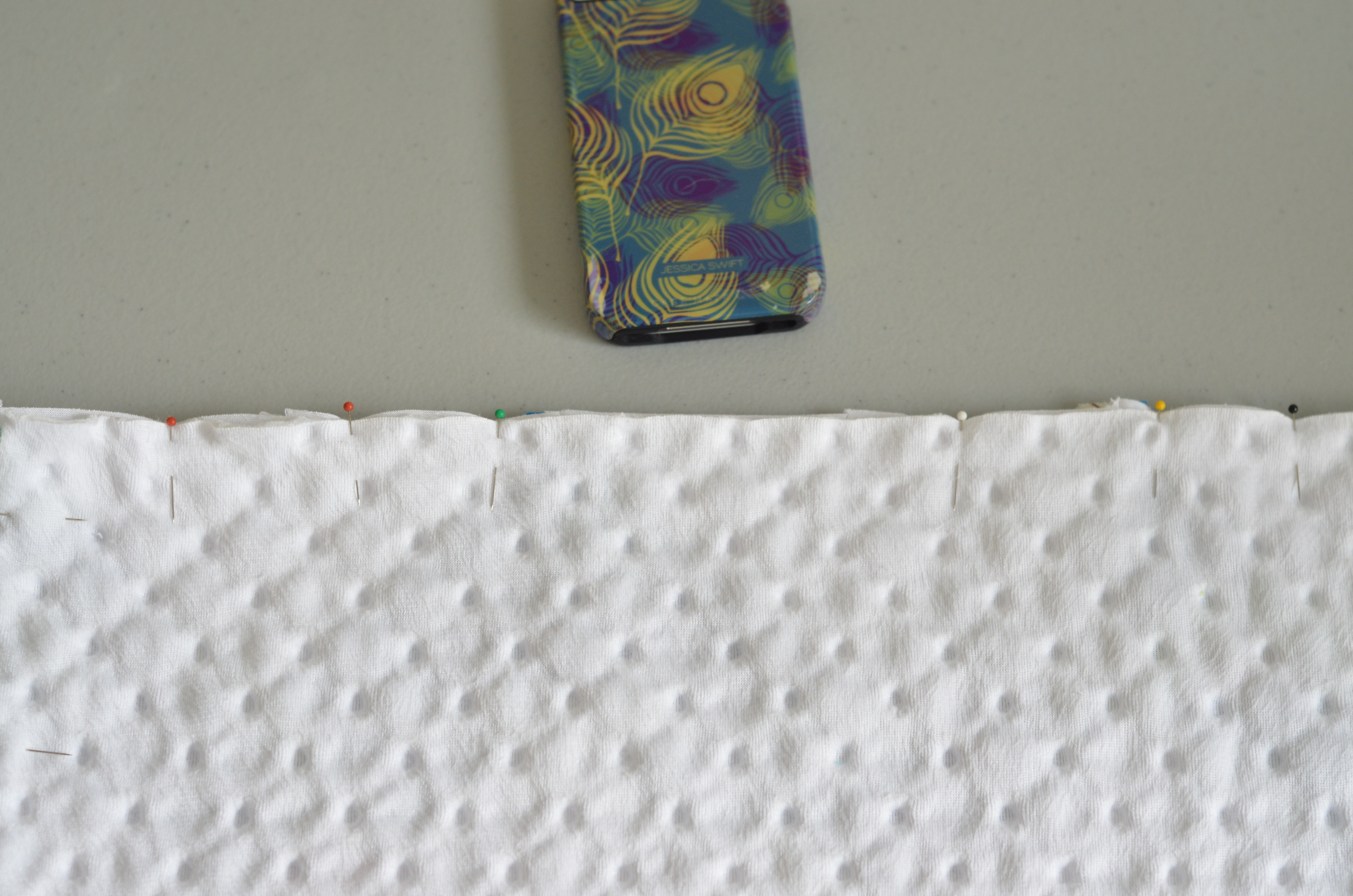 Here's my secret weapon…a walking foot!  This helps guide your fabric through your machine evenly.  I have a generic one that I got off of amazon here and it works perfectly!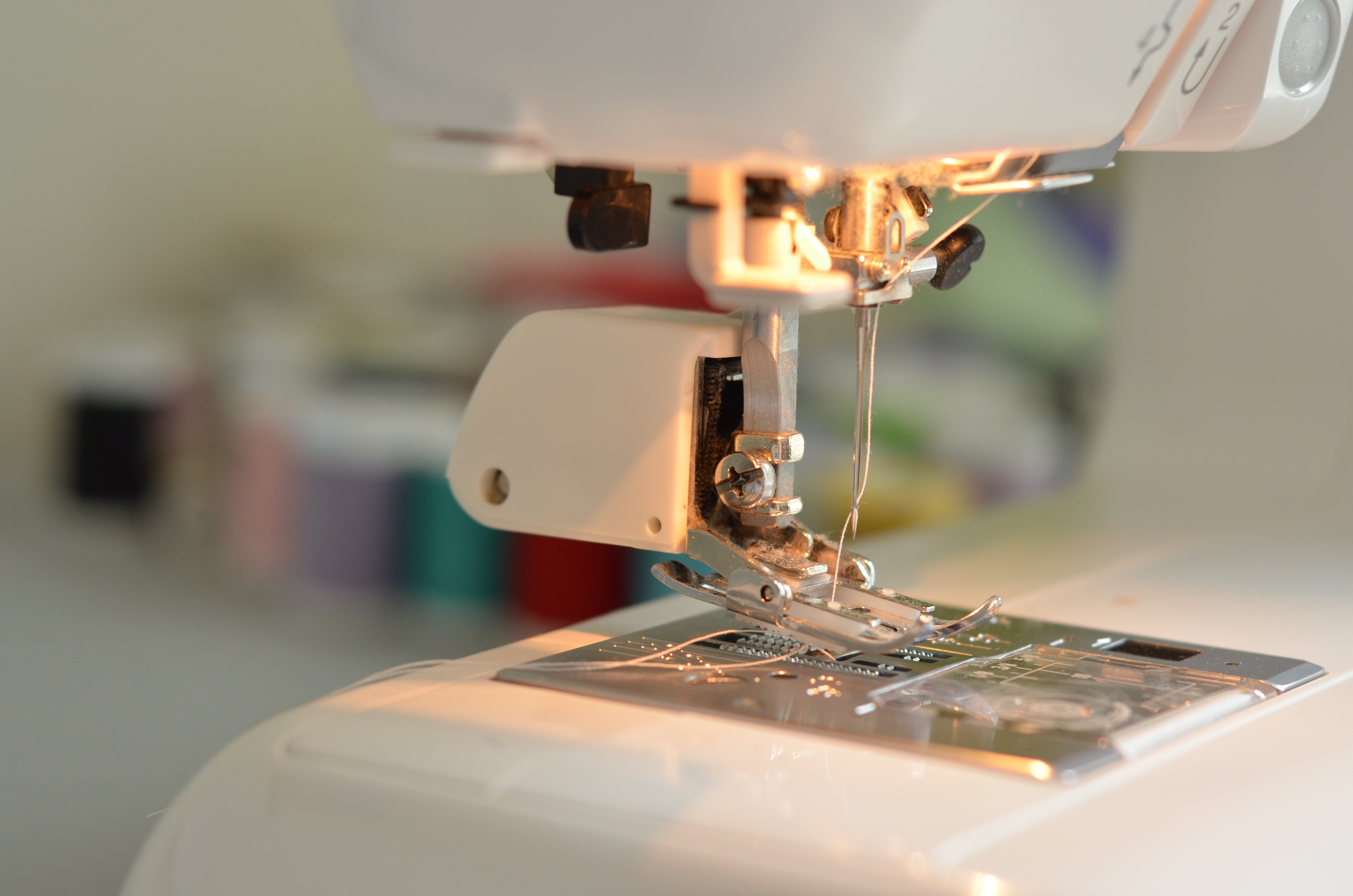 When you go to sew the around the edge, use a 3/8 seam allowance!  When you start, back stitch a few stitches since you'll be leaving a 4 inch opening (don't make the opening on a corner!) so the back stitching will prevent the seam from pulling out when you flip the lovey right side out.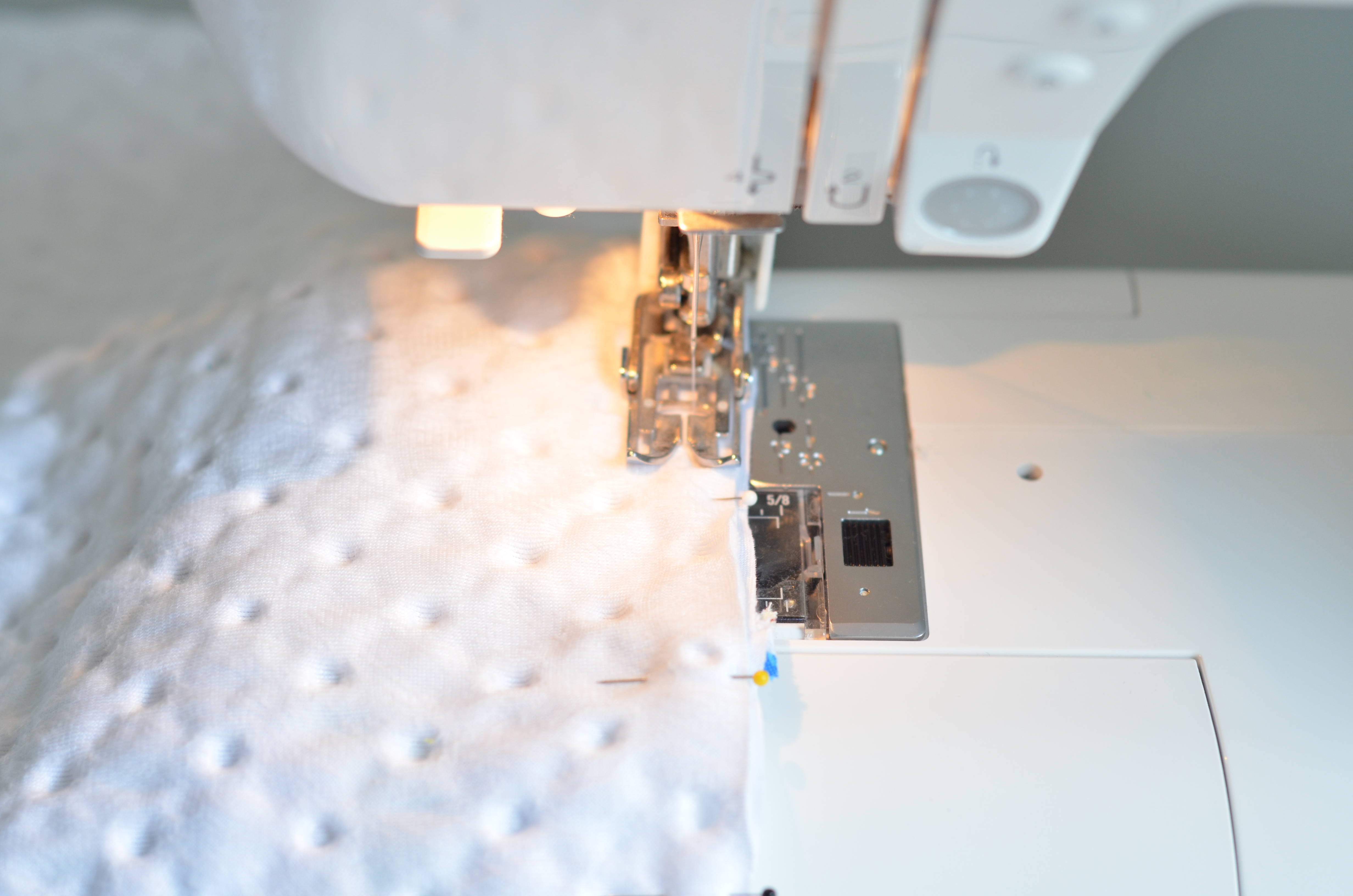 Stop about a quarter inch before you get to the corner.  Make sure the needle is still in your fabric and lift your presser foot up.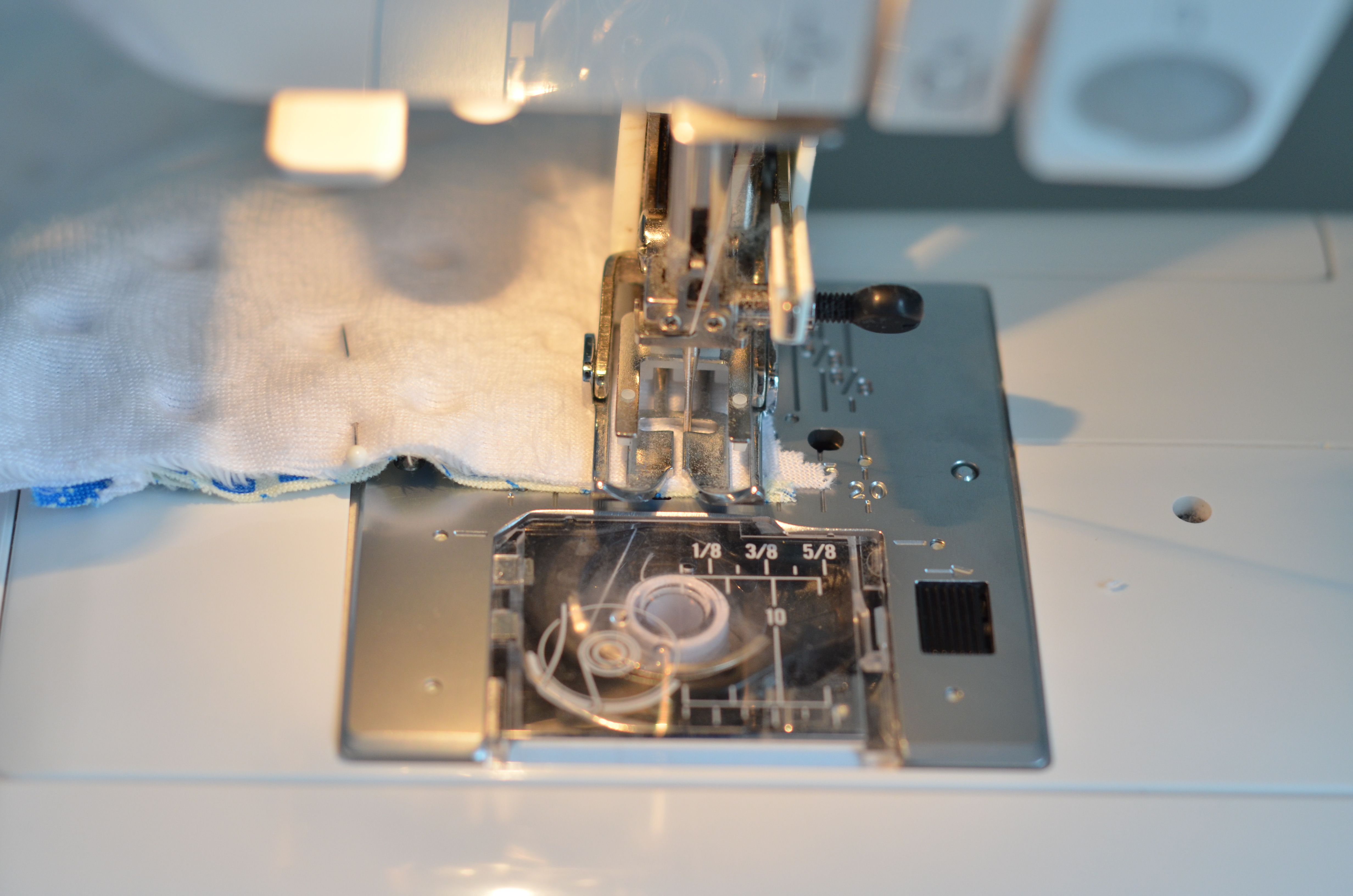 Rotate your lovey to the next side, put your presser foot down and repeat these steps for each corner.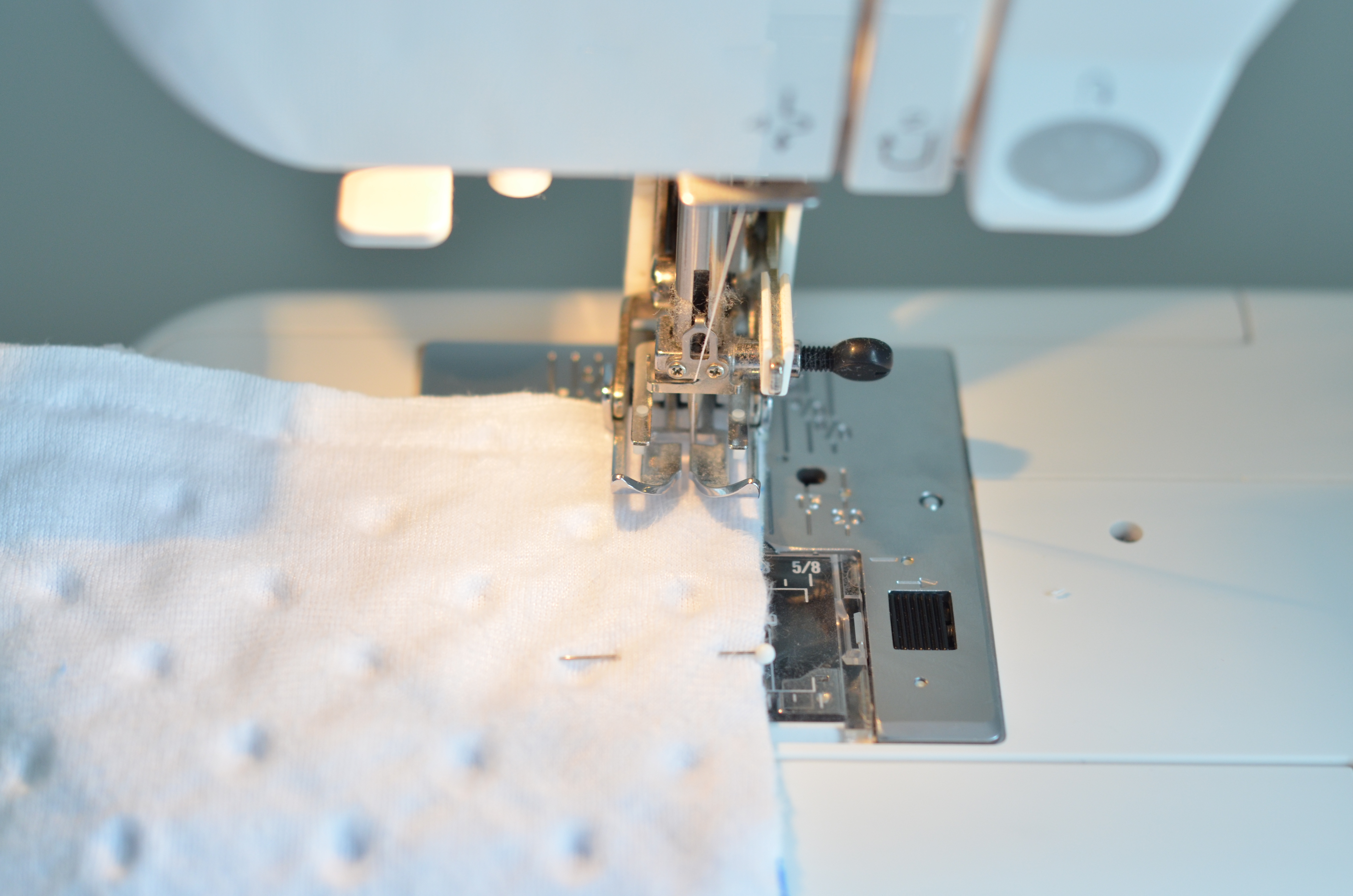 Once you get to the last 4 inches from where you began, stop and back stitch.  This is what you should have now: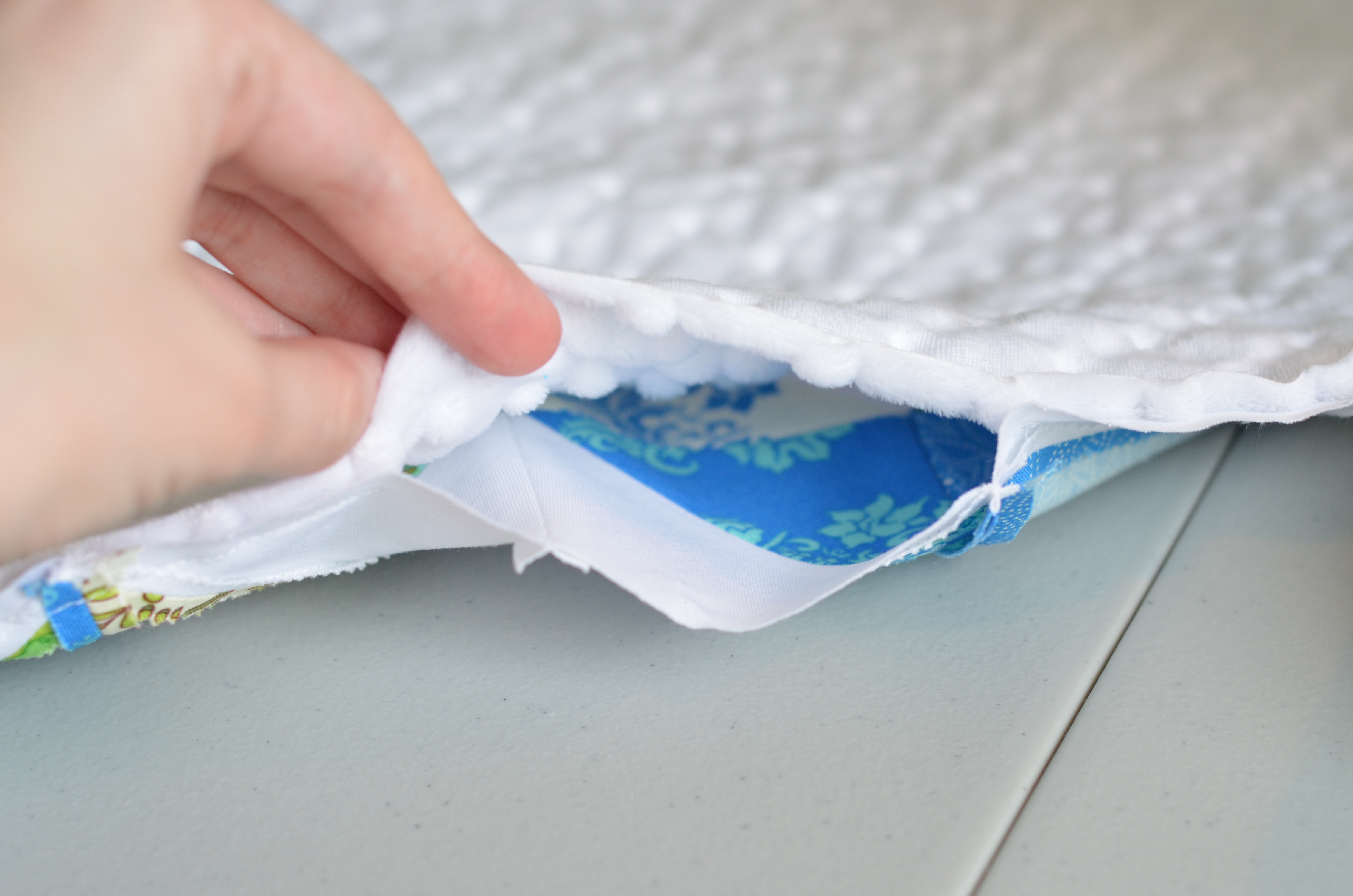 Take your rotary cutter and clip the corners.  MAKE SURE NOT TO CUT THE SEAM!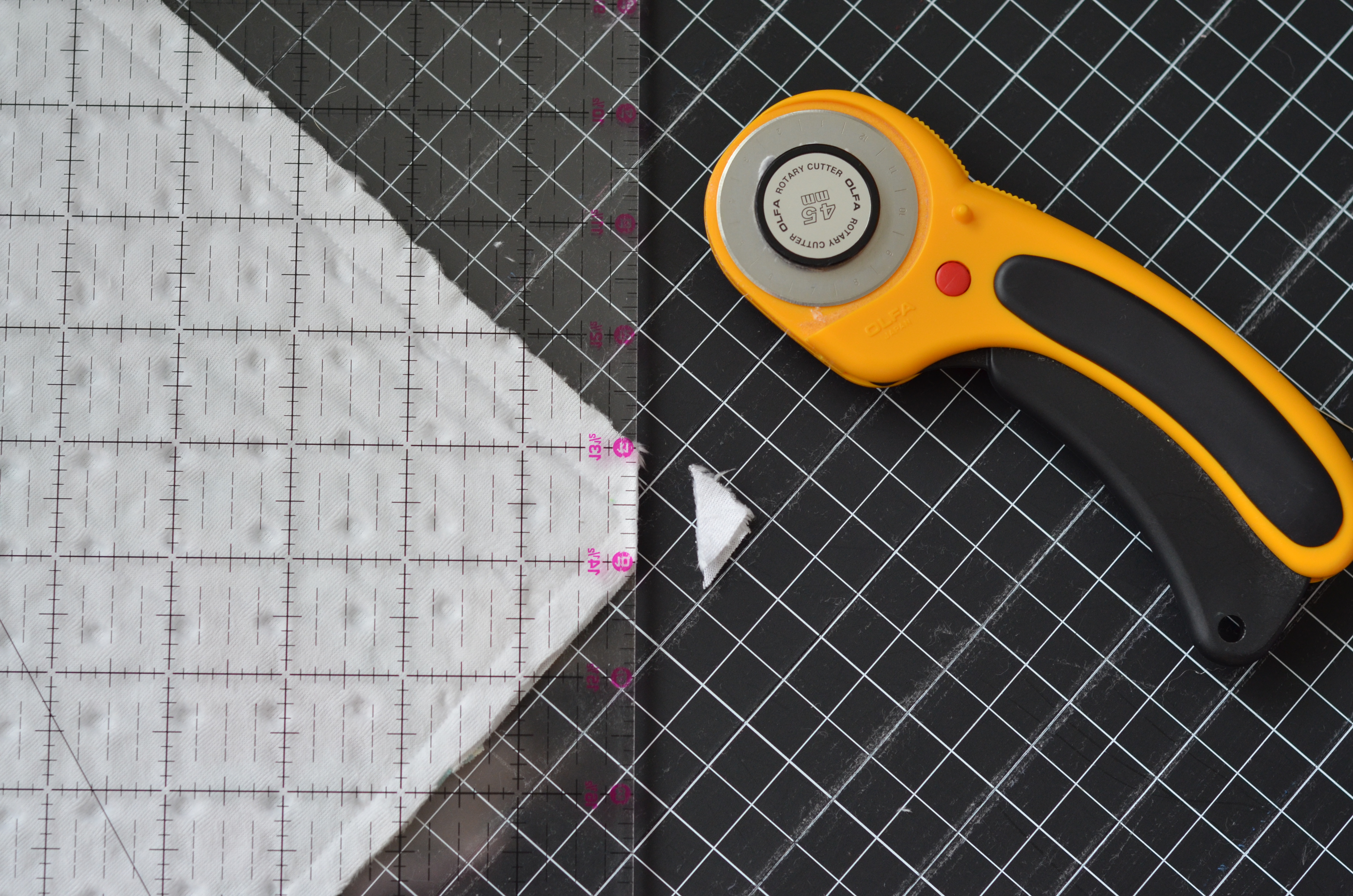 Pull your lovey right side out.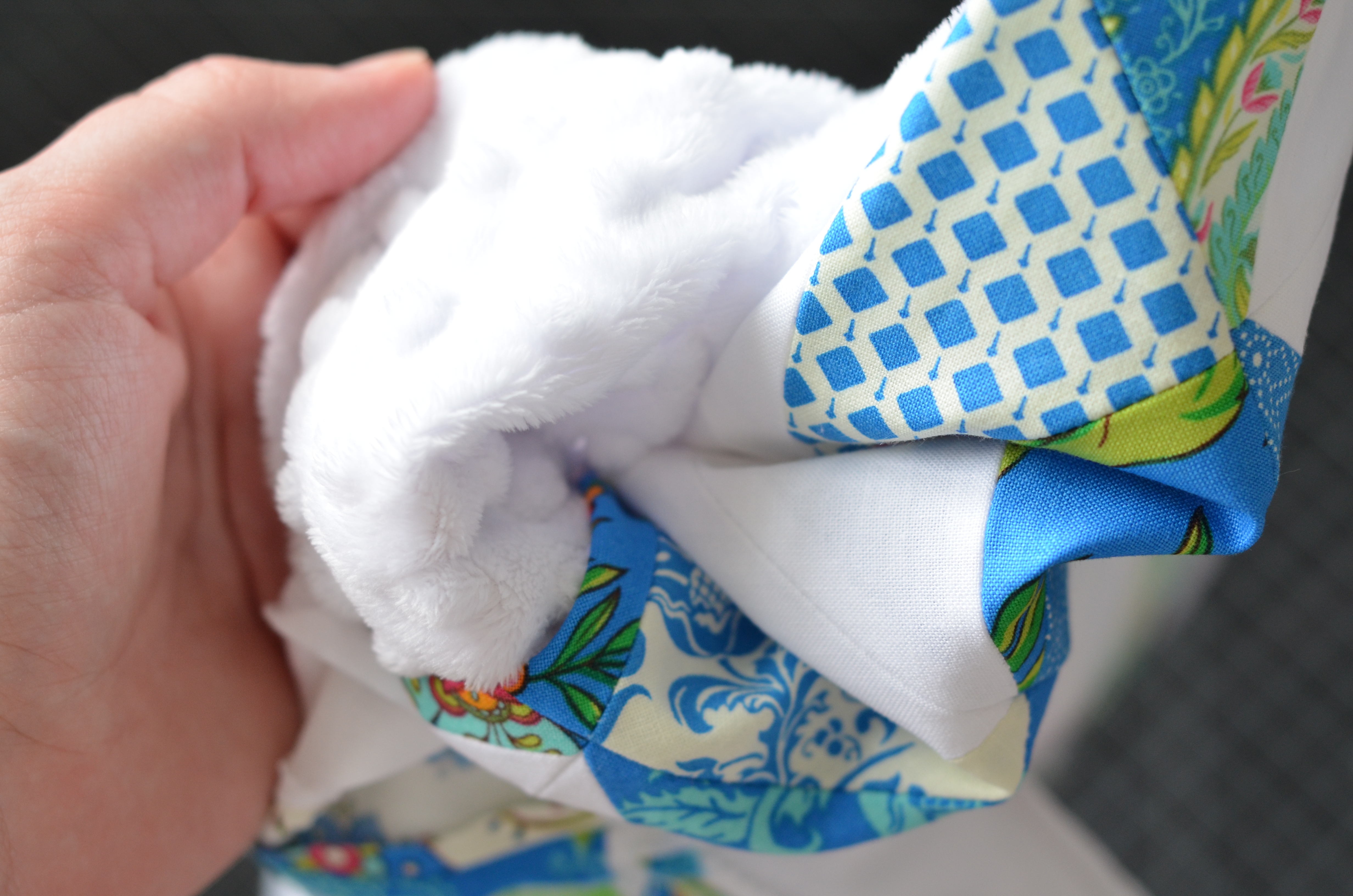 Minky should never be ironed…but I find it easier to finish sewing/top stitch if I quickly iron the sides (just the sides!).  Make sure to use some scrap fabric to place over your lovey before putting the iron on the edges…and keep the iron on it for a max of 2 second…or you will ruin your minky.  Also, put your iron on a lower heat setting.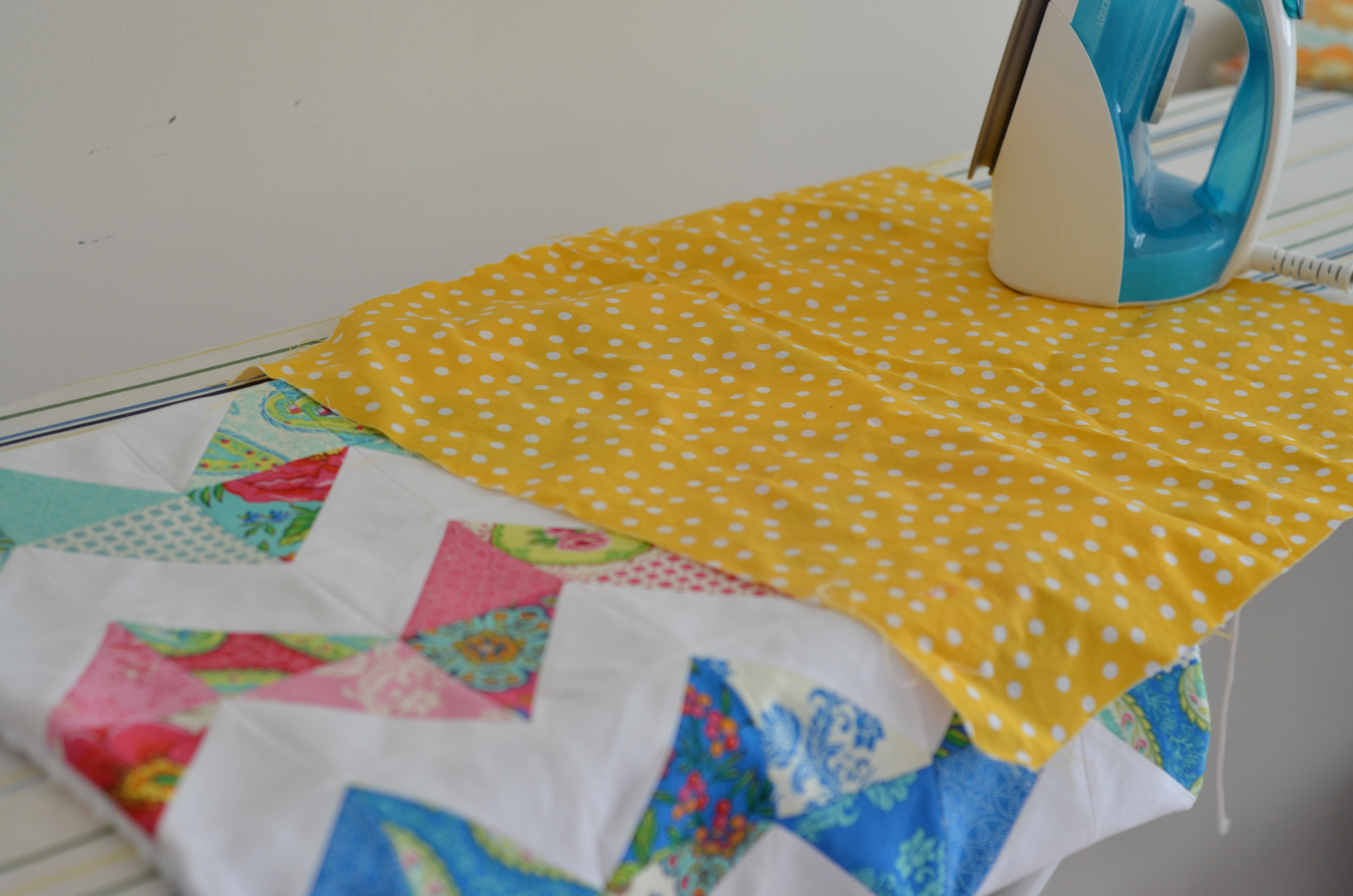 With your iron, press the seam of the cotton fabric so that it's level with the rest of the fabric (about 3/8).  Do not try to press the Minky.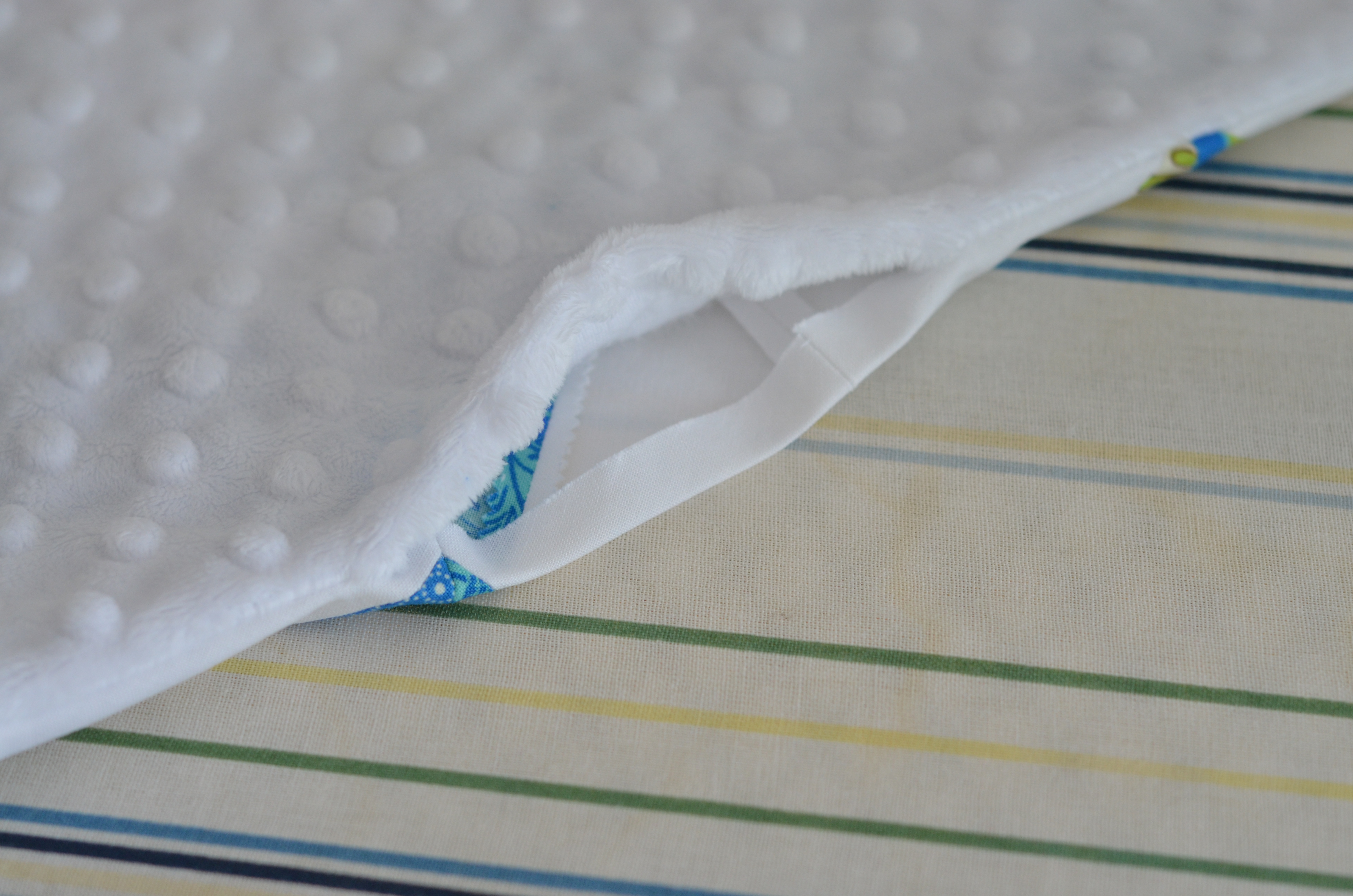 Then pin the opening closed.  I'll show you two views: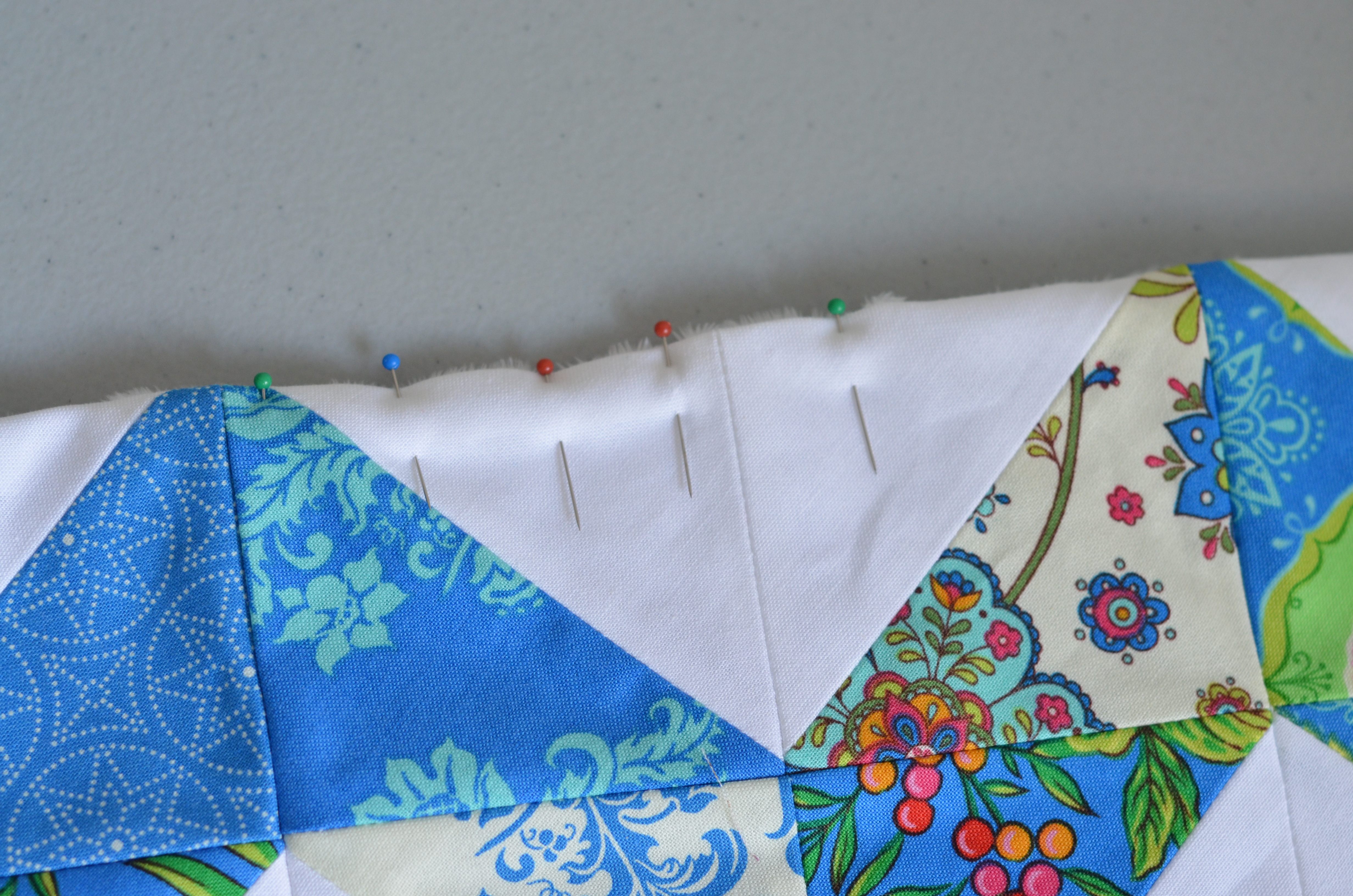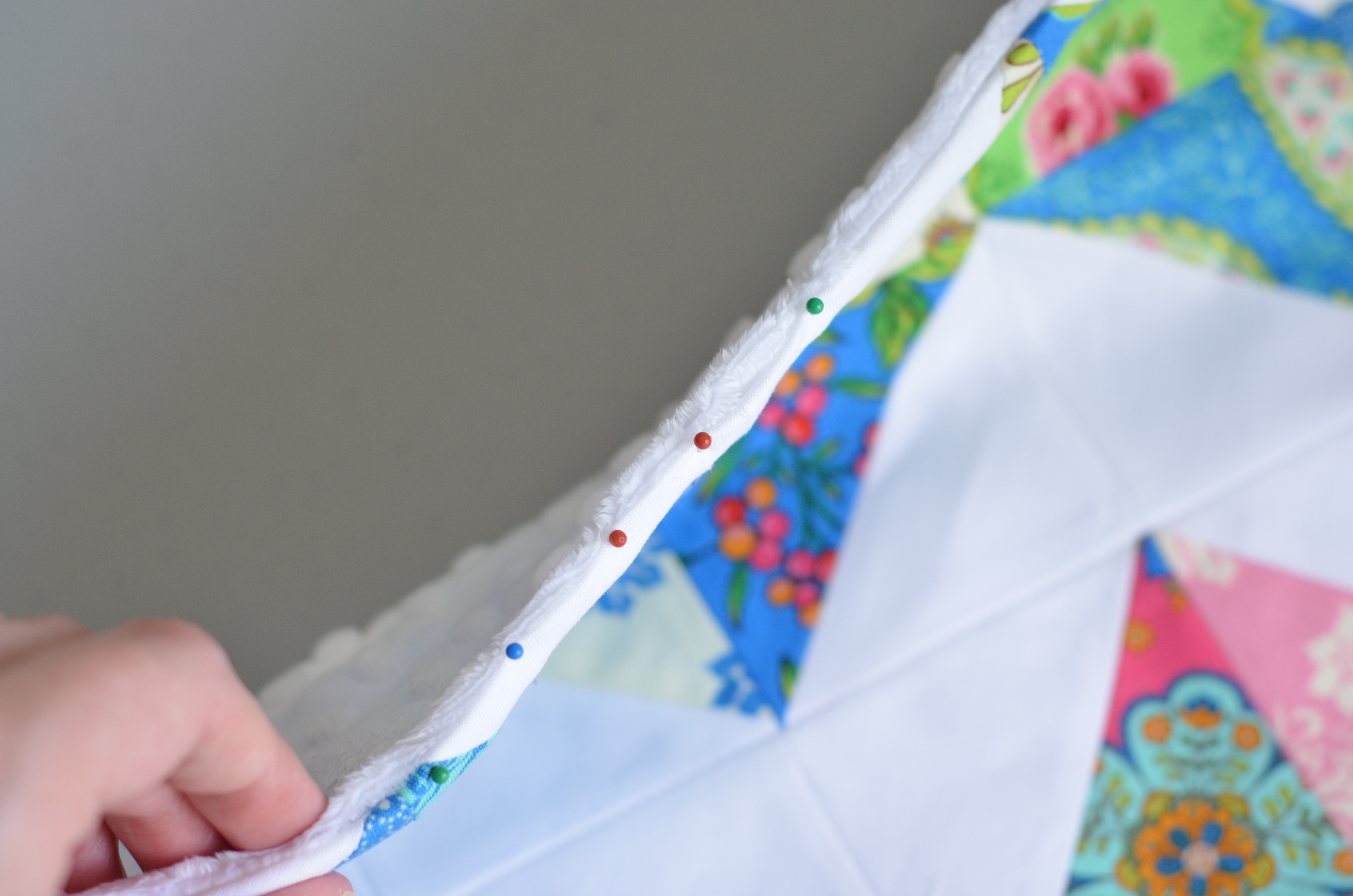 Top stitch the entire outside edges of the lovey with a 1/4 seam allowance (this will close the hole that was left open used to turn your lovey right side out).  Remember to back stitch where you start and stop.  🙂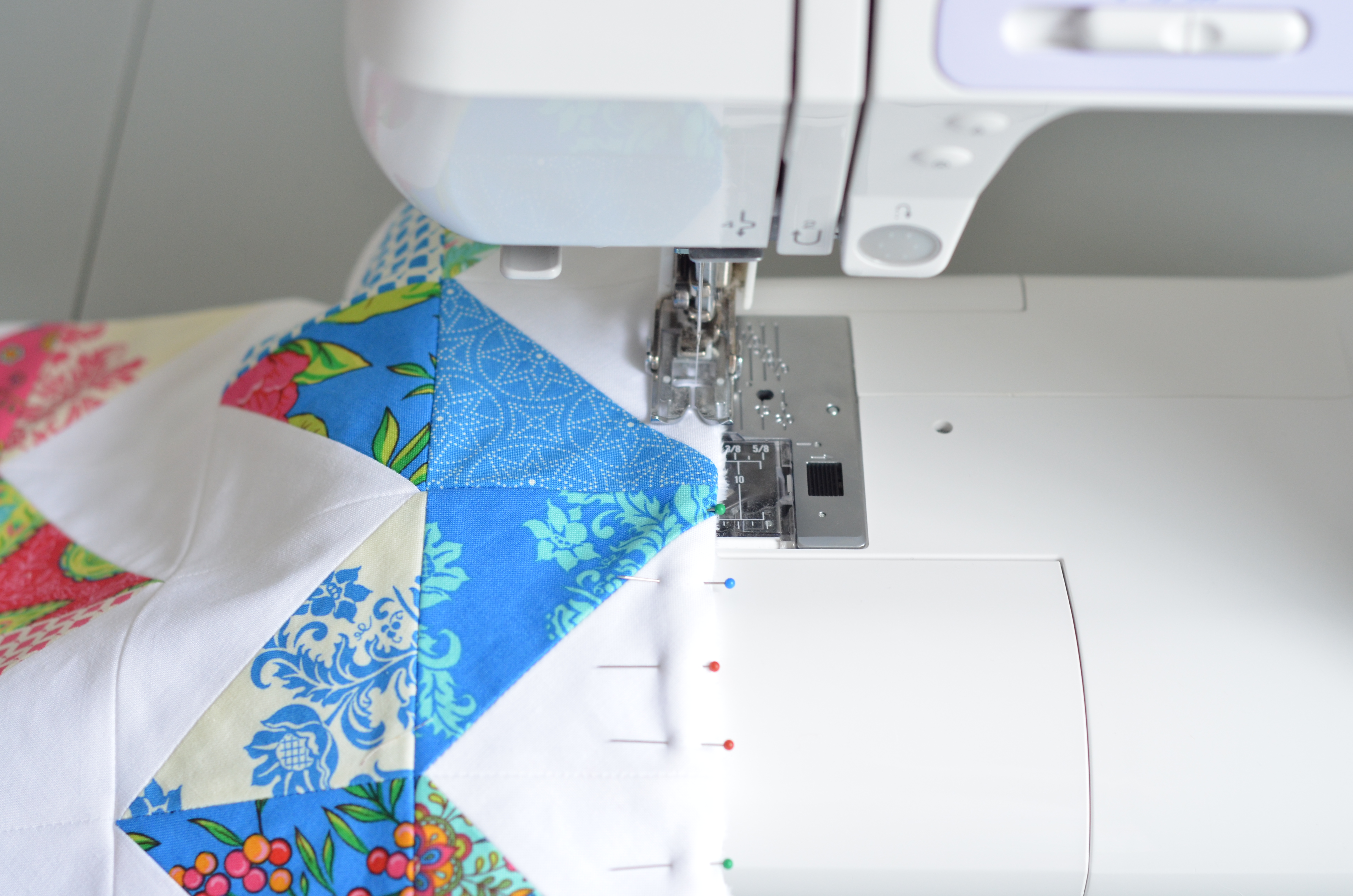 And you're done!  Some fabric shrinkage may happen the first time you wash it so I suggest you wash it on cold and tumble dry on low or just air dry.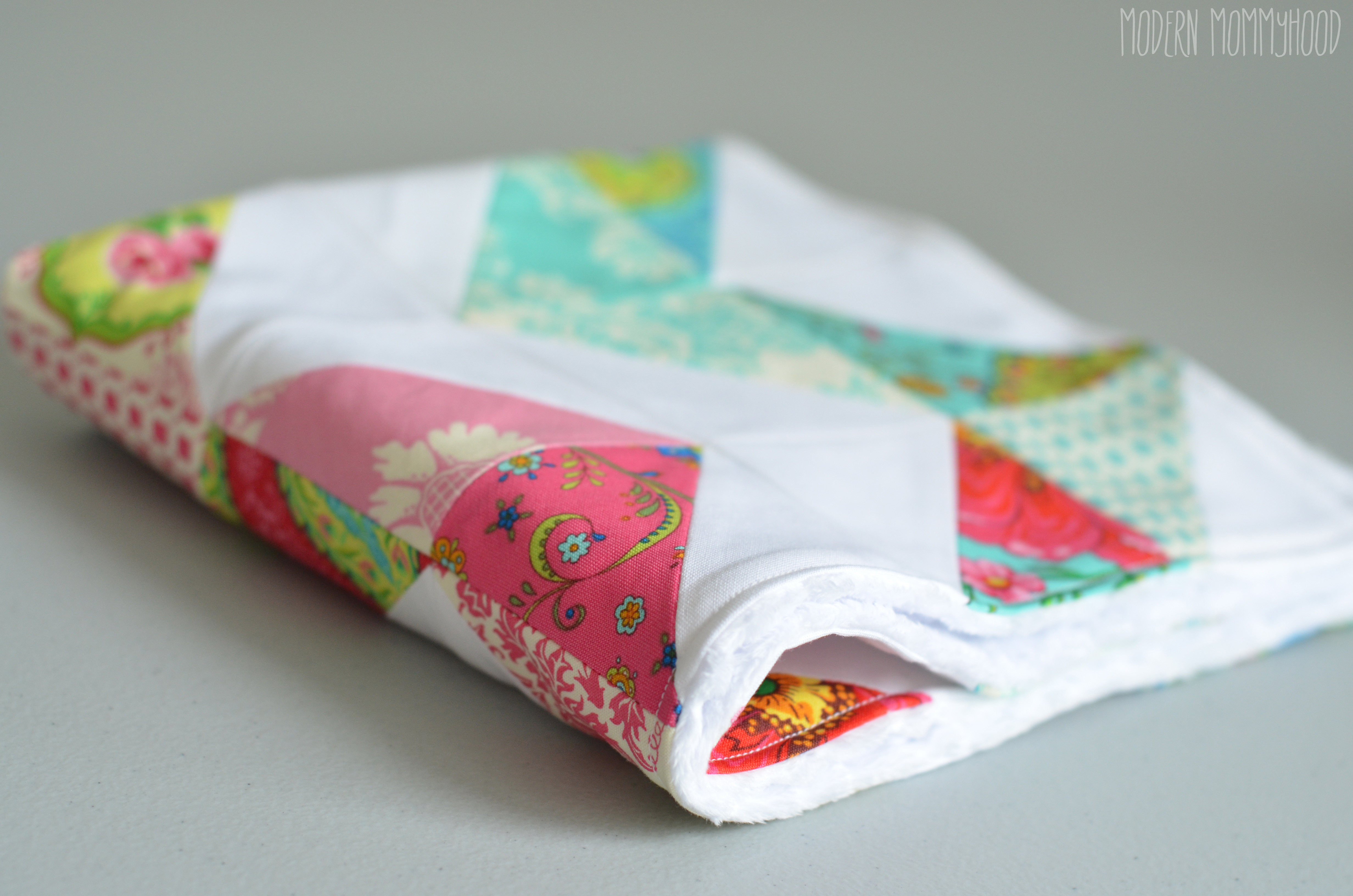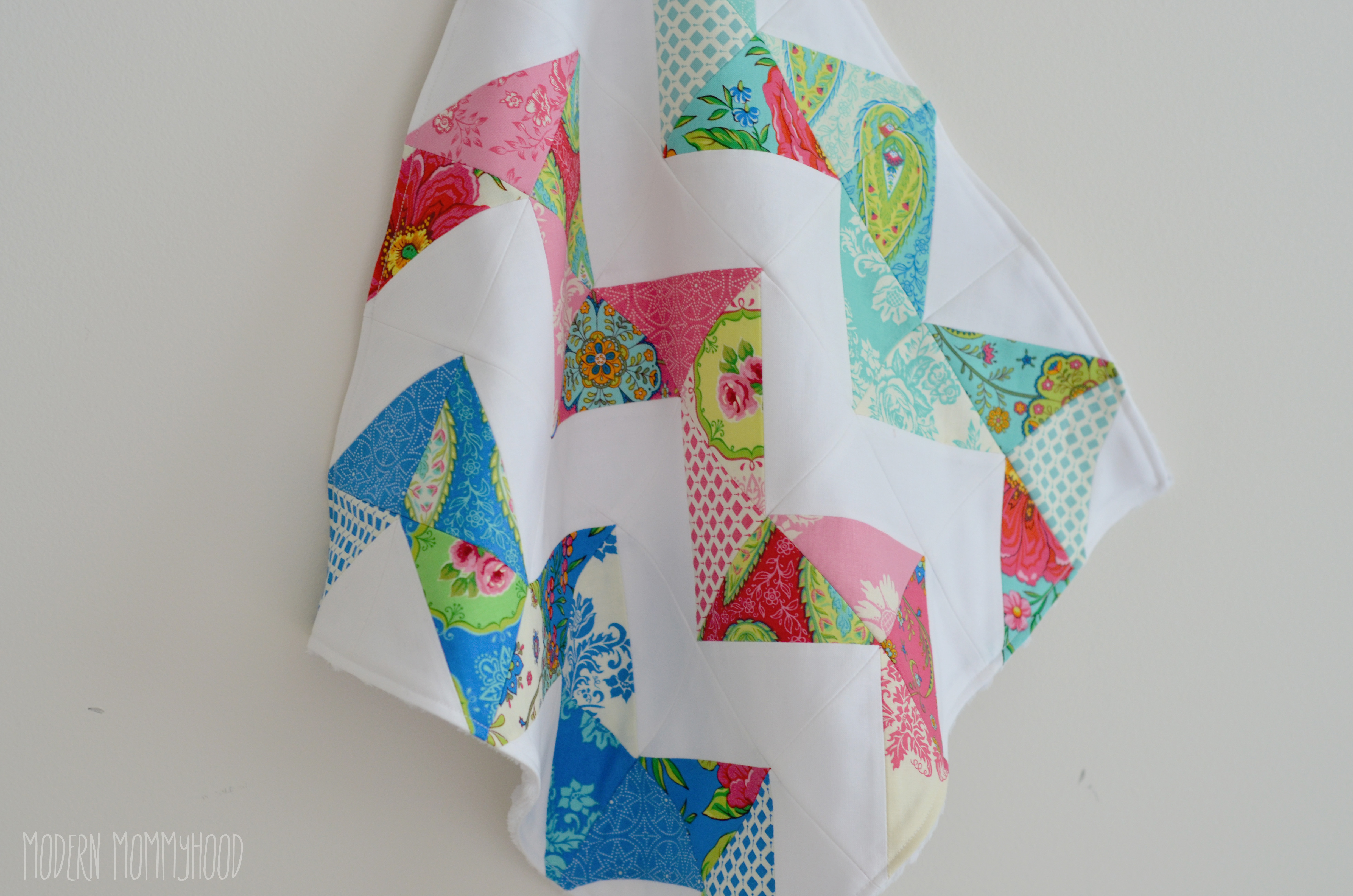 Have fun sewing and if you create a post with the lovey that you made please leave a link in the comment section.  I'd love to see!  🙂
Save
Save
SaveSave