Okay, I know the name of this cake is out there (Better Than Sex Cake, lol!) but I didn't come up with it!  It's super easy to make and I promise you, you won't regret making it!  And by the way, if you like poke cakes…check out these other poke cake recipes!
I learned how to make it from a co-worker and am super thankful she decided to bring it in as a treat one day for lunch!  😉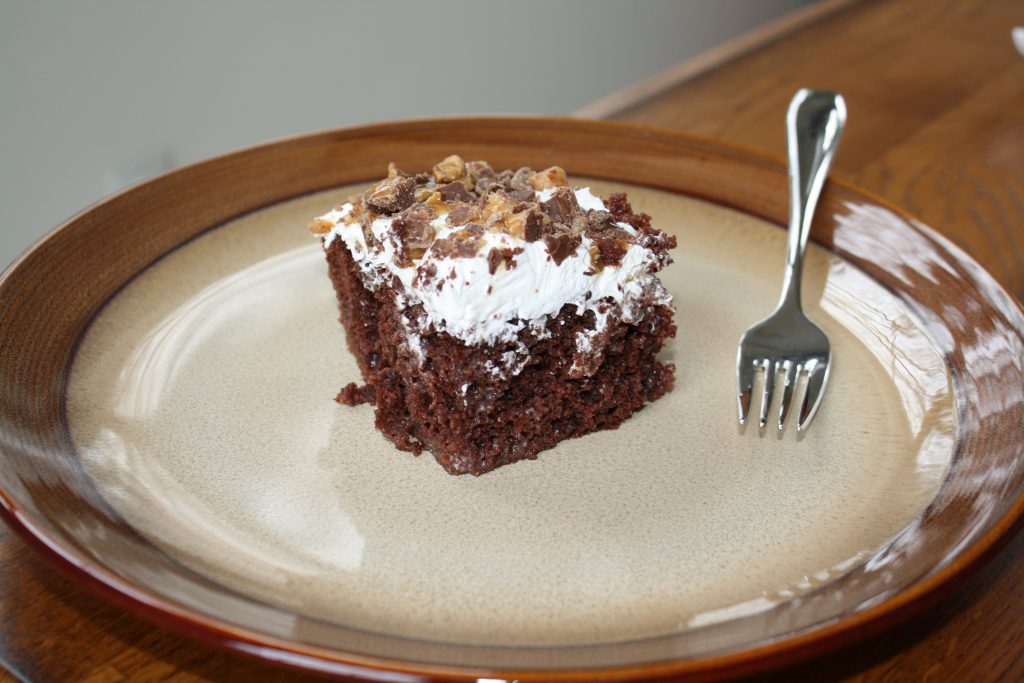 Want to make it yourself?  Here's what you'll need: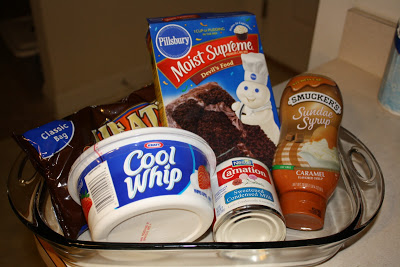 Ingredients:
*9×13 glass baking dish
*1 pack of Moist Supreme Devil's Food Cake Mix (or plain chocolate cake mix)
*Whatever ingredients your cake mix calls for – this varies, so look at the box!  😉
*One can of Sweetened Condensed Milk
*One bag of Heath Bars (Mini/Fun Size)
*1 tub of Cool Whip (thawed)
*Caramel Ice Cream Topping
Directions and Photos:
Step 1 – Mix and bake your cake mix (follow the directions on the box)
Step 2 – Let the cake cool for 10 minutes and then get out a wooden spoon!


Step 3 – Using the end of your wooden spoon, poke holes in your cake.  Don't worry, your cake is going to look like hot mess too.
Go ahead and poke a few more holes then I did!

Step 4 – Drizzle the sweetened condensed milk into the holes that you poked in it and all over the top of the cake.  Then, take your caramel topping and drizzle that on top of the cake too.  It should look something like this:
Step 5 – put your cake in the fridge until it's cool…this is important so that you don't melt the Cool Whip in the next step.
Step 6 – Now that your cake is completely cool…it's time to top it!  Take your thawed Cool Whip and spread it on the top of the cake.  Then, take your Heath Bars (I crushed about half of the bag of minis with a rolling pin, you can use less or more according to what you like) and spread them all over the top of the cake.  Lastly, you'll take your caramel and drizzle a little bit more over the whole top of the cake.
Step 7 – You can eat it right away, but I'd recommend putting it back in the fridge for a bit.  The longer it sets, the more the sweetened condensed milk and caramel have to soak into the cake.
Enjoy!
Oh, and remember to put the cake back in the fridge if you have left-overs due to the Cool Whip!  🙂
*As a side note…you can try making this cake with other types of candy other than Heath Bars.  I think this cake would be really good with chopped up Snickers or Reese's Cups! *
Please let me know what you think of this cake if you make it!  🙂
SaveSave
SaveSaveSaveSave
SaveSave