*This post contains affiliate links.
I hate drinking water….yep, absolutely hate it.  My husband thinks I'm ridiculous…
I mean, I like it after I've been working out and am super thirsty…but in any other situation water is the last thing I would choose to drink.  I'm ashamed to admit, I didn't even do a good job drinking the suggested amount of water when I was pregnant.  But that's another story…a combo of massive heartburn and then just plain not liking it.  Okay, moving on…
BUT since I've been working on being healthier (now 9 months after the birth of Mabel) I've decided the time has come…I'm going to make myself start drinking the suggested 2 liters of water (darn that's a lot!).  I try to keep my thoughts positive about this daunting task since there are so many benefits to drinking more water such as: better skin, improved kidney function, helping to lose weight by lessening your calorie intake, and the list goes on.  Ugh, but water…have you met someone who hates water as much as I do?  Lol!
So how much is two liters?  It's roughly about two 32 ounce Nalgene bottles.  Of course you don't need a Nalgene brand bottle but I like them since they're pretty much indestructible and they come in a range of colors.  I have the one to the right of this post, but mine is clear and has a green lid (if you click the pic, it'll take you to the listing on Amazon).  It cost less than $10 and I also like this variety of the Nalgene because it has a smaller mouth compared to the wide mouth bottles.  I'm always the dork with the wide mouth bottle who loads it with ice and then as I'm trying to get the last bit of water by tilting the Nalgene…the ice comes crashing down on my face (I know some of you know what I'm talking about!).
Because I detest water so much and honestly if I try to drink it too fast I feel nauseous; like I'm going to puke.  I know…sorry, tmi but I'm being honest.  And when I have good intentions, like when I fill my Nalgene and forget about it only to remember it in the late afternoon….the trying to guzzle down all the water I had been forgetting to drink during the day…and then feeling ill.  Apparently good intentions don't always cut it.
My new plan of attack (thanks to several pics on Pinterest):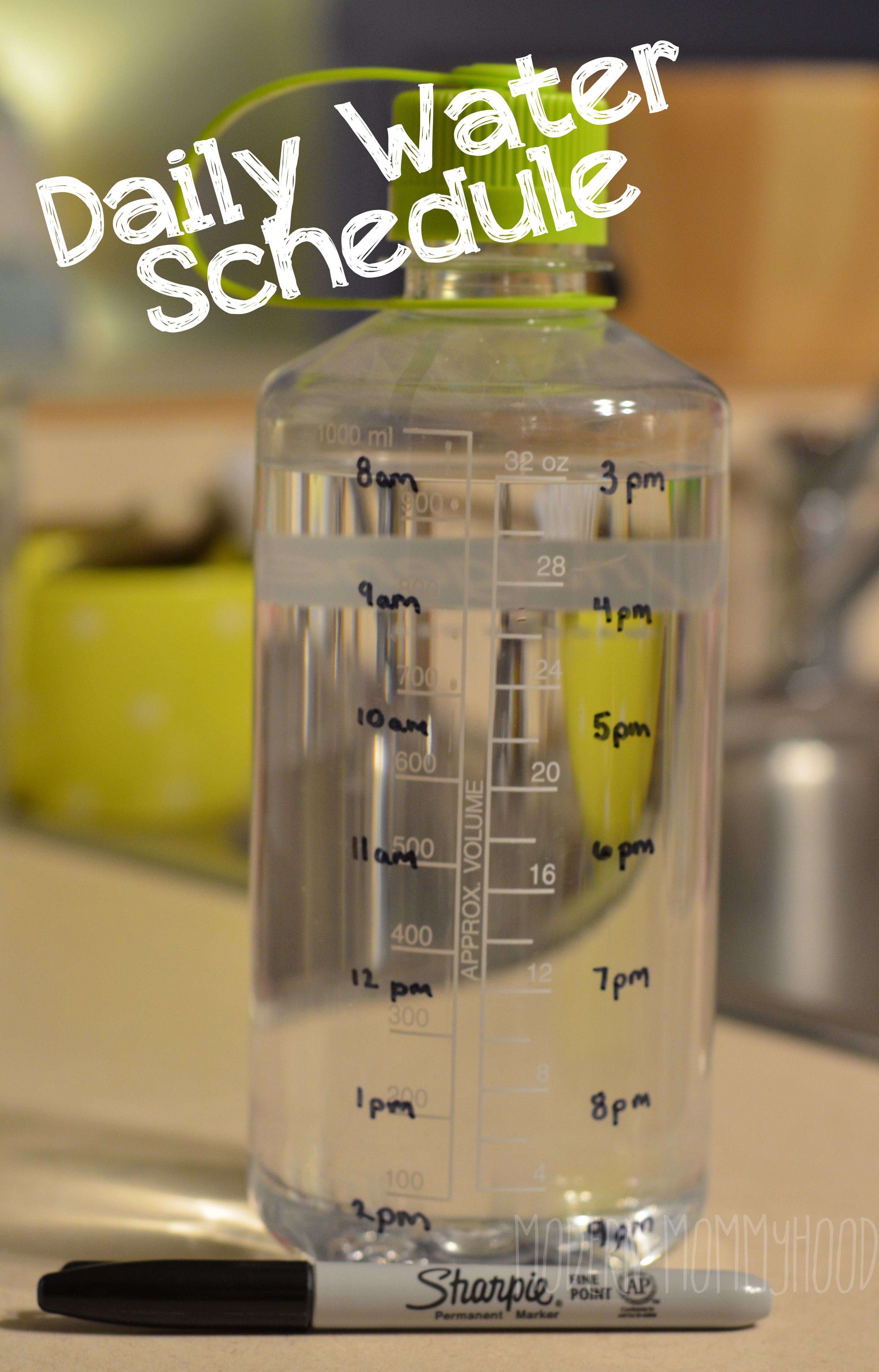 It's basically to help put me on a timeline to evenly spread my hydration throughout the day.  Seriously, how simple is this?  And it took me having to see photos on Pinterest to think of it (I wish I would have come up with it, lol)!  All I did was to take a sharpie marker and write my schedule on it, basically fill it once and follow the left side, then fill it again and follow the right side.  🙂  It's easy to change the times to fit your schedule, like if you get up earlier than I do…just start with an earlier time!  Some ideas on Pinterest used two bottles, but why use two when one will do?  This way I'll never be left at 8pm with a whole liter still to drink.  Just brilliant!