Now, I know I hardly ever talk about anything military wife related (I'm not super involved in my husband's work-life/military related things…I may do a post on this later to explain, lol!) but yesterday was my husband's promotion ceremony…well, it was actual promotion ceremony for a handful of other people too.
This is the second promotion ceremony I've been to, the first was when my husband and I had been dating for only 3 months and he pinned on as 1st Lieutenant.  I'm learning that each time, the ceremony is completely different.  I'm guessing they are also different according whatever base you're at or the squadron.  So now, two years later, he pinned on as Captain.
The overall ceremony consisted of a speaker, six other people getting promotions, and a ton of Airmen in the audience along with the squadron's Commander.  We arrived (me, Mabel, my sister in law and brother in law) and got seats close to the front and I was impressed that Mabel had actually been pretty quiet in her car seat.  But, as soon as the speaker started…like 5 words into the speech, guess who started to cry?  Yep, little miss Mabel herself.  My brother in law was awesome enough to take her outside for the rest of the ceremony.  I would have myself, but I actually had to get up later when my husband was called up front for his pinning.
After everyone else was called to receive their new rank, it was my husband's turn.  I got to go up and pin his new Captain's bars on one side of his uniform while his Commander pinned the bars on his other side.  Silly me, I was actually nervous since I don't like standing in front of several hundred people, not to mention I'm still self conscious about how I look since I gave birth 11 weeks ago!  But, the pins got pinned and everything was well.  At least I didn't drop the pins like I did at his last promotion, lol!
After the pins, Hubs said his oath…there were closing remarks and then we were done.  Short and sweet!
I think one of the most exciting things of the day though, was Mabel's cute little Air Force dress.  Haha…how bad am I of a wife that the highlight of the day was Mabel's outfit?
Congrats!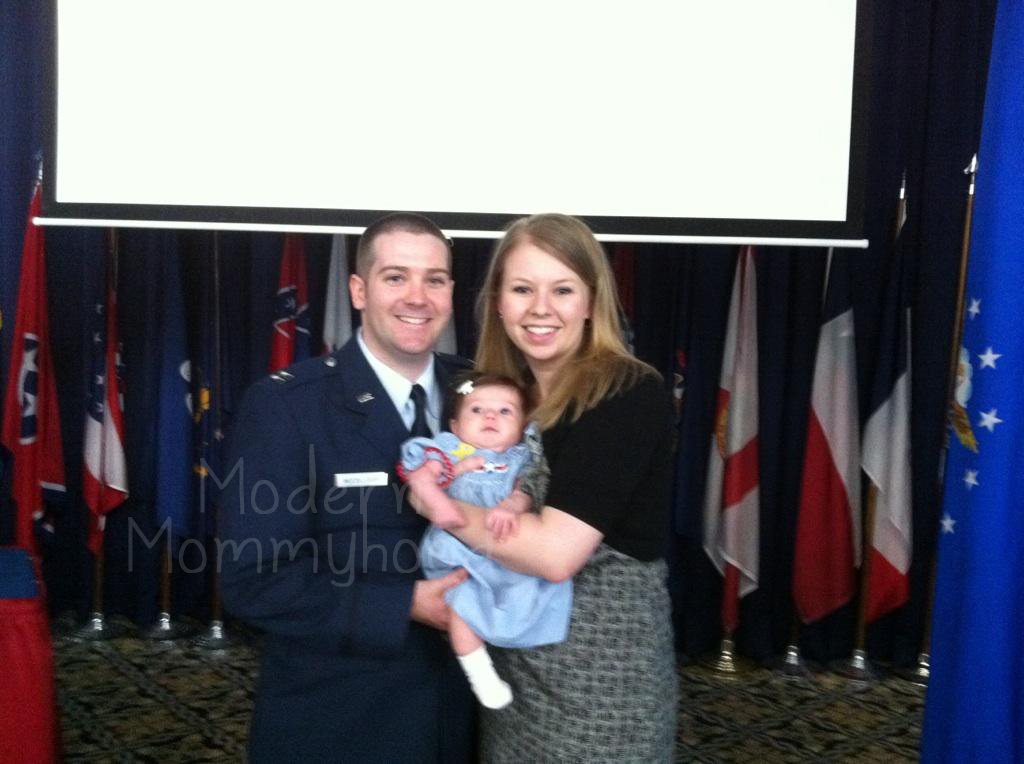 Sorry for the blurry photo.
Save
Save
Save
Save