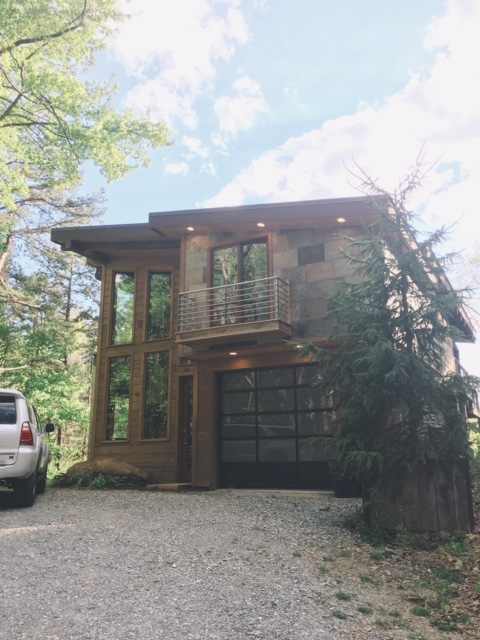 We recently reached the milestone of 5 years of marriage…and what did we do?
We patted each other on the back for surviving marriage and parenthood…and then ran off to Bryson City, NC.
We had vacationed in the Smoky Mountains before but stayed on the Tennessee side near Pigeon Forge (read the post) but this time we were looking for a quieter trip…so we chose the North Carolina side.
Of course this took a bit of planning since it required someone watching the girls for 4 nights and a bit of budgeting…but it all worked out.  If my in-laws are reading this:  thank you so much for loving on the girls while we were gone!
Bryson City, North Carolina is about 4 hours from where we live.  Long enough away to feel like we actually went somewhere but close enough to get home if there was an emergency (my overly paranoid mom-self is always planning for the what-ifs).  And after my meticulous and almost obsessive search on Google to find a cabin/house to rent, I stumbled upon a little resort of modern cabins that were run by a management company (Watershed Cabins – and we chose Watershed 03 but they have a bunch of other styled cabins).  My mind was made up and that's where we were headed.  😉
If you are within driving distance of this place, hands down…try to make time to visit!
Being the nerd that I am and my excitement for not having to care for any other human being but myself for 4 days (this was the first time we were away overnight from Millie and 3 years since we had been away overnight from Mabel!)…I ran around the house taking photos as soon as we walked in: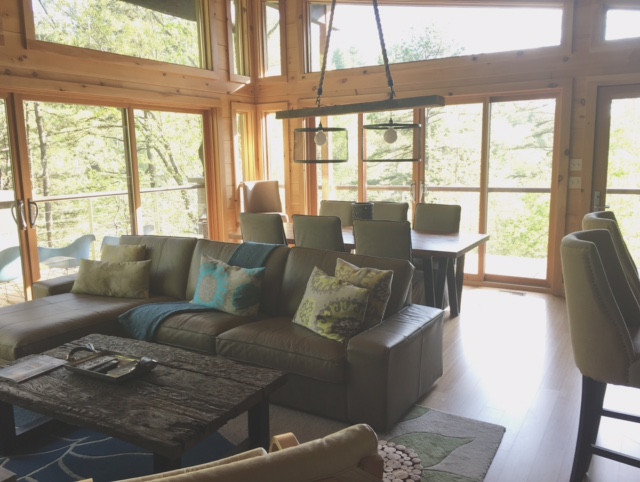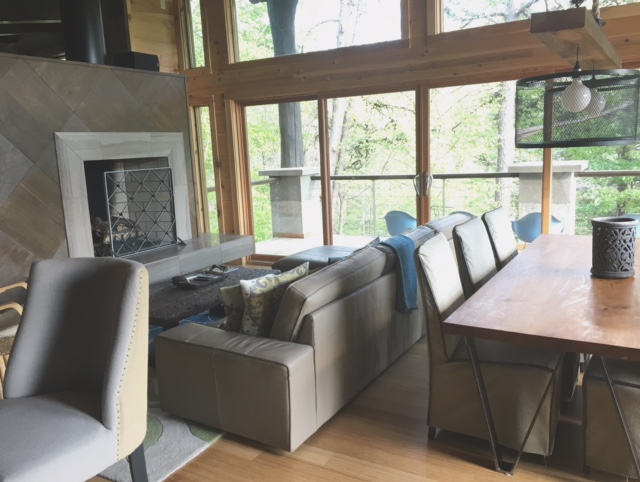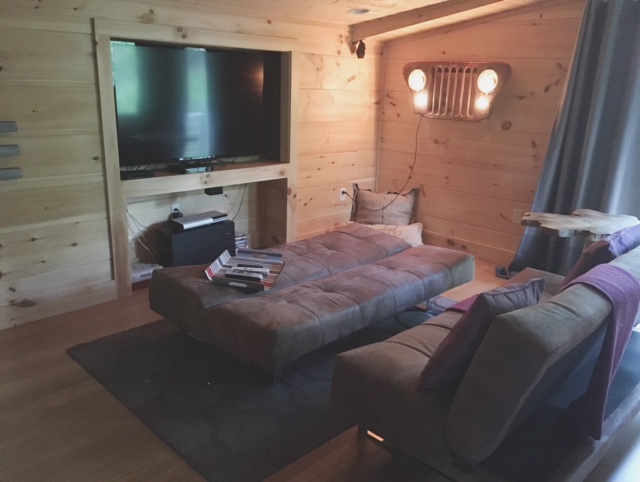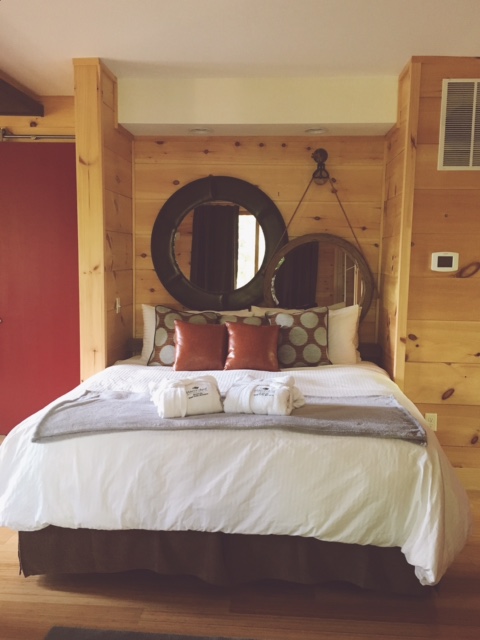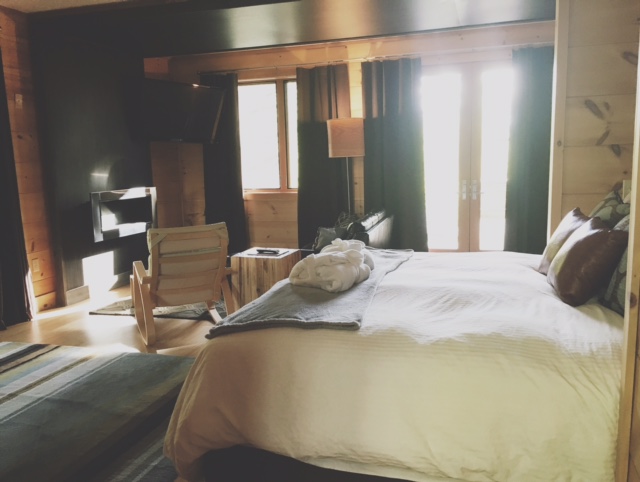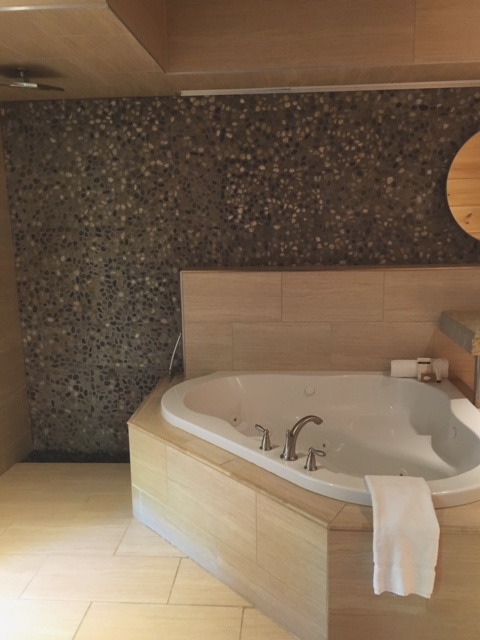 Note to self…if you ever get a rain shower, make sure you enclose it in glass or the water gets ALL over the entire bathroom and you have to squeegee it up which is no fun.
It was amazing.
Relaxing.
And quiet.  I think I had forgotten what quiet sounds like.
I spent most of of our days there just vegging out on the porch to the sounds of wind blowing, birds chirping and water rushing from a little stream near by.
The view was pretty gorgeous too.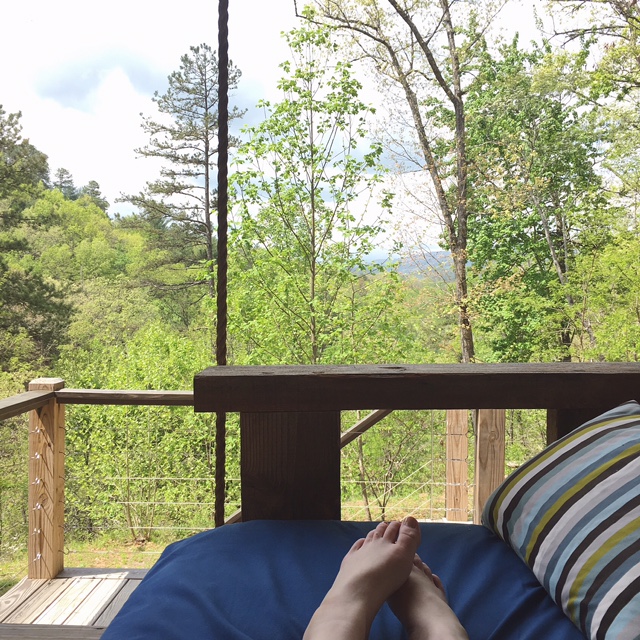 And of course it was nice to spend time with my husband without the titles of Mom and Dad.
Fifteen minutes down the road was the actual town of Bryson City, NC with lots of cute little shops and restaurants.  If you like antiques and you're in town, make sure to stop by Buttermilk Farms Antique Market.  We purchased a few things for our house, the owner is very friendly, and the prices are great.  And if you want something good to eat, make sure to try Cork and Bean Bistro!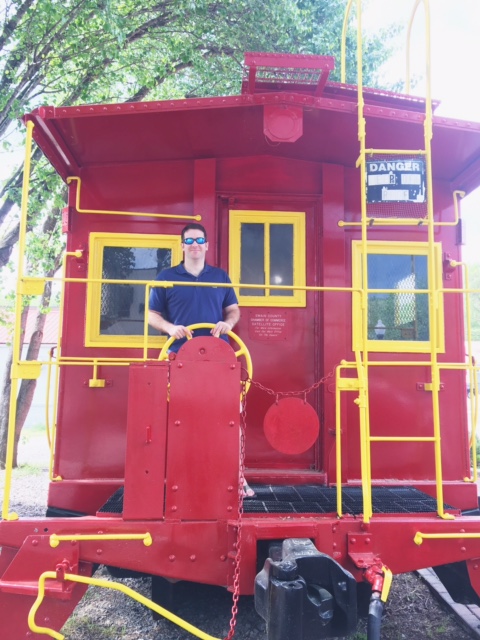 My poor husband had no clue that the goofy photo I made him take in town would end up on the blog.  😉  It's safe to say we enjoyed being tourists!
If your kids love trains, there is a little train station in town that is very kid friendly.  They have all kinds of short trips and they even have Polar Express rides in the winter that we are thinking about taking the girls to later this year!
And before I knew it, it was time to head back home.  I don't think my husband and I truly realized how much a short break was needed just to refresh ourselves as individuals, a couple, and as Mom and Dad.
Goodbye for now Smoky Mountains!