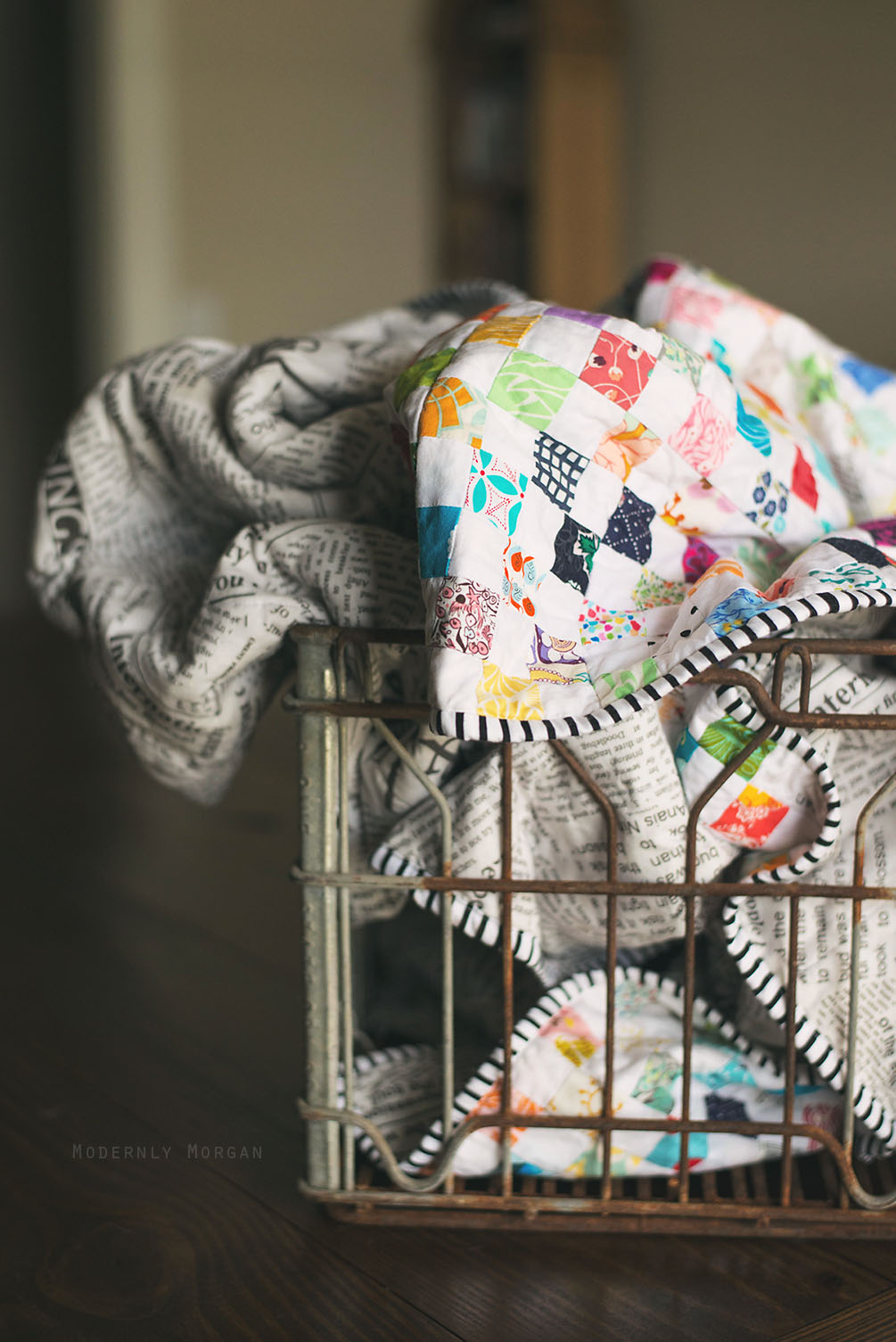 I can't tell you how good it feels to finally finish another quilt!
It's.been.forever.
Probably close to three years since I've completed a quilt.
But a few months back, I found myself stalking Pinterest again in search of a fun challenge.  And what I stumbled upon was Red Pepper Quilts' tutorial for a Checkerboard Quilt.  I knew at that moment, that's what I was going to tackle.  I'm also going to give her credit for the binding fabric and backing fabric that I chose since I saw the combo used on a handful of her quilts and fell in love.  If you sew at all, I highly suggest checking out her blog and you'll be amazed/inspired by her gorgeous work!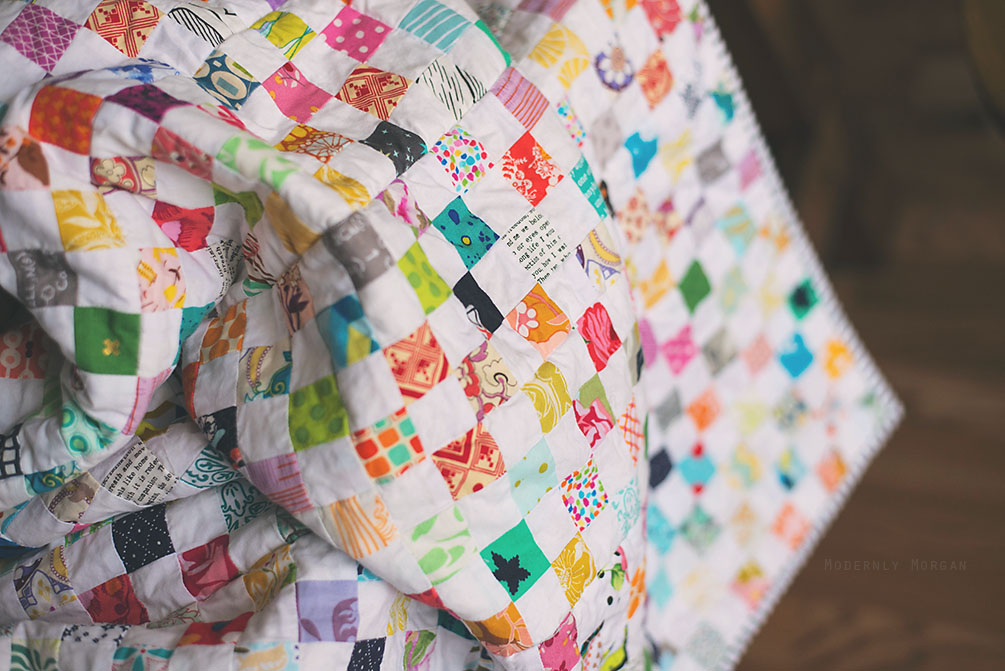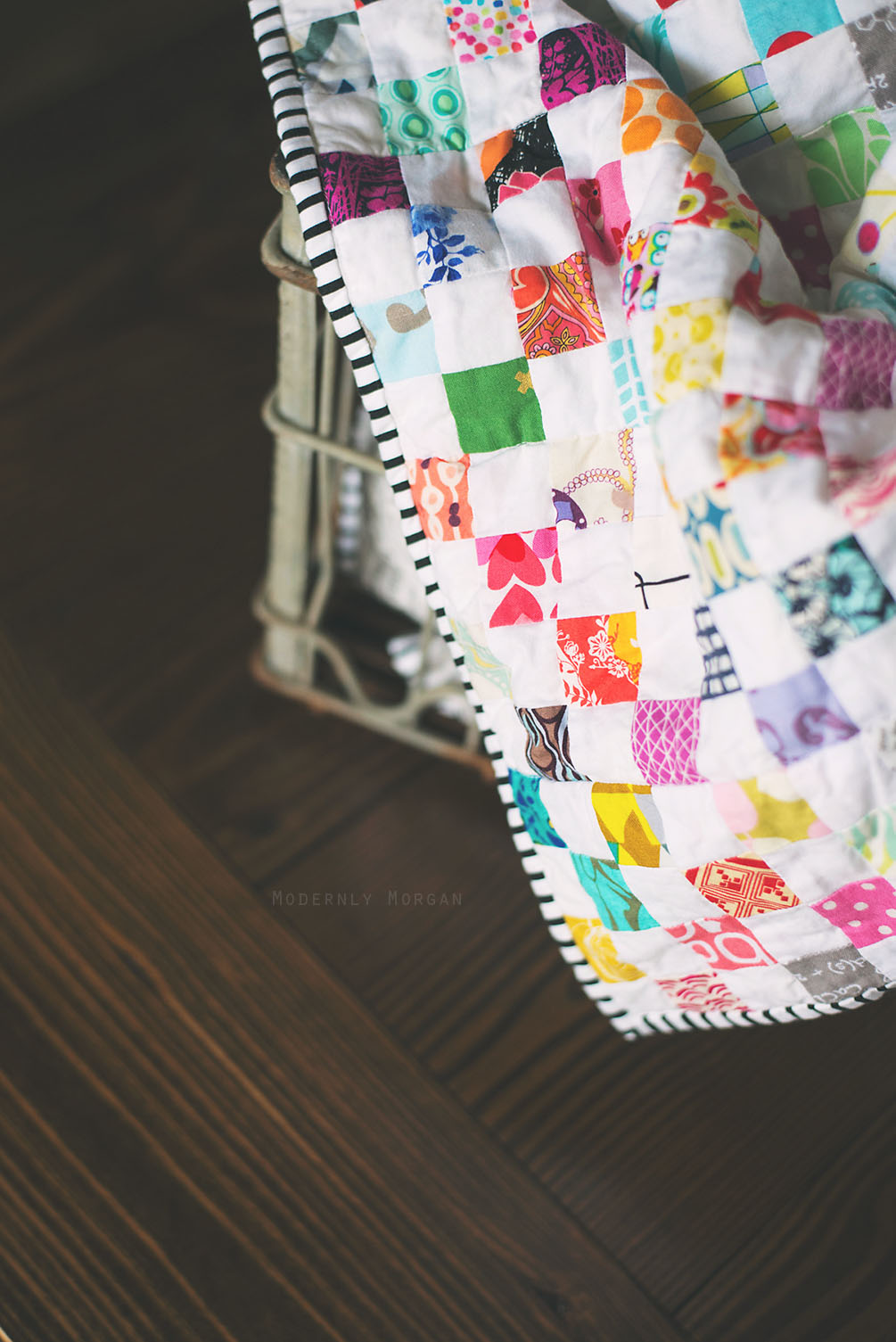 I had a lot of scrap fabric leftover when I had my Etsy quilt shop so those fabrics were included along with a bunch of scraps from fabrics that I used in Mabel's and Millie's nursery bedding.
It makes me smile to look at the quilt in pick out the fabrics that I remember sewing into crib sheets and nursery curtains.  🙂
I'm not going to lie…this quilt took some patience.  I put in some serious hours, used around 150 different patterns in the mini squares and there are 3584 total mini squares (white and patterned)!  It's a great stash buster quilt if you have a bunch of scraps!
Lol, but I'm glad I only attempted a throw quilt rather than a twin size or larger!
But it makes all that fabric cutting worth it seeing Mabel lounge on the couch wrapped up in the quilt.  Not to mention we also spent some bonding time together as she helped hand me the scrap pieces to sew when I was putting it together.  She volunteered…no child labor was involved, lol!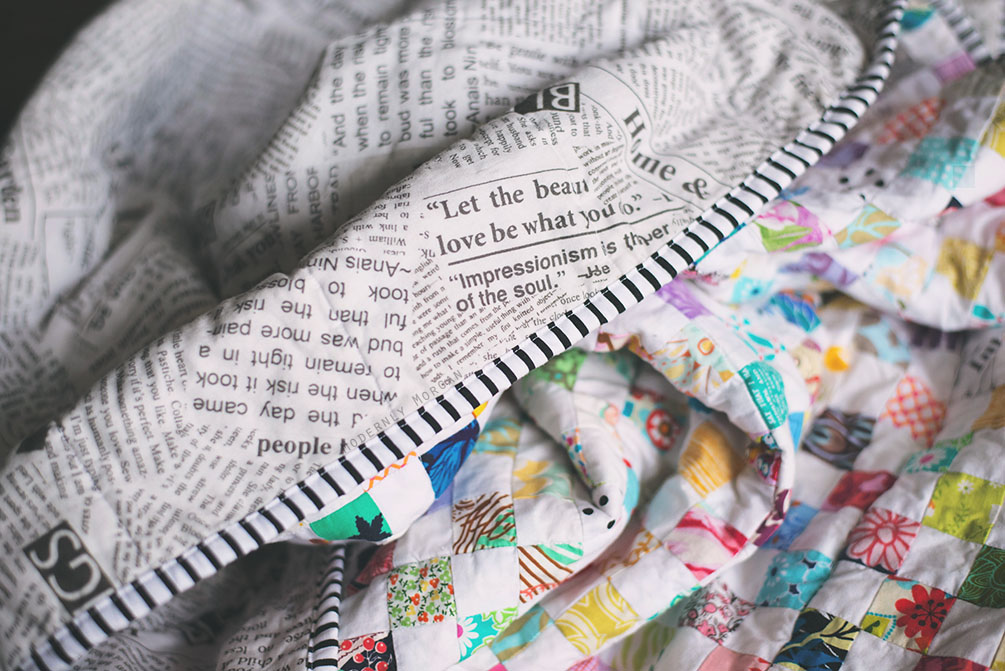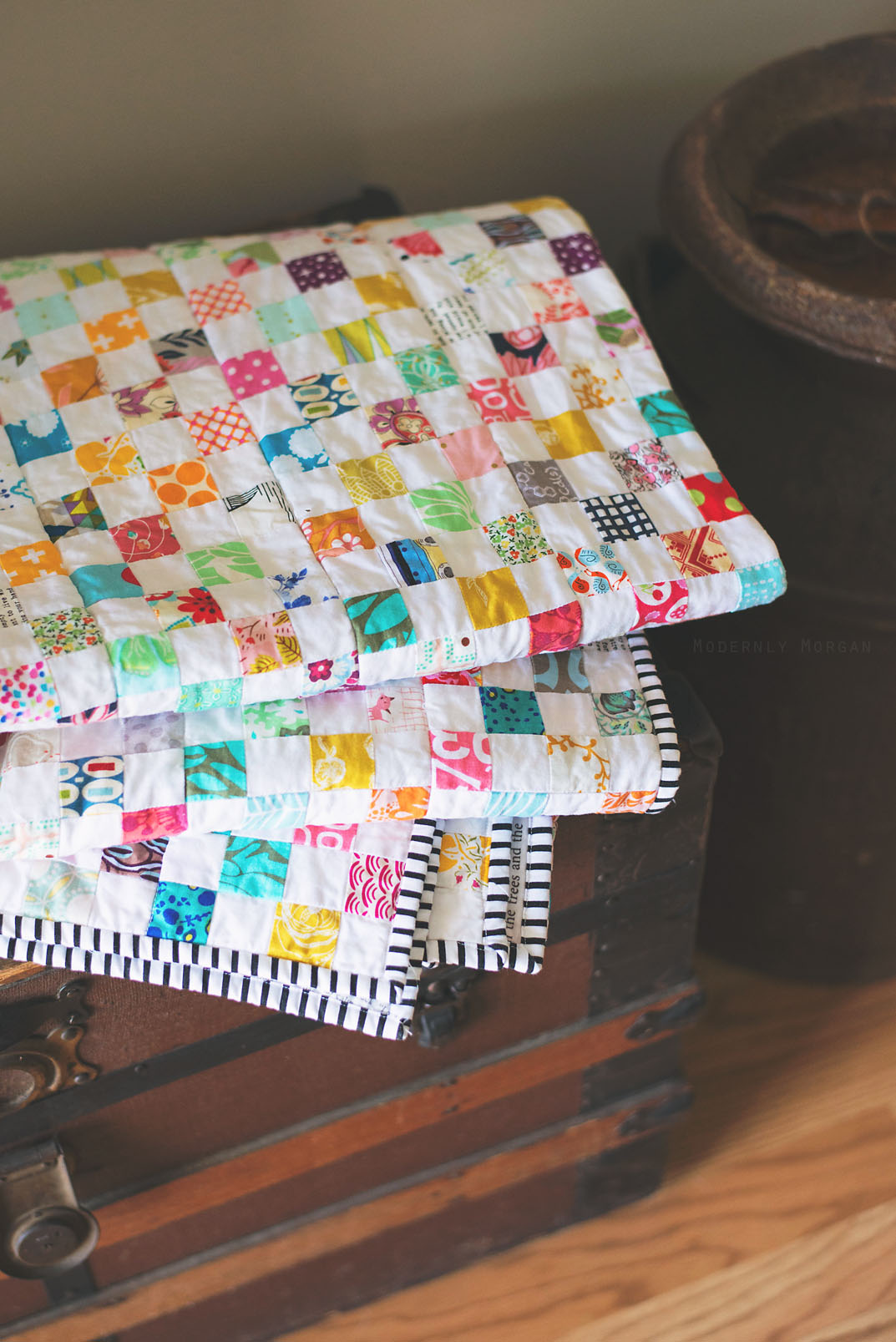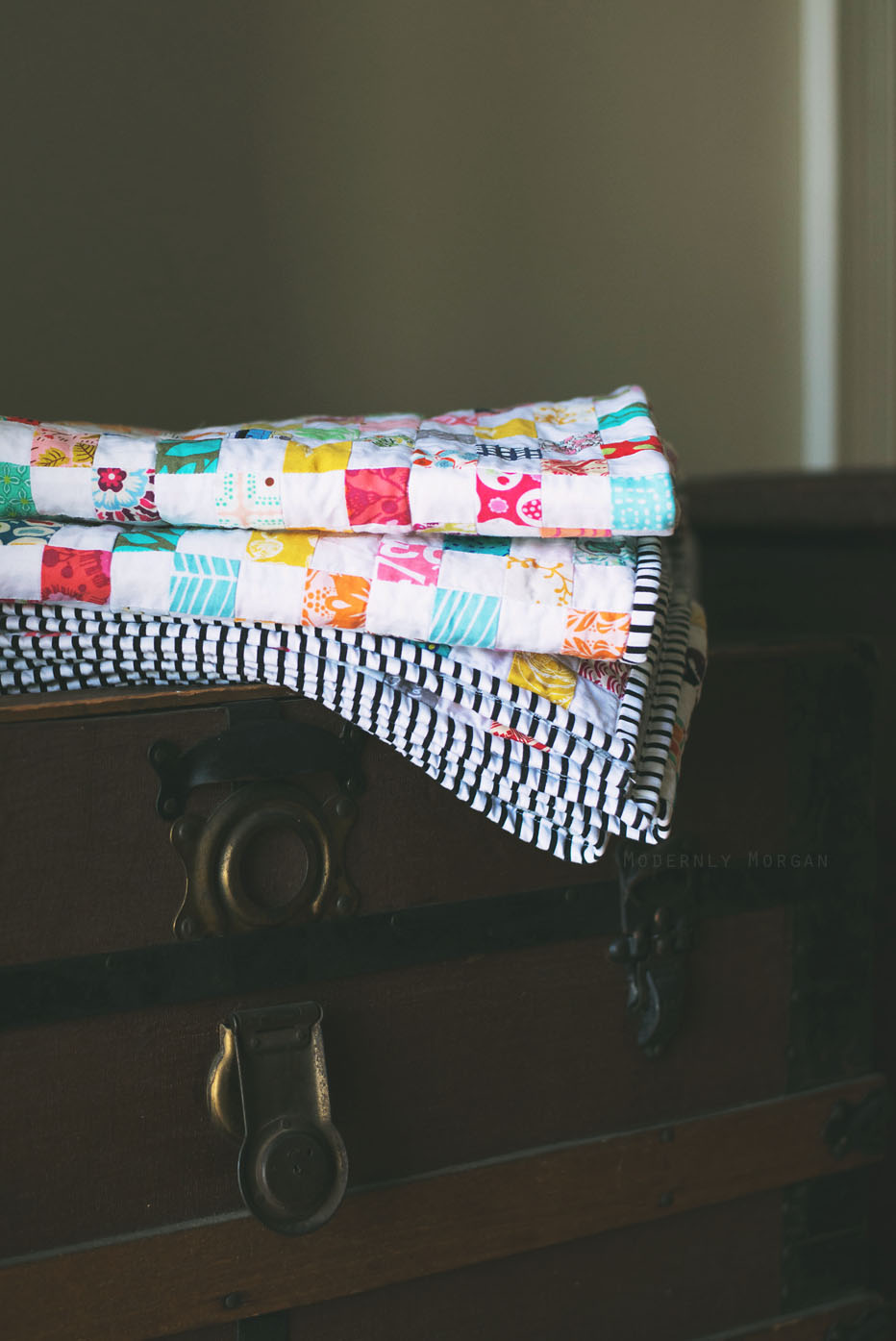 Now I need to figure out my next project.  😉
Fabrics used:
Solid White
Patterns = scraps I owned and extra scrap packs from Hawthorne Threads
Backing – Story Newspaper by Carrie Bloomston
Binding – Stripe in Black by Melissa Mortenson
Save