Two soft chocolate cookie cakes filled with light and fluffy chocolate cream = amazing!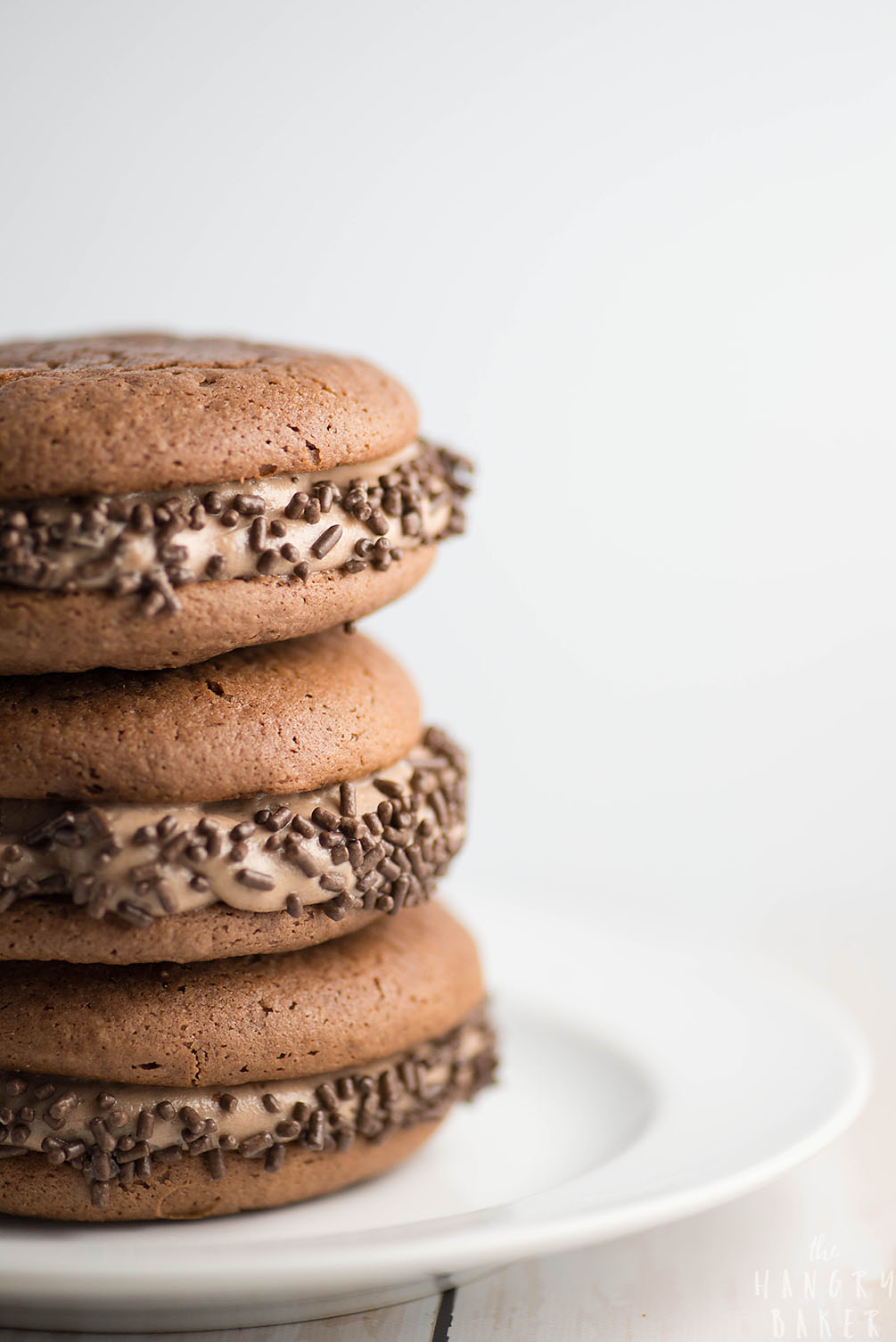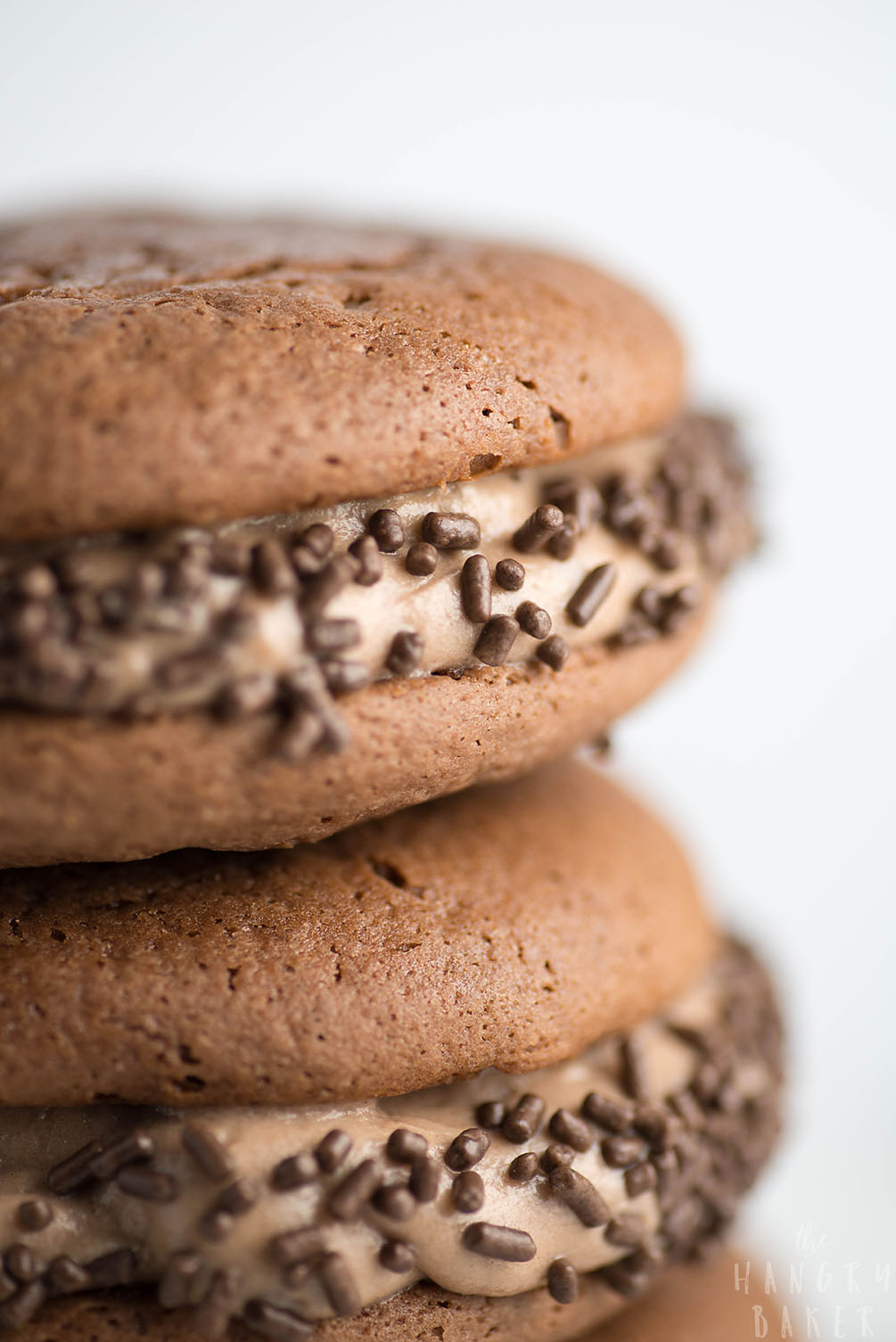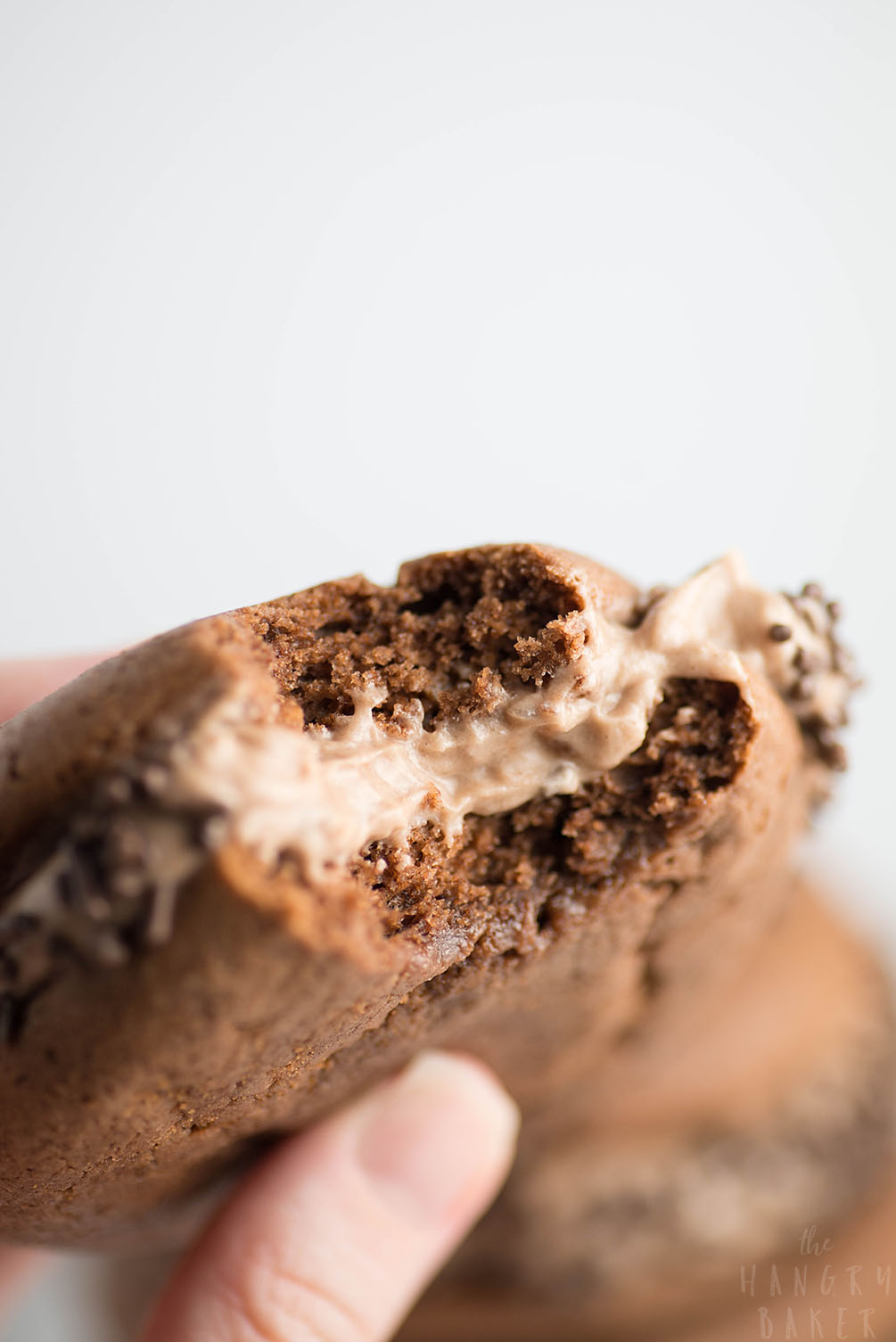 Double Chocolate Whoopie Pies…
Is your mouth watering now?  Because it should be, lol!
Uploading these pictures is making me crave another batch of these deliciously moist whoopie pies.  Since pretty much all of the recipes I include on this blog are easy to make, these are no exception!
Shhh…the cookie cake part is actually from a cake mix! 
Now, if you're familiar with the glorious whoopie pie…you'll know that they come in many varieties.  And this specific recipe packs a chocolatey punch!  Yum!
Here's the double chocolate whoopie pie rundown = super soft, cakey cookies sandwiching a decadent creamy chocolate filling.  And of course an optional sprinkling of chocolate jimmies on the outside of the filling.
You honestly can't lose with these and every.single.person in my home loved them!
So what are you waiting for?  Get to baking!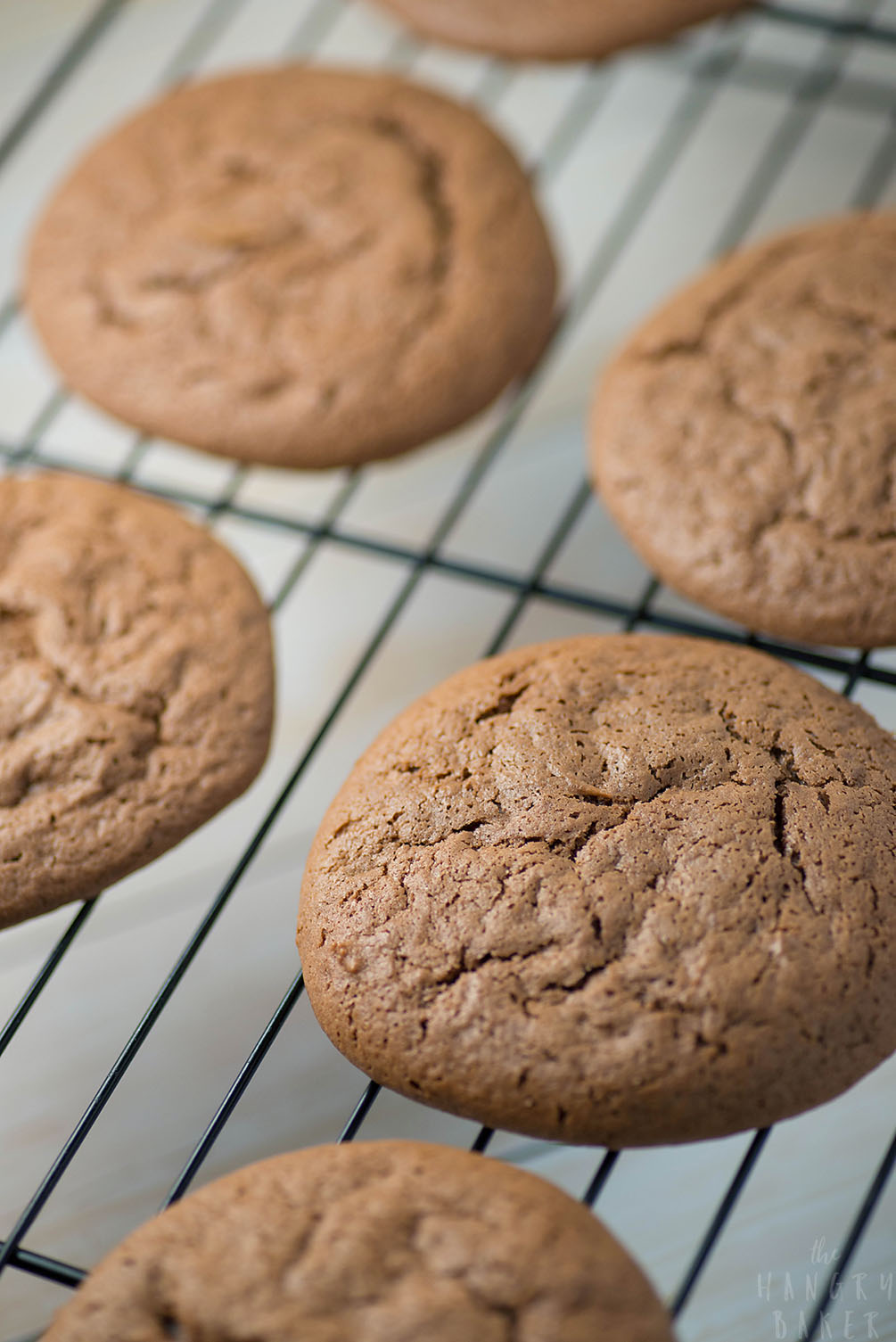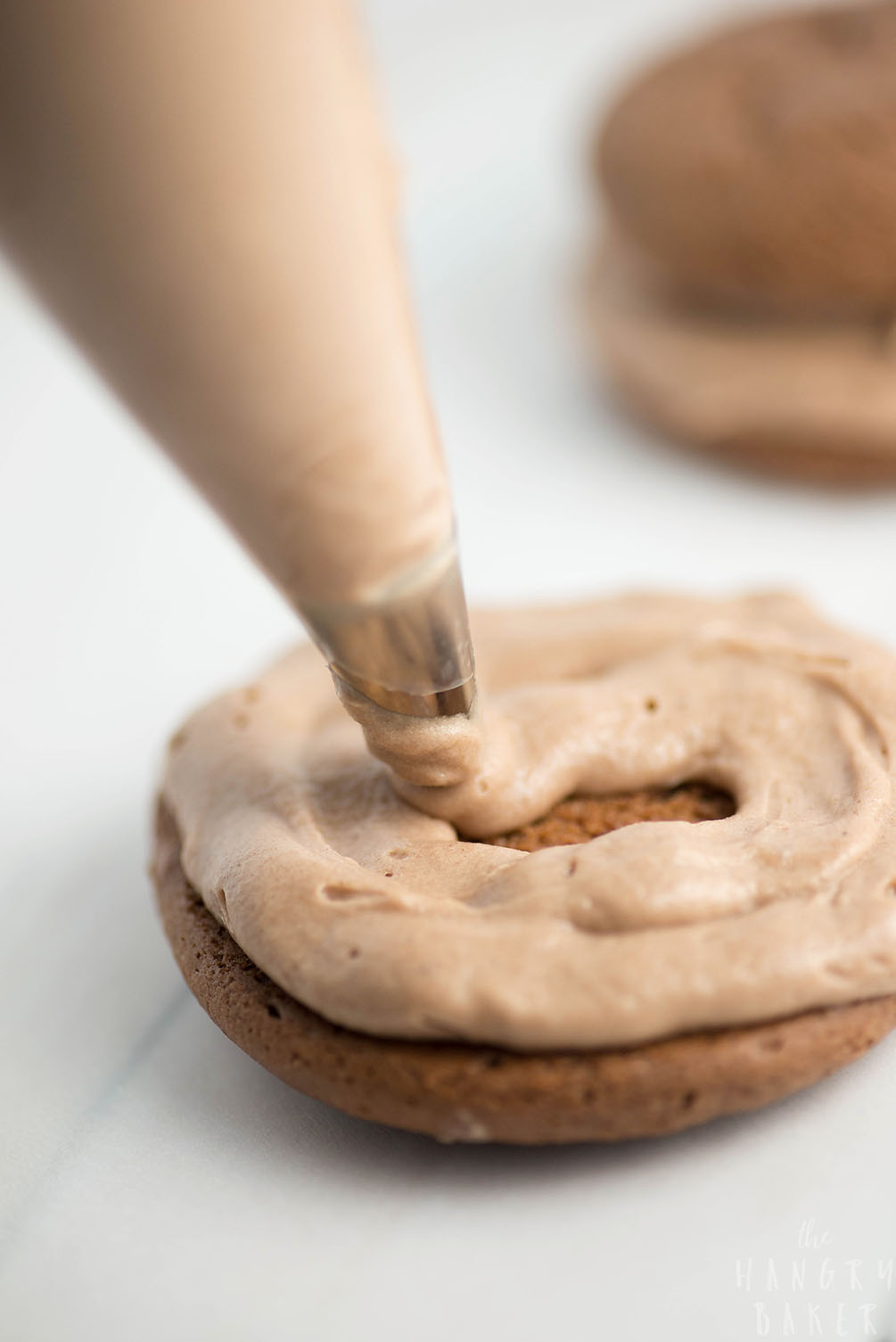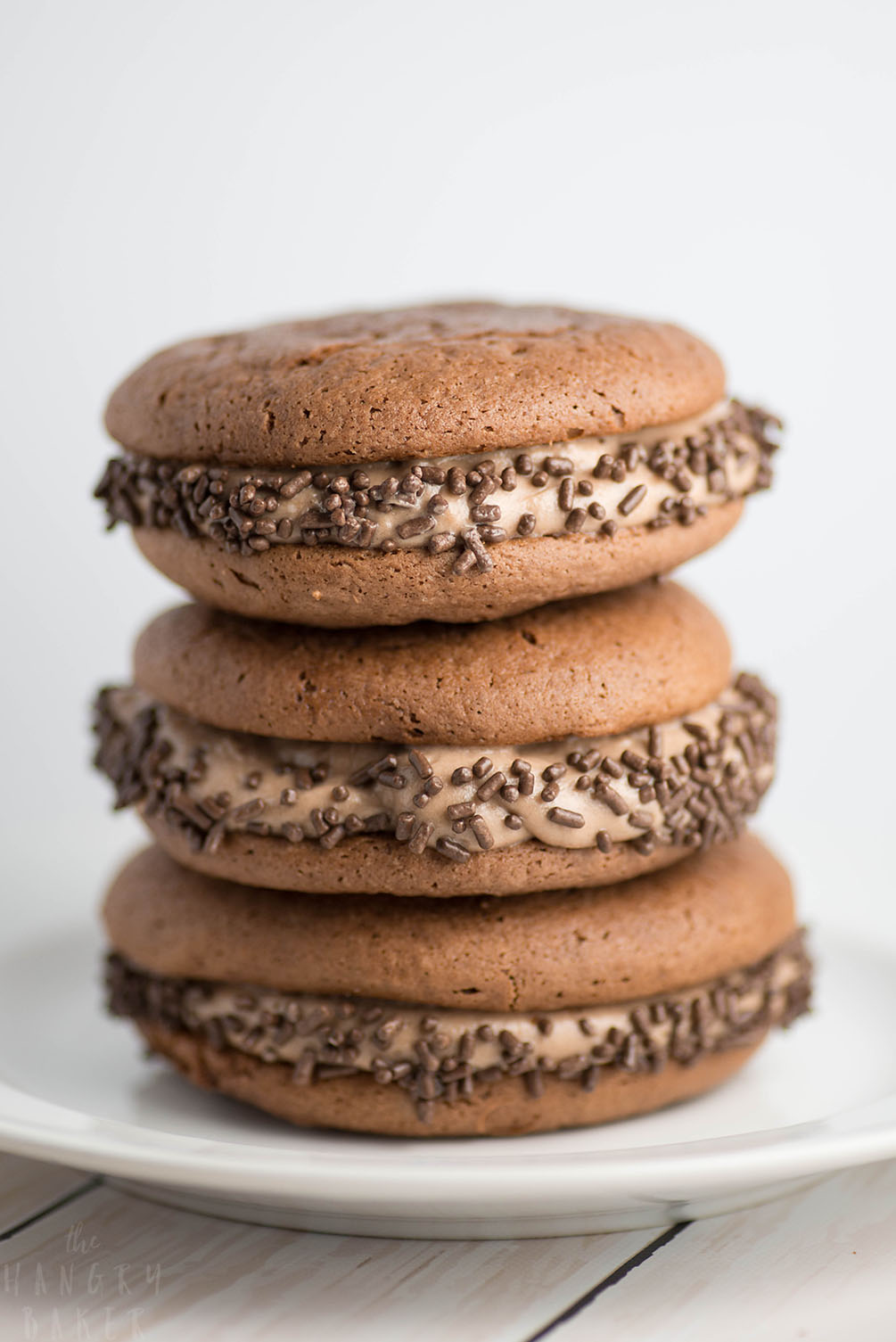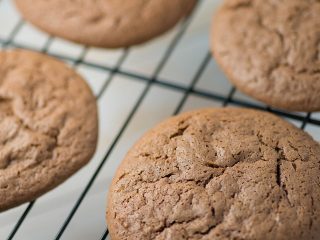 Double Chocolate Whoopie Pies
Ingredients
Cookie Cakes
1

regular sized chocolate cake mix

I used a super moist milk chocolate mix

3

eggs

1/2

cup

canola oil

1

teaspoon

vanilla extract
Filling
2/3

cup

sugar

2

tablespoons

all purpose flour

1/8

teaspoon

of salt

1

cup

whole milk

1/2

cup

milk chocolate chips

2/3

cup

Crisco

1/3

cup

butter

softened

3/4

teaspoon

vanilla extract
Optional
chocolate jimmies/sprinkles
Instructions
Cookie Cakes
Preheat oven to 350 degrees.

In a large mixing bowl, mix together the cake mix, eggs, oil and vanilla extract. Using an electric mixer, mix on low until dry ingredients are mixed in and then bump up to medium speed for two minutes. Batter will be super sticky.

Drop large spoonfuls of batter 2 - 3 inches apart onto greased

cookie sheets

(these are my FAVORITE cookie sheets and never burn the bottoms of cookies!). FYI - the bigger the spoonful, the bigger your whoopie pies.

Bake for 10-14 minutes...you'll have to keep an eye on your cakes and baking time will honestly depend on the size spoonful you added. When in doubt stick a toothpick in the center of a whoopie pie and when it comes out clean, it's done.

Let cook for 2 minutes on cookie sheet and then move to a

wire rack

to cool entirely.
Filling
In a small pan, add in sugar, flour and salt. Gradually add milk and mix into ingredients. Stir and bring to a boil, continuing to stir for 1-2 minutes as mixture thickens. Stir in milk chocolate chips until completely melted. Transfer to a small bowl and place covered in refrigerator until completely cool (1-2 hours).

In a large bowl, beat Crisco and butter until fluffy. Add in chocolate mixture and vanilla extract and mix completely.
Assembly of Whoopie Pies
Either pipe filling onto one cookie or use a knife (I piped just because I thought it looked prettier). Place second cookie on top of filling. OPTIONAL - sprinkle chocolate jimmies on the outside of the filling.

Store whoopie pies in fridge AND if you have to stack them, make sure you have a parchment layer between whoopie pies or they will stick together!
*And you might notice that all my photos are tagged with The Hangry Baker.  While taking my blog break from Jan-April, I tried my hand at running a food blog.  It was short lived.  I love blogging about food…but I enjoy writing about everyday life too much to only blog about one subject = why I came back to this blog and am continuing just to combine everything together.  🙂