I haven't done a Current Obsessions post since 2012.
I'm beginning to think that my life motto should be 'better late than never'. (ugh)

But I've been finding a ton of nea stuff online lately and wanted to bring Current Obsessions back so I could share some of the things I'm wishing I could get my hands on/or things that I'm already in love with.
Plus, I figure it's a great way to highlight a few small businesses that I've randomly found.  Being that I had an Etsy shop in the past, I love to spread the word about great shops!
Onto the list: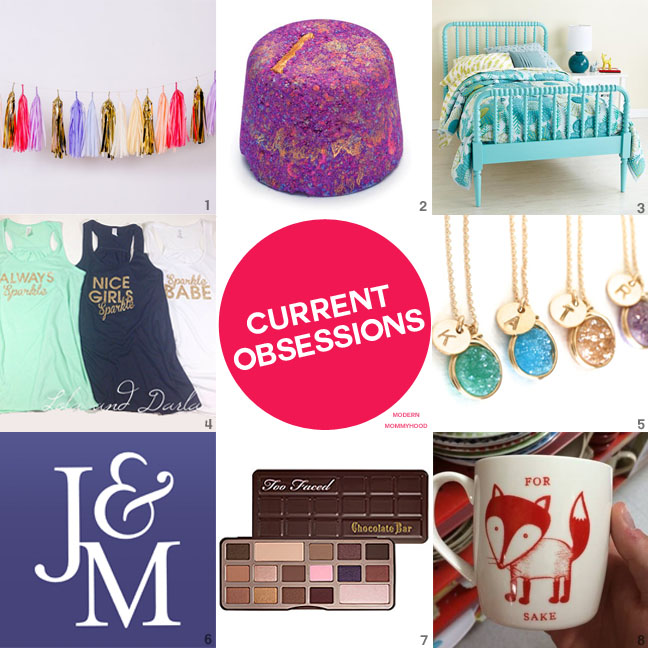 1.//  Candy Coral Tassel Garland by Studio Mucci
2.//  Phoenix Rising Bath Bomb by Lush
3.//  Jenny Lind Twin Bed in Azure by Land of Nod
4.//  Sparkle Racer Back Tanks by LolaandDarlaDesigns
5.//  Personalized Initial Necklaces by WrennJewelryWedding
6.//  Joss & Main (daily home decor site)
7.//  The Chocolate Bar Eye Palette by Too Faced
8.// For Fox Sake Mug
I guess there is a reoccurring theme that a handful of these are household related.  In all the stress of moving and being without a house for a month, I'm trying to look at the bright-side and get excited about a brand new place to decorate!  Our master bedroom is going to get overhauled and Joss & Main has been my online obsession over the past two weeks.  And I'm also pretty happy about creating Mabel's new 'big girl' room.  🙂
I posted a few weeks ago about purchasing the Too Faced Chocolate Bar Palette and I can't say enough good things about this palette!  Until I can get a review up about it, I'll let you know that it's worth every penny!  The colors are very pigmented, last all day and really smell like chocolate!
What are some of the things you're currently obsessing about?