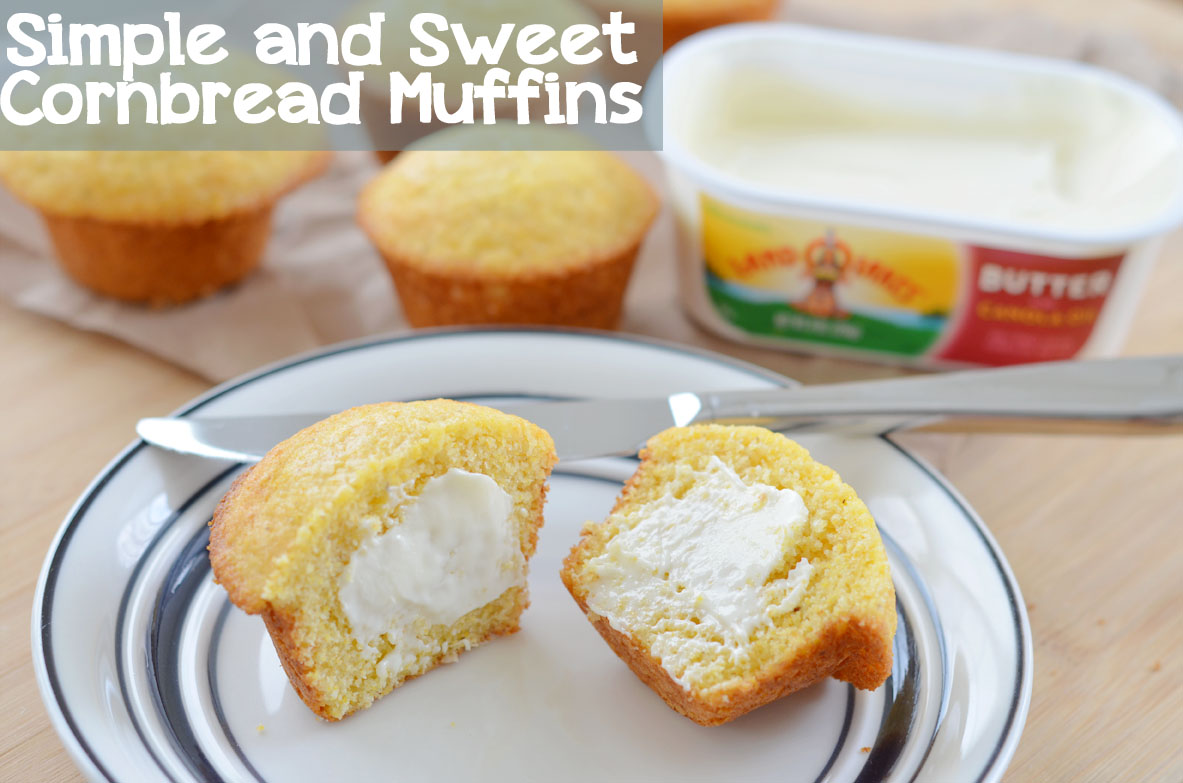 Now that I'm a mother, I don't have as much time to spend in the kitchen as I did before little Mabel joined our family.  I'm constantly on the go but it's still important to me to make hearty and delicious food for my family.  I remember having sit down meals with my mom and dad when I was growing up, so it's very important for me to do the same with my growing family.
One tip that I've learned that helps me make the most of my time in the kitchen is to make foods that can be used for multiple meals…such as the yummy sweet cornbread muffins pictured above!
These sweet cornbread muffins were great with dinner last night and were just as good heated up this morning, topped with Land O  Lakes® Butter with Canola Oil.  Yum!  And Mabel agreed too!  😉  Trust me, I'm wearing proof of this as I type since she decided to take her little buttery hands and rub them all over my pants.  Lol!
I'm pretty picky when it comes to spreads, and Land O Lakes® Butter with Canola Oil fits my high standards.  It has three simple ingredients:  sweet cream, canola oil and salt.  This is important to me since I want to know that I'm feeding my family quality foods that aren't made from a list of ingredients that I can't pronounce or have no idea what they are!   Land O Lakes® Butter with Canola Oil is also easy to spread right out of the fridge.  Nothing is worse that trying to butter muffins or bread and having it fall apart in your hand because it won't spread!
Want to make some quick and easy cornbread muffins for your family?  Here's the recipe that I used:
Simple and Sweet Cornbread Muffins
Adapted from: Allrecipes.com
Preptime: 10 mins Cooktime: 15 mins Total Time: 25 mins Servings: 12  
Ingredients:
2/3 cup sugar
1 cup yellow cornmeal
1 cup all purpose flour
1 teaspoon salt
3 1/2 teaspoons baking powder
1 cup whole milk
1 egg
1/3 cup vegetable oil
2 tablespoons of honey
Instructions:
*Preheat oven to 400 degrees.
*Spray/grease muffin tin and set aside.
*In a large bowl, combine sugar, cornmeal, flour, salt and baking powder.
*Next, add in milk, egg, oil, and honey and evenly mix together.
*Evenly pour mixture into muffin tin.
*Bake for 15 minutes or until tops off muffins are golden.
The author was compensated by Land O'Lakes for this post. All opinions are my own.
Save
Save