So I did a thing….
I bought a new sewing machine back in March.
Meet my new Bernina 770QE: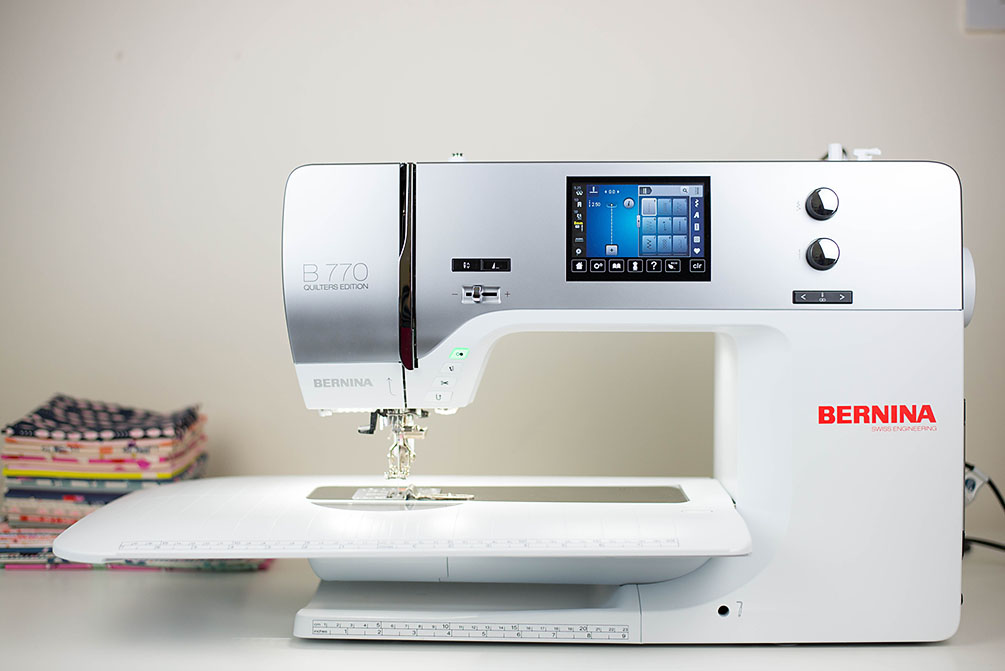 It's absolutely glorious.  It's accurate.  The LED lighting is dreamy, isn't it?
And I didn't take it out of it's box for two days since I was scared of it, lol!
I'm not lying…it sat in our front room for two entire days because I didn't want to touch it.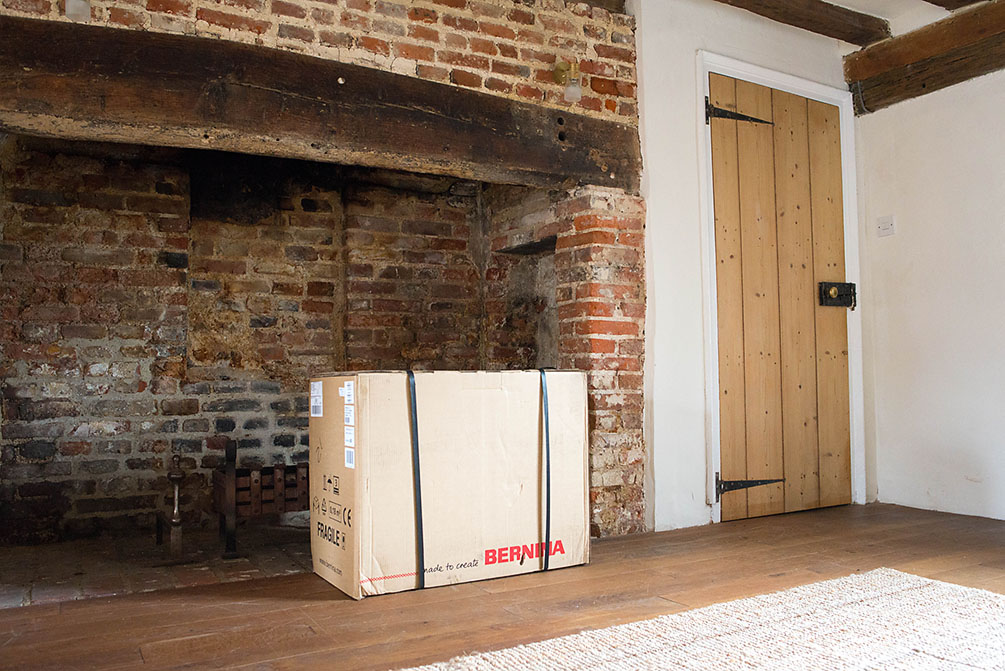 Let me give you some background info…I started sewing right before Mabel was born back in late 2011 and purchased my trusty Janome DC3050 for about $450. It wasn't a cheap machine but it wasn't a professional machine either…just a good intro machine that was a workhorse!  I didn't want to spend a ton of money on a machine at that point since I wasn't sure if I would stick with sewing.
Here were are seven years later.  I'm still sewing and I don't see myself stopping anytime soon.  Basically, it's turned into a hobby that I love and gives me a wonderful creative outlet to express myself…all while making pretty and fun things.
I love my old Janome and it still has a place in my sewing room but it was time to upgrade.  This time around, I researched machine after machine, joined FB groups to read feedback of models, watched tons of YouTube videos, and listened to friends and their experiences too.  In the end, I decided to go with Bernina (I'll give you my main reasons in this post).  I'm going to tell you straight up that I had to save up a long time to purchase it.  I don't take purchases like this lightly as I hate spending a lot of money (kinda makes me want to hyperventilate, lol).  I'm viewing it as an investment which will last for a very long time with proper maintenance and servicing.
When I finally got around to opening the box, I carefuly lifted this baby up and put it on my sewing desk: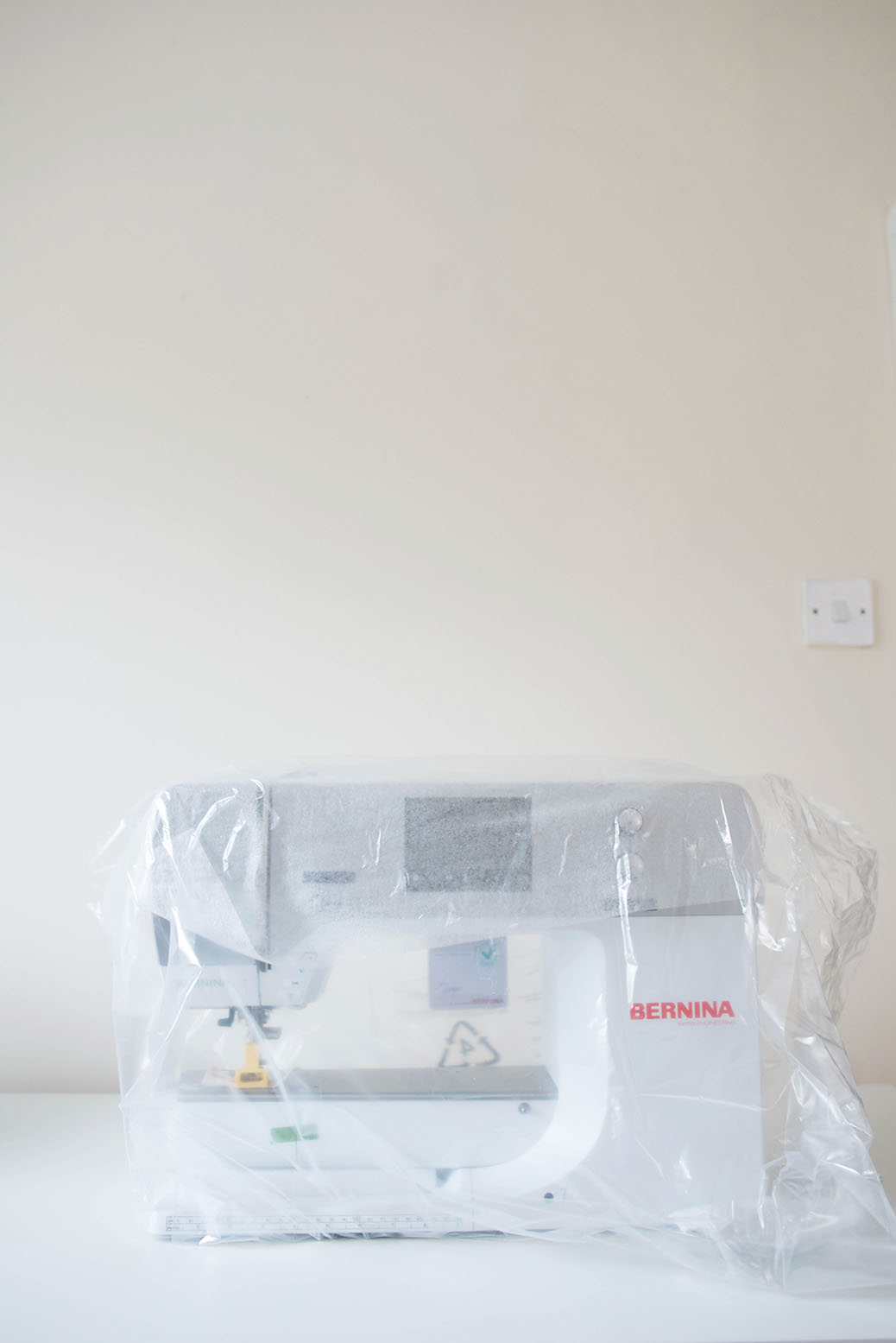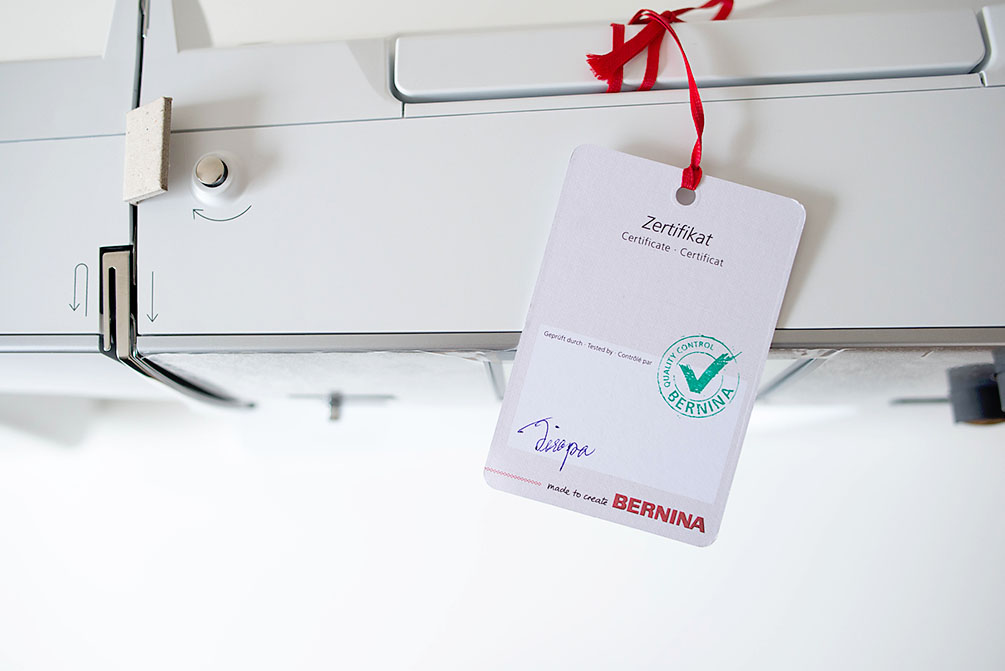 Just FYI…it's heavy.  It weighs in at about 35 pounds and is definitely a heavyweight compared to my older Janome.  Instead of plugging it in right away I went for the manuals.  I wasn't about to spend this much money on something and then somehow mess it up shortly after opening it.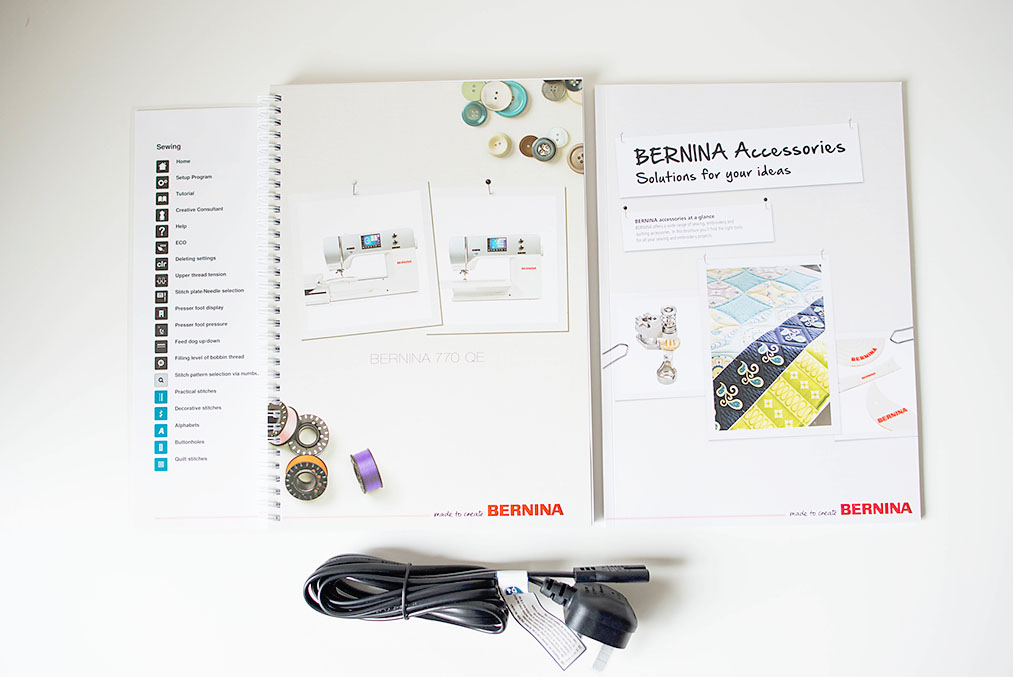 Now, you'll notice the cord I have is a UK plug.  And that's perfect for while we're living in the UK but I'm sure some of you are wondering what happens when the US Air Force gives my husband orders back to the States?  Well…that is one of the reasons why I bought this machine.  It's dual voltage…meaning wherever we move, it will work!  I just need to buy a US plug once we end up back in the states.  My older machine is not dual voltage and has to be run on a bulky/heavy transformer just to get it to work.
So let me show you one of the biggest factors as to why I bought the Bernina 770 QE: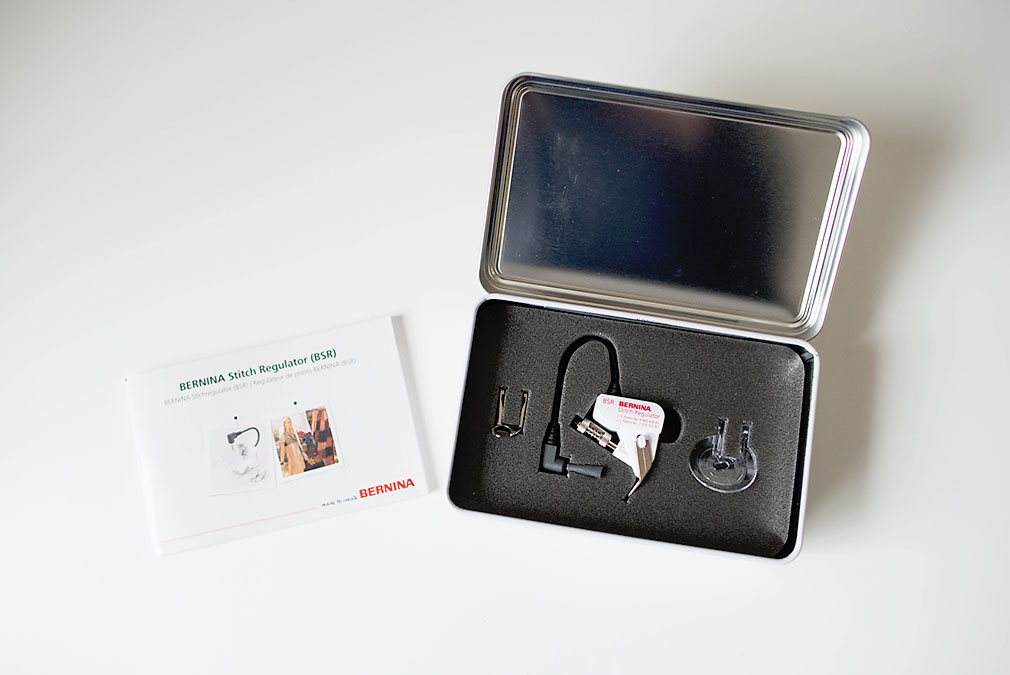 The Bernina Stitch Regulator (BSR)!  It's a foot that plugs into the machine that allows you to do pretty much fool proof free motion quilting.  Search YouTube if you want to see some examples of it in action.  No other machine I researched had anything like it and I've been looking to do more free motion quilting to add a bit of unique character to my quilts.
Another reason why I went for the 770 was the bobbin size.  No one likes having to stop and wind bobbins so why not just have a giant bobbin that feels like it's endless?  Oh and the machine gives you a warning when you're running low so that you don't run out.  Amazing!  I feel like I'd been living in the dark, lol!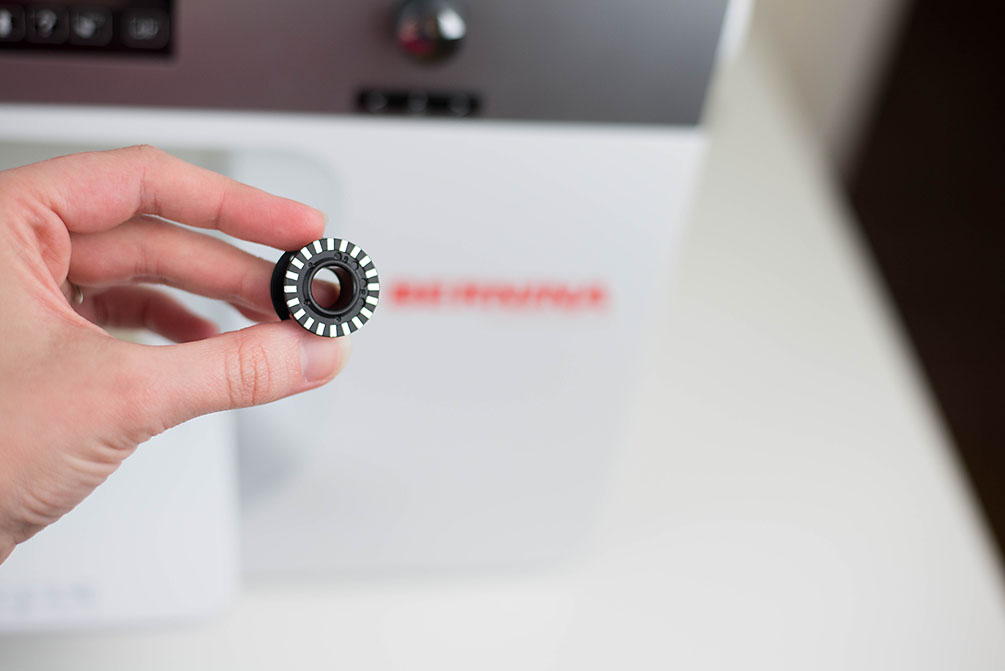 I also figured it would be interesting to show a visual comparison between my old machine and my new one.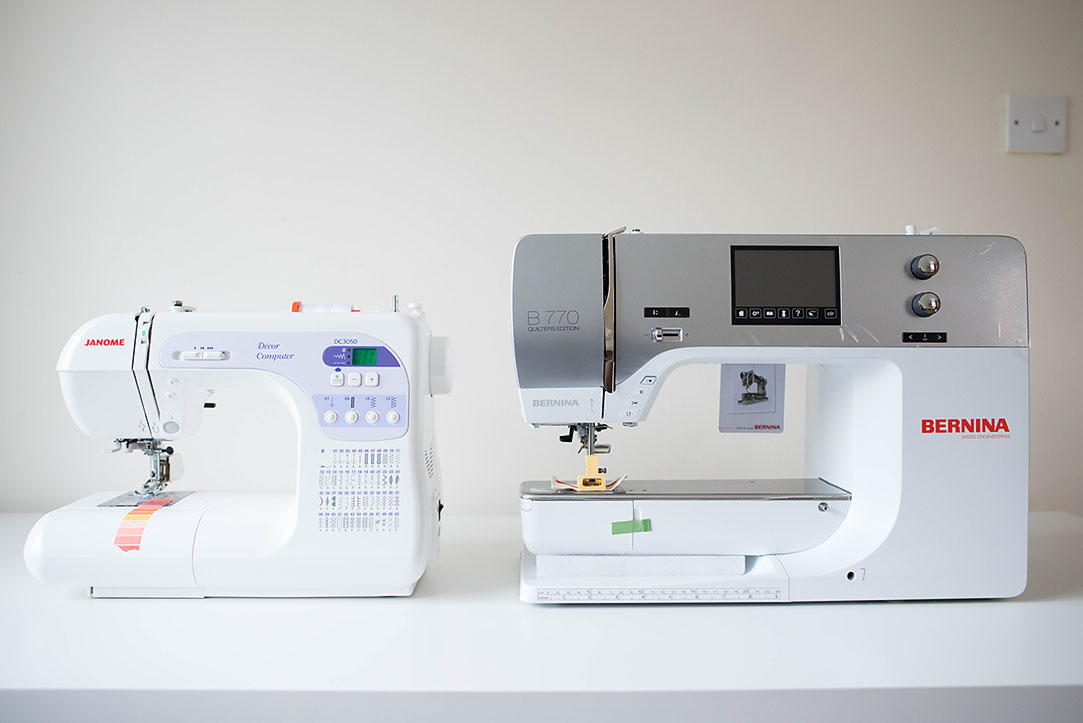 The size difference is pretty easy to see.  And this leads me to the next reason I went with the Bernina 770…look at the throat space (space between the needle and the machine body)!  It's a whopping 10 inches on the Bernina!  My Janome has a throat space of a 6.5 inches.  If you've ever tried to quilt on a machine with a smaller throat space, you'll understand my frustration.  It's hard to smoosh up a quilt into that small of an area to easily quilt.  The Bernina's 10 inches is hands down, a wonderful thing!
Now I'm just going to flood you with photos of other things that were in the Bernina box just incase you're curious.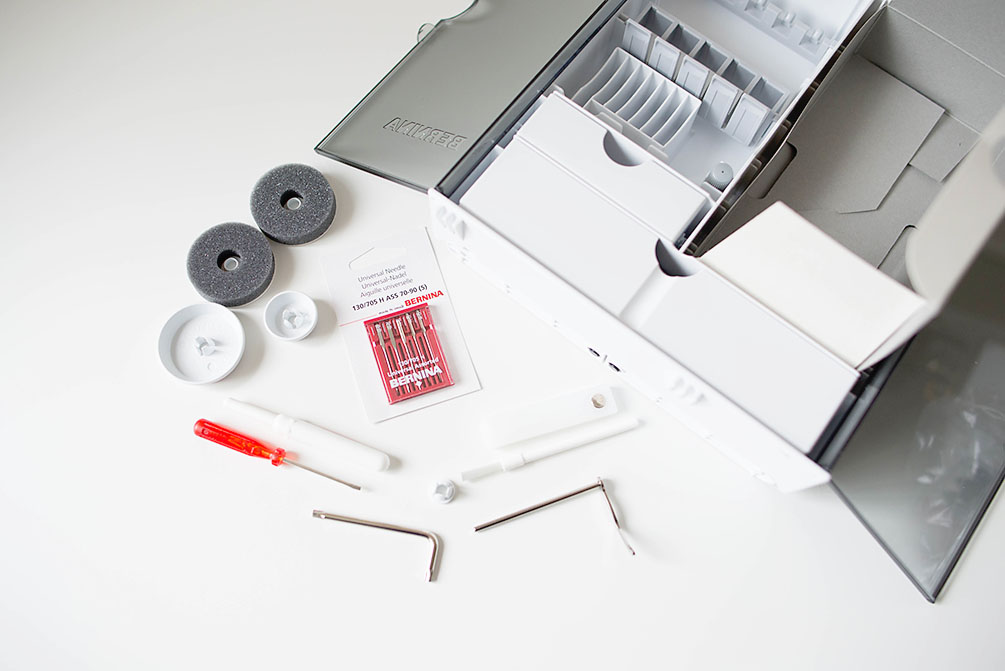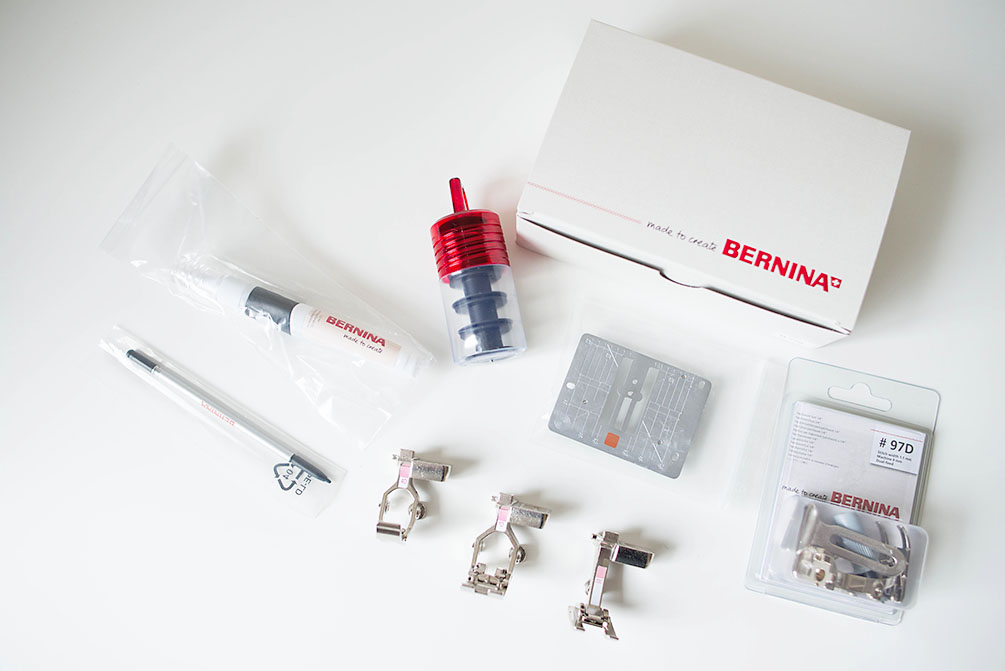 I'm not planning on boring you to death with all the nitty gritty details but I figured this post might be helpful for anything trying to make a decision on a new machine in the near future.  I plan on doing a few more in depth posts in the near future regarding the new maintenance routine I have with this machine (that I didn't have with my last).
There were some little hiccups in the beginning but I guess that was to be expected.  When learning a completely new machine (and brand) there are always things to workout and learn.  Now everything is going smoothly and I haven't looked back!  I really love this machine and am happy with my decision.
If you have any specific questions, feel free to shoot me an email or leave a comment.  😉  I'll try to help out as much as I can!  You can also find out all the specs on Bernina's site for the 770QE.
SaveSave
SaveSave
SaveSave
SaveSave
SaveSave
SaveSave
SaveSave